Mort Sahl, 1927-2021
The first modern stand-up comedian has died at 94.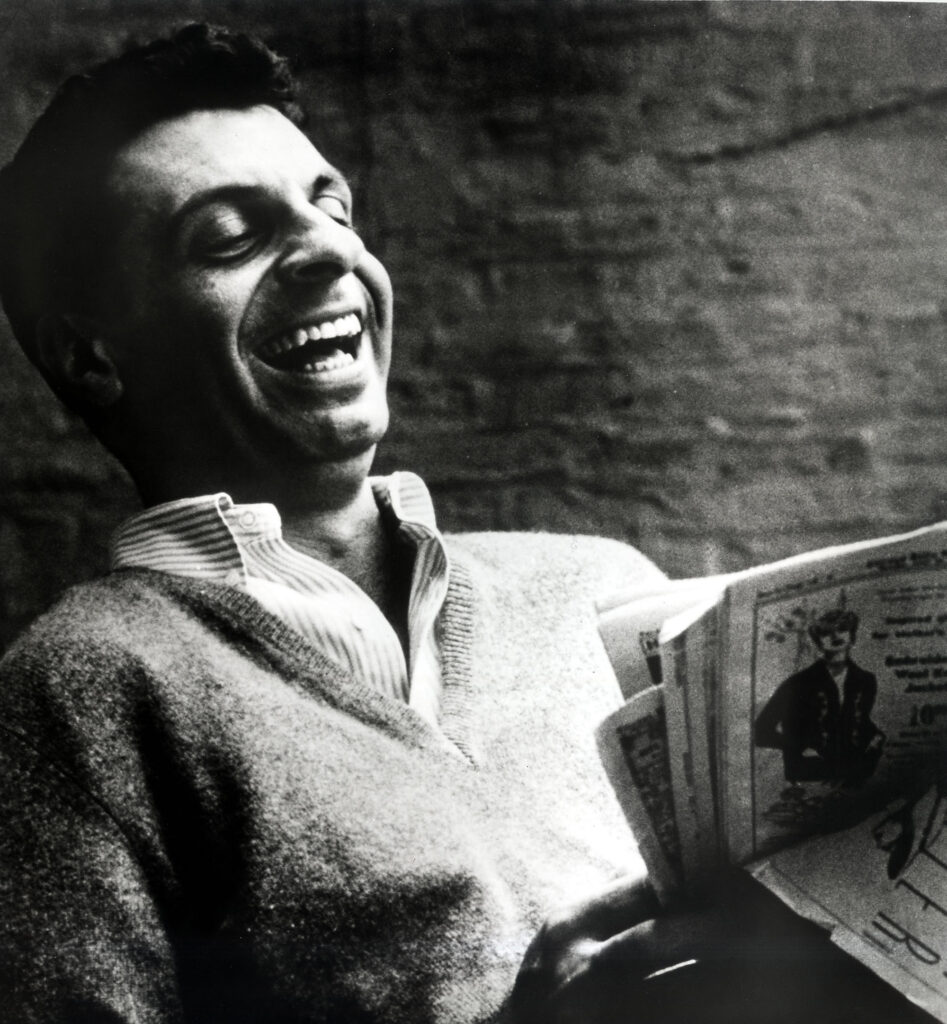 WaPo ("Mort Sahl, whose political comedy set the bar for future humorists, dies at 94"):
Mort Sahl, the comic whose caustic and fearlessly observant routines about Cold War politics in the button-down 1950s transformed American comedy and paved the way for generations of acid-witted humorists, not least Jon Stewart and Bill Maher, died Oct. 26 at his home in Mill Valley, Calif. He was 94.

[…]

Before Mr. Sahl, wisecracks about government and Washington were little more than glib asides with no attempt at the jugular. For the most part, comedians avoided topics that might alienate escapist-minded radio, TV and nightclub audiences and stuck to safer material about mothers-in-law or nagging spouses.

By contrast, Mr. Sahl dove headfirst into the divisive politics and tumult of his time — from the nuclear arms race to segregation — with erudite outrage, a finely tuned sense of the absurd and a high tolerance for risk. Referring to his more genial comic forebear, Time magazine described him in a 1960 cover story as "Will Rogers with fangs."

Mr. Sahl developed a trademark look — a V-neck sweater and loafers, befitting a graduate student — and he carried onstage the rolled-up newspapers whose headlines he had plundered for inspiration. Having honed his style in seedy San Francisco bars and coffeehouses, he riffed in knowing argot about presidential politics, Cold War paranoia, institutionalized religion and neurotic relationships between the sexes.

During the height of Sen. Joseph McCarthy's anti-communist witch hunts, which ensnared numerous entertainment figures, among other targets, Mr. Sahl took the position that "McCarthy doesn't question what you say as much as your right to say it."

He painted President Dwight D. Eisenhower as a blandly avuncular, distracted, golf-obsessed leader. Amid the 1957 racial integration showdown in Little Rock, Mr. Sahl joked that Eisenhower considered walking a Black girl to school but could not decide "whether or not to use an overlapping grip."

He mocked talk of the "missile gap" during the 1960 presidential campaign, wryly jesting, "Maybe the Russians will steal all our secrets, then they'll be three years behind." And he spoke facetiously in favor of capital punishment, observing, "You've got to execute people. How else are they gonna learn?"

With more sophistication than a string of staccato one-liners, his jokes formed a free-flowing narrative punctuated by references to political and diplomatic leaders including Secretary of State Christian A. Herter, Cold War hot spots such as Malta and Pakistan, and legislation such as the Taft-Hartley Act.

[…]

Behind Mr. Sahl's humor lay a deep concern for American democracy, and his onstage probing was the antithesis of the cheap laugh. He sometimes warmed up crowds for his friend Dave Brubeck, but the jazz pianist complained that "he demands so much of an audience that it hasn't the strength for anyone else."

His high-minded material itself invited satire. In the early 1970s, Carlin portrayed a manic Mr. Sahl uncorking a ludicrous rant about the Arab League, student riots in Japan, Eisenhower watching a movie in Manila and the role of Asian religions in ecclesiastical history.

By then, Mr. Sahl's career had fallen into decline, a development owed almost wholly to his nonstop ribbing of President John F. Kennedy and his obsession with his assassination in 1963.

Mr. Sahl had admired Kennedy and even contributed one-liners to his 1960 campaign speeches. But, fiercely independent and vowing to make any White House occupant the butt of his humor, he let loose when Kennedy won. He joked about Kennedy's wealthy father influencing the election outcome ("You're not allowed one more cent than you need to buy a landslide"), the Kennedy preoccupation with communist Cuba, and the new president's rumored mafia connections.

He incurred the wrath of Kennedy intimates and said his livelihood was threatened. Many nightclubs, fearing tax audits, stopped booking him. Some liberals in his fan base, having grown accustomed to gibes about Eisenhower and Nixon, abandoned him.

[…]

Invitations to appear on TV shows and in clubs dried up. In his 1976 memoir, "Heartland," Mr. Sahl wrote that his earnings fell from $1 million a year to "about nothing." But he made a comeback after Watergate, when his searing skepticism and dark view of American leadership better matched the national mood.

"The harvest of what we found came out repeatedly afterward in Watergate, the Iran-contra affair, the whole idea of shadow government and of people who think they know better what's good for Americans," Mr. Sahl told the makers of a public television documentary about him in 1989.
NYT ("Mort Sahl, Whose Biting Commentary Redefined Stand-Up, Dies at 94"):
Mort Sahl, who confronted Eisenhower-era cultural complacency with acid stage monologues, delivering biting social commentary in the guise of a stand-up comedian and thus changing the nature of both stand-up comedy and social commentary, died on Tuesday at his home in Mill Valley, Calif., near San Francisco. He was 94.

[…]

Gregarious and contentious — he was once described as "a very likable guy who makes ex-friends easily" — Mr. Sahl had a long, up-and-down career. He faded out of popularity in the mid-1960s, when he devoted his time to ridiculing the Warren Commission report on the assassination of President John F. Kennedy; then, over the following decades, he occasionally faded back in. But before that he was a star and a cult hero of the intelligentsia.

He had regular club dates in New York, Chicago and San Francisco, with audiences full of celebrities. He recorded what the Library of Congress has cited as "the earliest example of modern stand-up comedy on record," the album "At Sunset." (Though recorded in 1955, it was not released until 1958, shortly after the release of his official first album, "The Future Lies Ahead.") By 1960, he had starred in a Broadway revue, written jokes for Kennedy's presidential campaign, hosted the Academy Awards, appeared on the cover of Time and been cast in two movies (he would later make a handful of others).

An inveterate contrarian and a wide-ranging skeptic, Mr. Sahl was a self-appointed warrior against hypocrisy who cast a jaundiced eye on social trends, gender relations and conventional wisdom of all sorts. Conformity infuriated him: In one early routine he declared that Brooks Brothers stores didn't have mirrors; customers just stood in front of one another to see how they looked. Sanctimony infuriated him: "Liberals are people who do the right things for the wrong reasons so they can feel good for 10 minutes."

But more than anything else, it was politicians who were the fuel for his anger. For that reason he was often compared to Will Rogers, whose death in 1935 had left the field of political humor essentially barren, though Mr. Sahl had none of Rogers's homeyness and detested the comparison.

"I never met a man I didn't like until I met Will Rogers," he once said, turning the famous Rogers line against him, despite never having met him. He described Rogers as a man who pretended to be "a yokel criticizing the intellectuals who ran the government," whereas Mr. Sahl himself pretended to be "an intellectual making fun of the yokels running the government."

In December 1953, when Mr. Sahl first took the stage at the hungry i — the hip nightclub in San Francisco that he helped make hip, where he would routinely be introduced as "the next president of the United States" — American comedy was largely defined by an unadventurous joke-book mentality. Bob Hope, Milton Berle and Henny Youngman may have been indisputably funny, but the rimshot gag was the prevailing form, the punch line was king, and mother-in-law insults were legion. It was humor for a self-satisfied postwar society.

"Nobody saw Mort Sahl coming," Gerald Nachman wrote in "Seriously Funny," his book-length 2003 study of comedy in the 1950s and '60s. "When he arrived, the revolution had not yet begun. Sahl was the revolution."

Mr. Sahl was a shock to the comedy system. Other groundbreaking comedians — Lenny Bruce, Dick Gregory, Woody Allen, Jonathan Winters, Joan Rivers, George Carlin and Richard Pryor among them — would pour into his wake, seizing on the awareness that audiences were hungry for challenge rather than palliation. And for social commentators who took to the airwaves in the half-century after he began to speak his mind — from Dick Cavett to Don Imus, Rush Limbaugh, Bill Maher and Jon Stewart — Mr. Sahl was their flag bearer as well.

(If a younger generation of comedians considered Mr. Sahl an inspiration, he did not return their love. He said in a 2010 interview that he found their comedy "kind of soft" and urged them to "take more chances.")

[…]

His own political leanings were difficult to track. The left wanted to claim him, especially early in his career, but they couldn't quite do so. Among other things, he could be crudely sexist and, though he supported civil rights, he was acerbic in confrontation with knee-jerk liberal dogma on the subject. Over the course of his life he kept company with politicians of varying stripes, from Stevenson, Kennedy and Eugene McCarthy to Alexander Haig and Ronald and Nancy Reagan. He said he had voted for Ross Perot; he praised Ron Paul and defended Sarah Palin; he cast a skeptical eye on Barack Obama's presidency and was as scathing about Hillary Clinton as he was about Donald Trump.

"Are there any groups I haven't offended?" he was wont to ask from the stage. If nothing else he was a pure iconoclast.

"If you were the only person left on the planet, I would have to attack you," he once said. "That's my job."
NY Post ("Mort Sahl, legendary comedian, dead at 94"):
Stand-up comedian Mort Sahl has died on Tuesday at his home in Mill Valley, CA. He was 94.

The legendary comic was known for his bold social commentary on current events and scathing stand-up routines targeting political heavyweights, including former presidents Dwight D. Eisenhower, Barack Obama and Donald Trump.

"One tentative way of describing Mr. Sahl might be to call him a kind of Will Rogers of the beat generation," wrote Richard Watts Jr. in an April 1958 edition of The Post. Watts watched Sahl perform in person during a show called "The Next President" at the Bijou Theater.

"Carrying a newspaper and with his shirt open at the neck, his vocabulary bristling with the lore of the up-to-date young intellectual, he chats with the audience freely brightly and pungently," Watts explained, "giving without fear or favor his views of the contemporary world and the people running it from the standpoint of the uninhibited and untamed political liberal."

The satarist died "peacefully" of "old age' according to friend Lucy Mercer whom confirmed his death to the Associated Press. He paved the way for countless future comics such as Lenny Bruce, Richard Pryor, David Chapelle and George Carlin.

"I would never have been a cabaret comedian at all, if it hadn't been for him," director Woody Allen wrote in his 1994 book, "Woody Allen on Woody Allen: In Conversation With Stig Bjorkman" adding that before Sahl, "All these comedians were very, very formula."

The "Annie Hall" filmmaker continued, "They'd all come out in a tuxedo and would say, 'Good evening, ladies and gentlemen,' and there was no sincerity to any of it. And they would do silly little jokes. … They would do golf jokes, because the president played golf. And suddenly, in this small cabaret, this comedian comes along, Mort Sahl. He was a nice-looking guy in a certain way, very intelligent. And highly, highly energetic, like hypermanic. And a spectacular phrasemaker, but of an intellectual type."

[…]

He made history again in 1960 when he became the first comedian to appear on the cover of Time magazine and later that year, he released the record "Mort Sahl at the Hungry I" which it reached No. 22 on the Billboard 200. His 1973 disc, "Sing a Song of Watergate" came at No. 145.

Aside from taking the stage as a comic, Sahl showed off his acting chops in many films. He appeared in the 1958 Robert Wagner film "In Love and War" as well as "All the Young Men" (1960), "Johnny Cool" (1963) and "Don't Make Waves" (1967). On television, Sahl lit up the screen with guest roles on programs such as "Pursuit," "Playhouse 90," "Ironside," and "Love American Style."

A quintessential host to many nationally televised ceremonies such as the Grammys and the Academy Awards, Sahl ruled the stage at the 31st annual Oscars in 1959 and was the first host ever to emcee the Grammys that same year.

"He was absolutely like nothing anybody had ever seen before. And he was so natural that other comedians became jealous," Allen wrote in his book. "They used to say, 'Why do people like him? He just talks. He isn't really performing.' But his jokes came out as stream of consciousness, in a kind of jazz rhythm."

He also performed on late-night shows hosted by iconic figures like Dick Cavett, Mike Douglas, Dinah Shore, Merv Griffin and David Frost. Sahl even lent his comedic chops to the Dean Martin celebrity roasts of the mid-1970s and also appeared multiple times on "The Ed Sullivan Show."
Sahl is one of those guys who seems to have been around forever but, I must confess, I had no idea how influential he'd been. I was born a decade after he became a star and by the time I was aware of him, in the early 1970s, he was not only past his peak but the style of stand-up he pioneered simply was stand-up. Indeed, I had always thought Lenny Bruce was the first of this breed.
I'm sure I saw Sahl in some of his acting stints—certainly, "Ironside" and "Love American Style" were shows we watched when I was a kid—but he seemed ubiquitous on the talk show circuit.