Mosque Opponents: Bigots, Opportunists, and Krauthammer
The only reasons Michael Kinsley can conjure for opposing the Park51 project are bigotry and political opportunism. Unless you're a really smart columnist.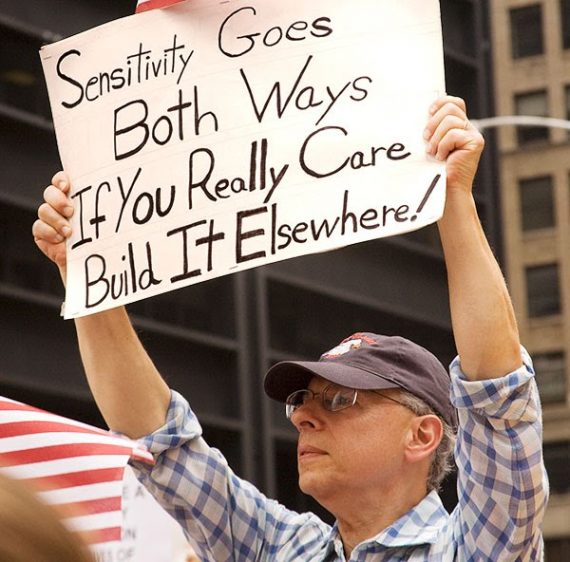 Atlantic editor at large Michael Kinsley and WaPo columnist Charles Krauthammer have been having a delightful back-and-forth over the Ground Zero Mosque/Cordoba House/Park51  brouhaha.  Kinsley's latest, though, illustrates one of the problems with this debate:
I start with a clarification. When I wrote that the two most obvious explanations for opposition to the mosque were bigotry and political opportunism. I should have made clear that I don't think Charles is a bigot.
And, presumably, he doesn't.  The two are among the most brilliant analytical minds of their generation and one suspects their mentions of mutual respect and friendship aren't mere throat clearing.
What, then, is Krauthammer's argument?   This excerpt gives a good thumbnail sketch:
Radical Islam is not, by any means, a majority of Islam. But with its financiers, clerics, propagandists, trainers, leaders, operatives and sympathizers — according to a conservative estimate, it commands the allegiance of 7 percent of Muslims, i.e., more than 80 million souls — it is a very powerful strain within Islam. It has changed the course of nations and affected the lives of millions. It is the reason every airport in the West is an armed camp and every land is on constant alert.

Ground Zero is the site of the most lethal attack of that worldwide movement, which consists entirely of Muslims, acts in the name of Islam and is deeply embedded within the Islamic world. These are regrettable facts, but facts they are. And that is why putting up a monument to Islam in this place is not just insensitive but provocative.

Just as the people of Japan today would not think of planting their flag at Pearl Harbor, despite the fact that no Japanese under the age of 85 has any possible responsibility for that infamy, representatives of contemporary Islam — the overwhelming majority of whose adherents are equally innocent of the infamy committed on 9/11 in their name — should exercise comparable respect for what even Obama calls hallowed ground and take up the governor's offer.
Note that Krauthammer isn't arguing that Imam Rauf and company don't have a right to build the mosque — he thinks that beyond debate — but that doing so violates his sense of propriety.
Now, I happen to agree with Kinsley on the merits here.  I don't think a site two and a half blocks from where the Twin Towers stood is somehow hallowed ground — even if it was struck with debris from the attack.  If anything, a Muslim cultural and worship center so close to the site of the greatest atrocity committed in the name of that religion would stand as a giant rejection of the idea that murder is sanctified.
Krauthammer's case for the opposing viewpoint isn't based on bigotry but rather with full recognition that human beings are emotional as well as rational.
Steven Taylor rightly points out that blaming all Muslims for the 9/11 attacks, which were perpetrated by a handful of Muslims, is scapegoating.  But Krauthammer isn't blaming the 93 percent of Muslims who reject murdering innocents in the name of their faith for the attacks, any more than he's blaming Japanese born after the war for the Pearl Harbor attacks or Catholic nuns for the Holocaust.  (Well, maybe a little bit more.)  He's merely saying that the presence of a giant monument to Islam near the site of the atrocity would intrude.
Now, again, I happen to think this is irrational.   There's already a mosque near Ground Zero, which predates the attack by decades, and nobody seems offended.   But if a man with Charles Krauthammer's credentials (Harvard MD and board certified psychiatrist with groundbreaking publications on mania, Carter administration official and Mondale speechwriter who's now a leading conservative commentator , winner of the Pulitzer Prize, National Magazine Award, Bradley Prize, and People For the American Way's First Amendment Award) can nonetheless reach these conclusions, they deserve respectful treatment.
Human beings aren't Vulcans and calling decent people "bigots" because they bring emotional baggage to their judgments is not only unfair but decidedly unhelpful in persuading them.