Most Americans Oppose Trump's Muslim Travel Ban
Two new polls show that most Americans oppose President Trump's ban on travel from seven majority Muslim countries, but that most Republicans support it.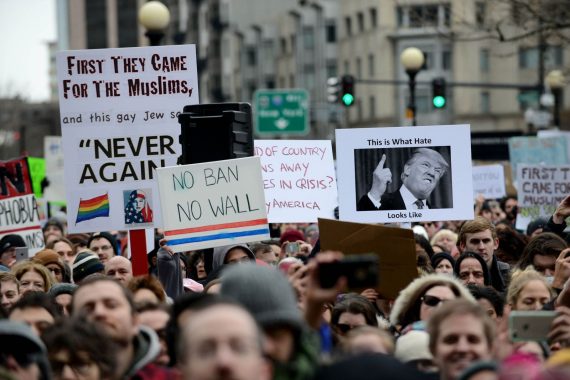 Two new polls from major media organizations indicate that most Americans oppose President Trump's Muslim travel ban, but that the nation is sharply divided on partisan lines.
First up, there's the new poll from CNN and Opinion Research Corporation:
Most Americans oppose the travel restrictions put in place by President Donald Trump's executive order last week, a new CNN/ORC poll has found.

Fifty-five percent say they see it as an attempt to ban Muslims from entering the US. Further, 6 in 10 oppose Trump's plan to build a wall along the border with Mexico.

Overall, 47% say they favor the executive order on travel, which prohibits entry to the US for 90 days by citizens of seven majority-Muslim countries while suspending the US refugee program for 120 days and reducing the total number of refugees the US will accept this year. A majority, 53%, say they oppose the order. Those who favor the ban say by a 2-to-1 margin that they would like to see it expanded to other countries.

Opposition to the travel ban rests somewhat on perceptions that it fulfills one of Trump's campaign proposals: A ban on entry for Muslims. The perception that the executive order is an attempt to ban Muslims from entering is driven largely by opponents of the order — 82% of whom see it as a Muslim ban, though a quarter of those who support it also see it as an attempt to ban Muslims from entering the country (25% say so).

The public is more closely divided on whether the order makes the US safer or protects American values, two arguments the Trump administration has put forth in support of the order. About 4 in 10 (41%) agree with the Trump administration's contention that the ban makes the US safer from terrorism, while more (46%) say it makes the US less safe from terrorism and another 12% say it doesn't make a difference. Further, just about half (49%) think the order harms American values by keeping out people who are seeking asylum, while 43% say it does more to protect American values by keeping out people who don't support those values.

Across all these questions, opinions are sharply divided by party. Democrats are just as apt to oppose the executive order (88%) as Republicans are to support it (88%); independents tilt against, with 54% opposed. Republicans are 10 times as likely as Democrats to say the order makes the US safer (83% of Republicans vs. 8% of Democrats), and their opinions are again 180 degrees apart when asked about its impact on American values (80% of Republicans say it protects them while 81% of Democrats say it harms them).
Next, a CBS News poll shows the same thing:
Two weeks into Donald Trump's presidency, the country remains sharply divided along partisan lines. A large majority of Republicans approves of President Trump and his recent executive order temporarily restricting entry into the U.S. by foreigners and refugees, while Democrats disapprove in similar numbers.

Slightly more Americans disapprove (51 percent) than approve (45 percent) of President Trump's executive order temporarily banning people from entering the U.S. from seven designated countries. Views on temporarily suspending entry for refugees are the same.  Opinions on these issues are highly partisan.

The public splits on whether a temporary ban on people from the seven designated countries will make the U.S. safer, but most Republicans (who support the ban) think it will.

(…)

Americans are divided on the president's executive order that temporarily bans foreigners from entering the U.S. who are from seven majority Muslim countries – Iran, Iraq, Libya, Somalia, Sudan, Syria, and Yemen – though more disapprove (51 percent) than approve (45 percent).  The partisan differences are striking:  85 percent of Republicans approve, while an identical 85 percent of Democrats disapprove.

A third of Americans agree with the rationale given by the Trump administration for this measure:  that it will make the United States safer from terrorism.  Thirty-six percent of Americans agree that this provision will make the U.S. safer by preventing unwanted people from entering the country, but just as many – 36 percent — think it will make the U.S. less safe by making people around the world angry at the U.S.  Another 22 percent think it will not have any effect.

Another major provision of Mr. Trump's executive order is to temporarily prohibit all refugees from any country from entering the U.S.  Here again, Americans are largely divided along party lines, though more Americans disapprove (51 percent) than approve (45 percent).

Fifty-seven percent of Americans think a temporary ban on refugees goes against the founding principles of the United States.  Nearly seven in 10 Republicans think that ban is in keeping with the country's founding principles, while more than eight in 10 Democrats and most independents disagree.

President Trump signaled that Christians might receive preference when it comes to assessing whether travelers affected by the ban would be allowed to enter the U.S., but most Americans reject this as a condition for allowing immigration into the country.  Eight-right percent of Americans – and 87 percent of American Christians – think the government should treat all potential immigrants the same, regardless of religion.

The seven countries singled out by the executive order all have Muslim majority populations. Some critics of the executive order have characterized it as a Muslim ban, a charge the administration has denied.  In principle, three in four Americans would oppose a ban on all Muslims from entering the U.S. – including large majorities of Democrats (92 percent) and independents (75 percent), and a slight majority of Republicans (55 percent).

And despite strong language before the election by the Trump campaign about the threat of violence from radical Islam, most Americans don't believe that the Islamic religion as a whole is more violent than other religions. More than six in 10 Republicans think Islam is more violent than other religions, while most Democrats and independents think Islam is no different than other religions.
Since previous polling has indicated that most Americans opposed Trump's original proposal to ban all immigration by Muslims for an unspecified period of time was widely unpopular but that Republicans largely supported it, these results are not surprising at all. The American public as a whole has long been far more liberal and welcoming when it comes to immigration than Republicans have, and Republicans have long held an especially virulent antipathy toward Muslims in general even when it is pointed out to them that the vast majority of Muslims do not support the actions of the relatively small handful of radical jihadists who are responsible for the terrorism that has dominated world headlines since the first World Trade Center bombing in 1993. Given that, it's not surprising to see that the Administration's latest proposal, which has suffered through a week of negative coverage thanks to protests that began before the ink was dry on the order itself, continued throughout last weekend, and resumed against this weekend as Americans gathered at airports and outside Trump's Florida home, where he is staying for the weekend, Additionally, the Administration has suffered a string of Court defeats since last Friday night, with only one Court to date ruling in their favor so far. Republicans on Capitol Hill have tried to defend the Executive Order but, behind the scenes, there' been an acknowledgment that the execution was flawed from the start and that the Administration was mistaken to issue the Order without first consulting with the incoming Secretaries of Homeland Security and State. Given all that negative coverage, it's really no wonder that the public turned against him so quickly.
Where this goes from here is hard to tell. If the Courts continue to rule against him, and the hardship stories about people with visas that have already been approved, or even Permanent Residency here in the United States, are either trapped abroad or trapped in the United States despite family or business necessity but fearful to leave the country because they might not be allowed to return, then it's probable that public opinion will turn even more against these actions. Even if the Administration ultimately prevails in Court, something we might not know for months even if these cases are permitted to make their way through the judicial system rapidly, the hardship stories will continue and that will likely impact Trump's already historically low job approval numbers. As it stands, though, it appears that, thanks largely to its own actions and mistakes, the Trump Administration isn't going to get much of a first-term honeymoon at all.