Majority Opposes Trump's Muslim Immigration Ban, But It's A Different Story With Republicans
Polling shows that most Americans oppose Donald Trump's plan to bar Muslim's from immigrating to the United States, but Republicans are far more receptive to the idea.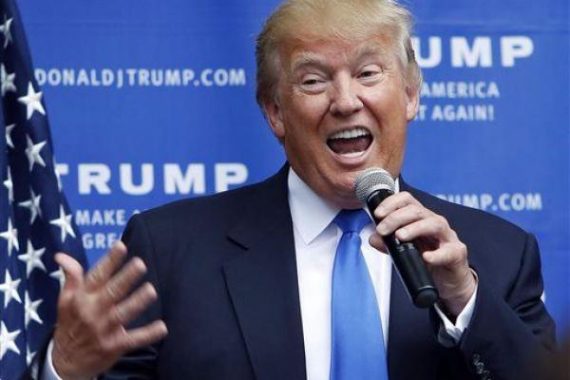 A series of new polls show that a majority of Americans oppose Donald Trump's plan to bar Muslims from immigrating to the United States for some unspecified but allegedly limited period of time, but the picture is quite different when you look at Republicans and likely Republican voters, which suggests that the proposal is unlikely to hurt him in the race for the Republican nomination.
First up, late yesterday saw the release of a new poll from NBC News and The Wall Street Journal on the issue:
More than half of Americans disagree with Donald Trump's proposal to ban Muslims from entering the U.S., according to an NBC News/Wall Street Journal poll out Thursday.

Fifty-seven percent of Americans oppose the billionaire's call for a "a total and complete shutdown of Muslims entering the United States until our country's representatives can figure out what is going on." But 25 percent of those polled support the idea.

Trump's proposed Muslim ban has been widely criticized, with the White House and Republicans from House Speaker Paul Ryan to former Vice President Dick Cheney condemning the idea.

But support for Trump's plan is somewhat higher among Republicans, 42 of whom support it, with 36 percent opposed.

Seventy-five percent of Democrats and 55 percent of Independents polled disagreed with Trump's proposal.

More broadly, 41 percent of Americans see Trump's language as "frequently insulting" and "the wrong approach." One in four (24 percent) see his language as problematic but think the issues he raises are important, and 22 percent are supportive of his approach.
In the new CBS News/New York Times poll, the numbers are about the same even though in this case the question left Trump's name off the question about the immigration plan:
Nearly six-in-10 Americans say the United States should not temporarily bar Muslims from other countries from entering the U.S., and two-thirds say such a ban would go against the founding principles of this country, a CBS News poll shows.

Republican presidential front-runner Donald Trump sparked a firestorm when he proposed keeping Muslims from coming in.

There are sharp differences by political party. Just over half of Republicans responding — 54 percent — support such a ban, while most Democrats and independents do not.

The survey found mixed views on whether keeping Muslims from entering the U.S would make the country safer from terrorism, but a majority of those who favor such a ban feel it would.

Sixty-seven percent of Americans say the ban would go against the founding principles of this country – majorities across party lines agree on that. However, 53 percent of those who back banning Muslims from entering say such a ban would be in keeping with those principles.

In addition, the public is divided over whether the government should keep a database of Muslims in the U.S. Most Republicans favor it, but a majority of Democrats do not. Independents divide on the database idea.

Most respondents do not see Muslim Americans as more sympathetic to terrorists than other Americans. Those views have not changed much since 2011, when the country marked the 10th anniversary of the 9/11 attacks.

Thirty-eight percent of Americans think the religion of Islam encourages more violence than other religions, down slightly from April 2013, just after the Boston Marathon bombing. Views today are similar to those held in 2011. Americans are more inclined to say Islam encourages the same amount of violence as other religions — 48 percent said so.

Overall, Americans continue to have net negative views of Islam. Twenty-four percent have at least a somewhat favorable impression of the religion, while slightly more – 29 percent – view it unfavorably. The percentage without an opinion of Islam has increased since last month, soon after the Paris attacks.
Finally, a new Rasmussen Reports poll shows similar numbers, including plurality Republican support for Trump's idea of a ban on Muslim immigration:
A new poll suggests that a plurality of Americans favor a temporary ban on Muslim immigration like the one proposed by Republican front-runner Donald Trump.

The survey by conservative-leaning Rasmussen Reports found that 46 percent of likely voters would favor a policy preventing Muslim immigrants from entering the country until tighter screening procedures can be implemented, while 40 percent would oppose such a measure.

Among likely Republican voters, 66 percent would support the ban, while 24 percent would oppose it.

Just 30 percent of likely Democratic voters would favor the proposed ban, while 55 percent said they would oppose it.

Those with no party affiliation said they would support the ban by a 45-39 margin.

Trump has been widely condemned by both parties for suggesting the U.S. should temporarily halt Muslim immigration in the wake of several terrorist attacks.

The top two Republican in Congress, House Speaker Paul Ryan (R-Wis.) and Senate Majority Leader Mitch McConnell (R-Ky.), spoke out against the plan on Tuesday.
Except for the Rasmussen poll, these polls show slightly less Republican support for the idea than the "flash" poll that Bloomberg conducted in the immediate aftermath of Trump's announcement late Monday afternoon. In that poll, 65% of likely Republican primary voters said that they supported the plan, while independents, Democrats, and Americans as a whole were widely opposed. As I said at the time, even if one took into account the fact that this was an online poll, albeit a scientific one designed to screen out the errors of other online polling, and the factored in the margin of error, it was clear that a significant portion of the Republican electorate appeared to support Trump's idea. Each of these three polls appears to support that contention, as do the polls that have come out since the plan was announced on Monday, including a new New Hampshire poll from WBUR, showed Trump continuing to lead and seemingly increasing that lead in polling conducted after the plan was announced. Additionally, polling taken before the plan was announced, and before the attacks in Paris and San Bernardino, from  the Public Religion Research Institute, the Pew Research Center, and a September Bloomberg Politics national poll, show widespread disdain for Muslims and Islam in general among Republicans, as does a new poll from YouGov. Finally, another datapoint from the new CBS/New York Times poll shows fear of terrorism is one of the major factors driving Republicans to line up behind Trump, which is odd if only because he has the least foreign policy experience of anyone in the race with the possible exception of Ben Carson.
Taken together, all of this would suggest strongly that, much like all of the other controversial things that Donald Trump has said since entering the race for President, his latest proposal is unlikely to hurt him with Republican voters notwithstanding the fact that it is rooted in xenophobia, bigotry, and an anti-Muslim bias that is more likely to help ISIS recruit sympathizers than it is to actually accomplish anything in the War On Terror.