New Poll Appears To Show Majority GOP Support For Trump's 'Ban Muslims' Immigration Plan
A new poll appears to show that a majority of Republicans support Donald Trump's plan to bar Muslims from immigrating to the United States.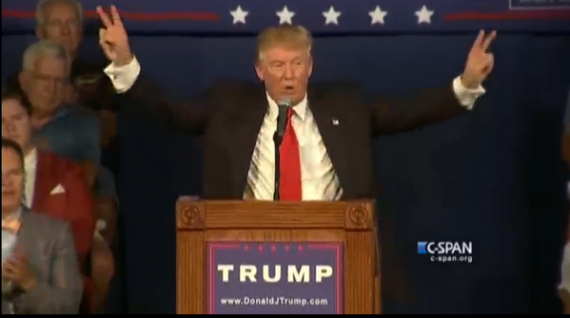 A new poll appears to show that Republican voters are apparently receptive to Donald Trump's proposal to ban Muslim immigrants for some unspecified period of time:
Almost two-thirds of likely 2016 Republican primary voters favor Donald Trump's call to temporarily ban Muslims from entering the U.S., while more than a third say it makes them more likely to vote for him.

Those are some of the findings from a Bloomberg Politics/Purple Strategies PulsePoll, an online survey conducted Tuesday, that shows support at 37 percent among all likely general-election voters for the controversial proposal put forward by the Republican front-runner.

"We believe these numbers are made up of some people who are truly expressing religious bigotry and others who are fearful about terrorism and are willing to do anything they think might make us safer," Doug Usher, who runs polling for Washington-based Purple Strategies, said in his analysis of the findings. "This indicates that, despite some conventional wisdom expressed in the last 48 hours, this is unlikely to hurt Trump at least in the primary campaign."

Support for Trump's proposal remains virtually unchanged even after voters are told both sides of the argument. On one side, they were told that "leaders from across the political spectrum have condemned this policy" as one that will make the U.S. "less safe by alienating the allies we need to fight ISIS." They were also told that Trump has said it is needed until more is known about the threat and that the nation "cannot be the victims of horrendous attacks by people that believe only in jihad."

When voters were provided with this additional information, support for the proposal remains essentially unchanged, with 64 percent of likely Republican primary voters saying they favor the idea. That includes 52 percent who say they strongly support the proposal.

After being told about the idea, 37 percent of likely Republican primary voters say it makes them more likely to support the billionaire real estate mogul, while 16 percent say less and 46 percent say it has no impact.

Among all likely general-election voters, including Democrats and independents, 18 percent say it makes them more likely to back Trump, while 33 percent say less likely and 44 percent say it has no impact.
These graphs show the results among likely voters, likely Republican voters, and likely Democratic voters: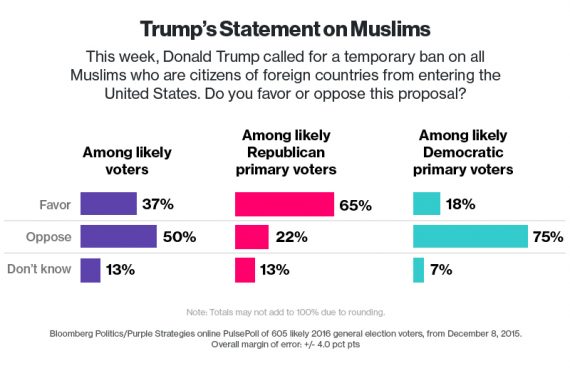 And here's the breakdown after respondents are given details about the national and international reaction to what Trump proposes: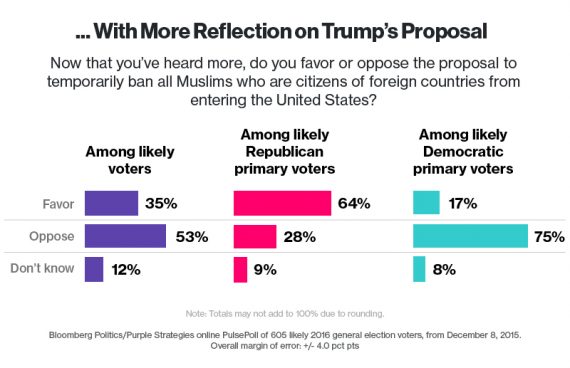 There are two caveats to keep in mind with regard to this poll. The first is that this is an online poll that was conducted in a manner similar to those that have been released for the past several months that tend to show doing better than most of the more traditional polling has shown him. As I noted when I discussed these types of polls last week, these polls are purporting to be done in a scientific manner that avoids the problems traditionally associated with online surveys, they are still a relatively new phenomenon that have not undergone the same kind of testing for reliability that live person and automated polling has since this is the first election cycle in which they are being used on a regular basis. It may turn out that these polls are as reliable as traditional polling, or even more reliable in some ways, but at the very least it's worth taking this new type of polling with a grain of salt. Presumably, this very same question is being put to the test by more traditional pollsters, and we could start to see the results of that polling later this week or early next week, and at that point it would be useful to compare those result to what we see here. Additionally, it's worth noting that the smaller sample size of "likely Republican voters" comes with a higher margin of error of seven points, which means that support for Trump's idea could be as low as 56% or as high as 71%. Again, until we've seen other polling on this issue it's worth not putting too much significance on a single poll result.
That being said, it is worth noting that these numbers are consistent with other polling that has been done regarding the opinions of likely Republican voters when it comes it Islam in general and the extent to which Muslims should be treated as a threat:
Polling indicates Trump's suspicion of Muslims will appeal to many Republican voters. A study by the Public Religion Research Institute released last month found 76 percent of Republicans say Islam is "at odds with American values and way of life," compared to 43 percent of Democrats. A survey by the Pew Research Center last year found Republicans rate Muslims more negatively than any other religious group, giving them an average of 33 on a scale of 100, compared to 71 for evangelical Christians, 67 for Jews, and 66 for Catholics.

In a Bloomberg Politics national poll conducted last month, 32 percent of Republicans said Islam is "an inherently violent religion" that leads its followers to violence.

"As much as anyone may disagree with his policies (and I do), Trump is not hurting himself with GOP voters with his negativity toward Muslims," said Eric Fehrnstrom, a senior adviser to 2012 Republican nominee Mitt Romney, on Twitter.
Given these previous numbers, nobody should be surprised if polling shows that likely Republican voters support Donald Trump's plan to bar Muslims from the country no matter how insane, bigoted, or demagogic it might sound to anyone with, well, even a modicum of common sense and decency. At the same time, these numbers shouldn't be taken as proof that all Republicans support Trump's proposal or that they would support him if he ended up being the Republican nominee. For the most part, the Republicans and conservatives that I've come to know online and personally over the years have expressed nothing but disdain for Trump for months now, and they have been particularly disdainful of the border control "plan" he announced on Monday. To a person, they have nearly all said that they would not support Trump is he were to become the nominee, and there's a general sense of bewilderment as to how someone like him could end up becoming such a strong force in the party they support. Now, one could make an argument that Donald Trump as the Republican frontrunner is largely a case of the Republican Party's chickens coming home to roost — and to a large degree that's an argument that I agree with — but it's also fairly apparent that these latest comments on his part are seeming to serve as something of a wake up call to a segment of the party that has unwisely let the Tea Party and the hard right take control of the GOP in recent years because it seemed like a smart way to win elections. The problem they face now, of course, is that the inmates have arguably taken over the asylum and stopping Trump individually won't necessarily wipe Trumpism out of the party. If these poll results are any indication, in fact, it's arguably the case that Trump speaks for the GOP base far more than any of the other candidates in the race, and that's a problem for an establishment that seems to finally recognize the monster they've helped create.