Trump's Plan To Bar Muslim Immigration Widely Condemned, But It's Unlikely To Hurt Him
Donald Trump's plan to bar all Muslim immigration to the United States is being widely condemned by his fellow Republicans and others, but the proposal probably won't hurt him politically in a Republican Party that is deeply bigoted against Muslims in general.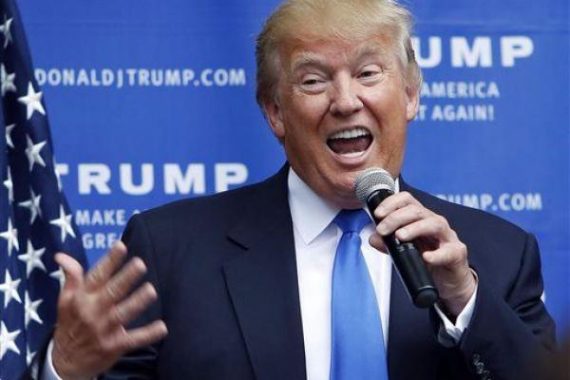 Donald Trump's proposal to ban Muslim immigration to the United States has, not surprisingly largely taken over the news cycle and will probably do so for at least the next couple days to come. If nothing else, President Obama should be thankful for this given the fact that, until Trump released this "plan," most of the talk had been about the President's speech on Sunday night, which was getting largely bad reviews. Now, the news is largely about all Donald Trump all the time, and Trump's fellow Republican candidates aren't exactly lining up to defend him:
White House can­did­ates from both parties quickly tore in­to Don­ald Trump Monday after the GOP front-run­ner said there should be a "total and com­plete shut­down of Muslims en­ter­ing the United States un­til our coun­try's rep­res­ent­at­ives can fig­ure out what is go­ing on."

But it re­mains un­clear if Trump's na­kedly anti-Muslim com­ments will be­come a polit­ic­al li­ab­il­ity in the race for the GOP nod, which has pre­vi­ously seen Trump thrive after mak­ing re­marks tar­get­ing Mex­ic­ans and oth­er con­tro­ver­sies.

Ben Car­son dis­tanced him­self from Trump but en­dorsed do­mest­ic sur­veil­lance of vis­it­ors to the U.S. "Every­one vis­it­ing our coun­try should re­gister and be mon­itored dur­ing their stay, as is done in many coun­tries. I do not and would not ad­voc­ate be­ing se­lect­ive on one's re­li­gion," Car­son said through a spokes­wo­man.

Marco Ru­bio bashed Trump for pro­pos­ing to bar Muslims from en­ter­ing the coun­try. "His habit of making offensive and outlandish statements will not bring Amer­ic­ans to­geth­er," the sen­at­or from Flor­ida said on Twit­ter.

Jeb Bush said on Twit­ter that Trump is "un­hinged" and that "[h]is 'policy' pro­pos­als are not ser­i­ous." A spokes­man for Ohio Gov. John Kasich was some­what more ex­pans­ive, telling Na­tion­al Journ­al: "This is just more of the out­rageous di­vis­ive­ness that char­ac­ter­izes his every breath and an­oth­er reas­on why he is en­tirely un­suited to lead the United States." Ac­cord­ing to wide­spread re­ports on Twit­ter, New Jer­sey Gov. Chris Christie told talk-ra­dio host Mi­chael Med­ved that it's a "ri­dicu­lous po­s­i­tion."

The cam­paign of Ted Cruz de­clined to dir­ectly cri­ti­cize Trump. In­stead, a spokes­man poin­ted to Cruz's pro­pos­al to block entry of refugees from na­tions, in­clud­ing Syr­ia and Ir­aq, that have "ter­ror­ist-con­trolled" ter­rit­ory. However, in a snip­pet of a taped NBC in­ter­view provided by the Cruz campaign, the sen­at­or from Texas said that bar­ring Muslims "is not my policy."

Cruz, who a new poll shows ahead of Trump in Iowa, said the fo­cus should be on "rad­ic­al Is­lam­ic ter­ror­ism, and we need to be dir­ectly fo­cused on threats to the United States." Sen. Lind­sey Gra­ham, in con­trast, took on Trump dir­ectly, say­ing on Twit­ter, "Every can­did­ate for pres­id­ent needs to do the right thing and con­demn" the com­ments.

(…)

Hil­lary Clin­ton said via Twit­ter that Trump's state­ment was "rep­re­hens­ible, pre­ju­diced and di­vis­ive," adding, "you don't get it. This makes us less safe."

Demo­crat­ic White House hope­fuls Bernie Sanders and Mar­tin O'Mal­ley both at­tacked Trump's com­ments too. "The U.S. is a strong na­tion when we stand to­geth­er. We are weak when we al­low ra­cism and xeno­pho­bia to di­vide us," Sanders said on Twit­ter, while O'Mal­ley took more dir­ect aim at Trump, tweet­ing that he is run­ning for pres­id­ent as a "fas­cist dem­agogue."

Re­pub­lic­an sen­at­ors re­turn­ing to Wash­ing­ton were greeted with im­me­di­ate ques­tions about the com­ments by Trump as he vies to lead their party.

Ma­jor­ity Whip John Cornyn pushed back against Trump. "I just think it's wrong to ste­reo­type people," Cornyn told re­port­ers in the Cap­it­ol. Sen. John Mc­Cain called the state­ment "fool­ish." Asked if it would hurt Trump's pres­id­en­tial pro­spects, Mc­Cain replied, "I have no idea. I thought long ago that the things that he said would hurt his pro­spects, and he con­tin­ues to go up."
Much like Ted Cruz, Kentucky Senator Rand Paul stood out in declining to fully condemn Trump's proposal, instead responding to questions about it by pointing to a proposal he made earlier this month to ban immigration from nations with a known history of harboring "radical elements," whatever that might mean. Beyond Cruz and Paul, though, the response to Trump's proposal from his fellow candidates and from top Republican officials both at the national level and in early primary states such as South Carolina and New Hampshire, as well as elsewhere, has been overwhelmingly. Even former Vice-President Dick Cheney, hardly someone who can be called a lightweight when it comes to fighting Islamist/Jihadist terrorism, has spoken out against Trump's proposal, saying that it "goes against everything we stand for and believe in," and that banning people from immigrating to the United States based on religion goes against the core of American history itself, which began with the arrival of Puritans and Pilgrims seeking refuge to practice their religious beliefs after persecution in England and elsewhere from established, government-backed, churches and government officials. In Florida, Republican Congressman David Jolly, who is now a candidate for the Republican nomination to succeed Marco Rubio in the Senate, blasted Trump's comments and called on his to drop out of the race. And, just this morning, Speaker of the House Paul Ryan condemned Trump's remarks:
Speaker Paul Ryan on Tuesday condemned presidential frontrunner Donald Trump's call to ban all Muslims from entering the United States, according to a source in the room at a closed-door GOP meeting.

"This is not who we are as a party or a country," Ryan, a Wisconsin Republican, told his House GOP colleagues during a meeting at the Capitol Hill Club. Ryan's remarks were met with applause

Ryan said Trump's proposal violates at least two amendments: the First Amendment protecting the freedom of religion, and the 14th forbidding guaranteeing due process of law and citizenship to all persons "born or naturalized" in the U.S.
Despite all of this criticism, Trump is not backing away from his controversial proposal. Last night, he held a rally in South Carolina at which he formally announced the plan that had at that point only taken the form of a press release to the public, and was wildly applauded by those in attendance. This morning, during appearances by phone on ABC's 'Good Morning America, CNN's 'New Day', and MSNBC's 'Morning Joe," which included a testy exchange with co-hosts Mika Brezenski and Joe Scarborough that led Scarborough to cut Trump off before returning from commercial to continue the interview,Trump continued to defend his proposal. To be fair, there were were some signs that Trump was backing away at least in some degree to the extent on the issue of whether or not the policy would apply to Americans citizens that happen to be Muslim and saying in several of the interviews that the ban would only be for a "limited" period of time. Trump didn't specify in response to questioning, especially from the panelists on 'Morning Joe' exactly how he would propose to determine if someone really is a Muslim, how he night differentiate between Muslim-American citizens, or what exactly he meant by a "limited period of time." Perhaps not surprisingly, when pressed on his plan Trump cited as support for his plan actions that President Franklin Roosevelt took in the wake of the attack on Pearl Harbor, and specifically seemed to say that he very well might have supported that part of Roosevelt's action that included the internment of Japanese-Americans during the war, an action that is now universally recognized as an egregious violation of the civil liberties of innocent Americans and a national embarrassment.
As I said last night, Trump's latest outrageous statement is seems unlikely to harm him politically notwithstanding the near universal condemnation that his proposal is receiving:
Polling indicates Trump's suspicion of Muslims will appeal to many Republican voters. A study by the Public Religion Research Institute released last month found 76 percent of Republicans say Islam is "at odds with American values and way of life," compared to 43 percent of Democrats. A survey by the Pew Research Center last year found Republicans rate Muslims more negatively than any other religious group, giving them an average of 33 on a scale of 100, compared to 71 for evangelical Christians, 67 for Jews, and 66 for Catholics.

In a Bloomberg Politics national poll conducted last month, 32 percent of Republicans said Islamic is "an inherently violent religion" that leads its followers to violence.

"As much as anyone may disagree with his policies (and I do), Trump is not hurting himself with GOP voters with his negativity toward Muslims," said Eric Fehrnstrom, a senior adviser to 2012 Republican nominee Mitt Romney, on Twitter.

Trump has led nearly every national Republican poll for five months, cruising past 30 percent in some surveys while rivals in the historically crowded field struggle to approach that threshold.

"I think he will still pull about 25 to 30 percent (in the polls)," e-mailed Republican lobbyist and longtime strategist John Feehery. "There's not a lot of love for Muslims right now," he added, extending beyond news events including the San Bernardino and Paris attacks to pop culture. "You have the television series Homeland that portrays them all like a bunch of terrorists."

"While he could lose a little support, the people that are supporting Trump will most likely agree with his viewpoints because they only see the violent actions committed by Islamic jihadists on cable news," said Republican strategist Ron Bonjean. "These voters are angry at what's happening in America and most agree with even some of the most outrageous comments he makes."
FiveThirtyEight's Ben Casselman and Harry Enten reach much the same conclusion:
A 2014 Pew Research Center poll asked Americans to rate various religious groups on a 0 to 100 scale, with a higher score indicating more positive feelings. Republicans (including people who lean Republican) gave Muslims a rating of 33, on average — one point lower than atheists and far lower than any other religious group. Democrats had more positive feelings toward Muslims, but were still chilly; they gave Muslims an average rating of 47, slightly above atheists and Mormons and below other religious groups.

Republicans are also more worried than Democrats about Islamic extremism. A separate Pew survey last year found that 82 percent of Republicans were "very concerned" about the rise of Islamic extremism in the world, compared with 60 percent of political independents and 51 percent of Democrats. And Republicans were much more likely than Democrats to report believing that Islam is "more likely to encourage violence among its believers" than other religions.

Trump supporters may have even more negative views of Muslims. According to a Public Religion Research Institute poll conducted earlier this year, 77 percent of Trump supporters believe "the values of Islam are at odds with American values and way of life," versus 72 percent of other Republicans (43 percent of Democrats said the same). Class and education make a big difference too: Two-thirds of white working-class Americans said Islam was incompatible with American values, compared to about half of white Americans with a college degree.
\
And last night Public Policy Polling shared some early numbers from a North Carolina poll to be released later today that shows that Trump knows his supporters quite well:
Trump supporters on our NC poll coming out tomorrow: only 24% think Islam should be legal in United States, 44% illegal

— PublicPolicyPolling (@ppppolls) December 7, 2015
Trump supporters on our NC poll coming out tomorrow: 67% support national database of Muslims, only 14% opposed — PublicPolicyPolling (@ppppolls) December 7, 2015
Trump supporters on our NC poll coming out tomorrow: 62% think thousands of Arabs in New Jersey cheered collapse of WTC, only 15% don't

— PublicPolicyPolling (@ppppolls) December 7, 2015
Trump supporters on our NC poll coming out tomorrow: 62% think thousands of Arabs in New Jersey cheered collapse of WTC, only 15% don't — PublicPolicyPolling (@ppppolls) December 7, 2015
Trump supporters on our NC poll coming out tomorrow: 51% want to shut down mosques in the United States, only 16% opposed

— PublicPolicyPolling (@ppppolls) December 7, 2015
So, while Donald Trump is being widely condemned for his bigotry, and rightfully so, the likelihood is that he will end up gaining in the polls and that Republicans will continue to sit back in largely shocked amazement at what their party has turned into.