Another Poll Shows Republicans Support Donald Trump's 'Ban All Muslims' Immigration Plan
Heading into another Presidential debate, a new poll shows that Republicans are very receptive to Donald Trump's proposal to ban Muslim immigration to the U.S.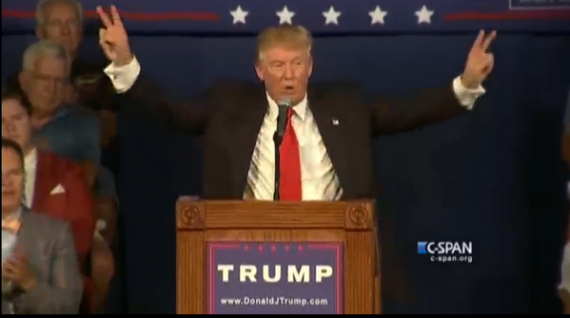 Another new national poll from ABC News and The Washington Post shows that Republicans support Donald Trump's plan to ban Muslim immigration to the United States for some unspecified period of time, while most other Americans oppose it:
A majority of Republicans support presidential candidate Donald Trump's call to temporarily block Muslims from entering the United States, even as a clear majority of the public overall rejects the idea in a new Washington Post-ABC News poll.

The survey finds broad sympathy for Muslims in the United States following recent terrorist attacks in Paris and California. The poll shows that more than seven in 10 adults think Muslims in the United States face discrimination for their religion, with nearly six in 10 saying such discrimination is not justified. Fewer than three in 10 say mainstream Islam encourages violence against non-Muslims, a similar finding to surveys conducted before the recent violence.

(…)

Sixty-percent of Americans say Trump's proposed ban on Muslims who are not U.S. citizens is the wrong thing to do, while 36 percent support it in the new poll. Nearly twice as many strongly oppose Trump's proposal as strongly support it, 48 percent to 25 percent.

The results underscore the stark divide between a GOP base that is skeptical of Islam and the views of the American public more broadly.

Republicans endorse Trump's proposal by a margin of 59 percent to 38 percent, with significant appeal across large swaths of the GOP electorate. For Republicans and GOP-leaning independents, support for Trump's idea is especially strong among those who lack college degrees — a group that has been particularly supportive of Trump in general. Sixty-three percent of those respondents support Trump's plan, while it falls to 44 percent among college graduates.

Republicans' support for Trump's proposal comes despite widespread criticism from GOP leaders and nearly all of his competitors for the nomination. Trump will face another challenge to his national security policies in a Republican debate Tuesday night, beginning the final six weeks before the Iowa caucuses in a contest that has refocused on national security and terrorism in response to the Islamic State's rise and growing terrorism fears.

Support for Trump's plan falls to 38 percent among political independents and to 17 percent among Democrats. His proposal also receives varying support across religious lines. Fewer than one-quarter of Americans with no religious affiliation support a ban on Muslims, 24 percent, compared with 40 percent of all Christians and 54 percent of white evangelical Protestants.

A 54 percent majority of Americans say mainstream Islam, excluding fringe elements and extremists, is a peaceful religion. Twenty-eight percent say mainstream Islam encourages violence against non-Muslims, similar to 31 percent in 2010 but down from about one-third in 2003 and 2006. More than six in 10 of those who say Islam encourages violence support Trump's proposal blocking Muslims from entering the United States, while more than seven in 10 who say Islam is peaceful oppose his plan.

A 73 percent majority in the poll say Muslims living in the United States experience discrimination because of their religion, and the vast majority of this group says such discrimination is not justified. A smaller share, 14 percent of all adults, perceive discrimination against Muslims but say it is justified.

Nearly eight in 10 of those who say Muslims face unjustified discrimination say Trump's proposal not to let Muslims enter the United States is wrong. Among those who say Muslims do not face discrimination or that discrimination is justified, more than six in 10 support Trump's plan.
These numbers are not entirely surprising, of course, in the immediate wake of Trump's announcement, a flash poll from Bloomberg showed strong Republican support for the idea of barring Muslims from immigrating into the United States to the point where it showed that support as being as high as 65% among self-identified Republicans. In the days that followed, and even though the plan was condemned by essentially all of Trump's fellow candidates along with other American politicians, as well as by political leaders worldwide, additional polling showed that while most Americans opposed the plan, Republicans were far more sympathetic to the idea than the rest of the American population. The fact that polling continued to show Trump polling very well in the Republican race, and that the first polls taken completely in the wake of the announcement were very positive for him also suggested very strongly that, in announcing the idea Trump had struck a nerve with Republicans even though it was unlikely that the idea ever could or would be implemented. Furthermore, polling taken well before the announcement and the most recent round of terrorist attacks, from the Public Religion Research Institute, the Pew Research Center, and a Bloomberg Politics national poll, show widespread disdain and distrust of  Muslims and Islam in general among Republicans, as does a new poll from YouGov. Finally, another datapoint from the new CBS/New York Times poll shows fear of terrorism is one of the major factors driving Republicans to line up behind Trump. Given all of this, the fact that Republicans are supporting Trump's plan is not surprising at all, and it's likely that Trump and his campaign advisers knew this before the announcement of the plan last week.
If nothing else, these numbers suggest that at least some of Trump's Republican opponents are likely to temper their criticism of Trump over his plan for fear of handing Trump a victory among Republican voters. To some extent, you could already sense some of that tempering in the initial comments that some of the candidates made last week in the immediate aftermath of the announcement. While some candidates, such as Lindsey Graham and others, were strongly condemnatory of the idea, others, such as Ted Cruz and Rand Paul were not. Of course, it's relevant in that distinction that Graham's low position in the polls, combined with the fact that he is arguably the most hawkish candidate in the race, gives him the room to be more critical of an idea like this even if it hurts him among Republican voters while candidates like Cruz and Paul can't necessarily afford to offend voters who support Paul for fear that the will just end up helping Trump rise even further in the polls while hurting their own position among base Republican voters. Obviously, this issue will come up during the Republican debate tonight, so it will be interesting to see how the rest of the field handles the issue now that we have several polls confirming that, at least as far as Republican voters are concerned, Trump is right.
On a final note, the fact that Republican voters do in fact seem to support what on its face is clearly an insane, probably unconstitutional idea that is likely to do more to confirm what groups like ISIS and al Qaeda say about the United States than to make the nation safer says a lot about the Republican Party, and none of it good. As I've said on several occasions already, Trump has clearly tapped into something rather dark in the Republican base, and he's succeeding by appealing to the worst fears and prejudices of that part of the party. To the extent the Republican establishment is concerned by this, and by all accounts they certainly and and should be, they really have nobody to blame but themselves for all of this since they have spent the better part of a decade, if not more, tapping into the this base to gain political power. Now that these people are striking out on their own and rallying around people like Donald Trump and, to a lesser extent at least for the moment, Ted Cruz, the establishment finds that they have no way of controlling the monster they helped create. Perhaps they'll learn a lesson from all of this.