Heading Into Next Debate, It's Still Trump On Top With Cruz And Rubio Fighting For Second Place
A pair of new national polls shows a new trend in the GOP race heading into the final debate of 2015.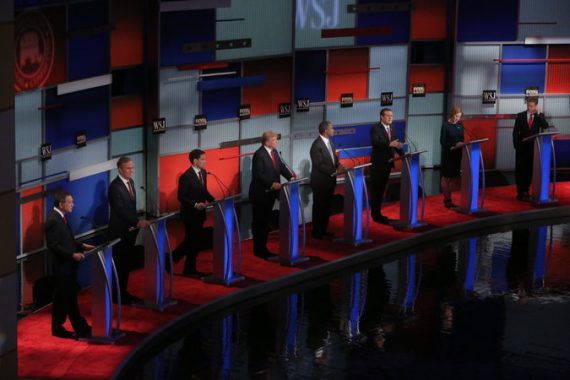 Two new national polls show Donald Trump continuing to hold on to a lead in the race for the Republican nomination, while a new poll out of Iowa shows that Trump and Texas Senator Ted Cruz are indeed locked in a battle in Iowa, something that can fairly be described as the GOP establishment's nightmare scenario.
First up, NBC and The Wall Street Journal released a new poll early this morning showing Trump and Cruz far atop the Republican field and Ben Carson sinking further after seemingly peaking in November:
Sen. Ted Cruz has surged in the 2016 GOP presidential primary contest, consolidating support from the party's most conservative voters and emerging as a leading alternative to businessman Donald Trump, a new Wall Street Journal/NBC News poll finds.

The latest poll, coming after a tumultuous month of international and domestic terrorism, found Mr. Trump tops in the GOP field, with Mr. Cruz in second place. The Texas senator appears to be benefiting from the sharp decline in support for Ben Carson,a retired neurosurgeon who led the pack in Journal/NBC News polling six weeks earlier.

The poll also showed a substantial lead for Hillary Clinton over her main rival for the Democratic nomination, Sen. Bernie Sanders, although the gap has narrowed.

Until recently, Messrs. Trump and Cruz have refrained from attacking each other, saving their barbs for other rivals in the crowded Republican field. But with a separate poll showing Mr. Cruz rising to first place among likely Republican caucusgoers in Iowa, he has increasingly come under direct and pointed attack from Mr. Trump, suggesting a messy new chapter in the GOP campaign on the eve of a nationally televised debate from Las Vegas on Tuesday night.

"I don't think he's qualified to be president because I don't think he's got the right temperament," Mr. Trump said of Mr. Cruz Sunday on Fox, referring to the senator's unyielding tactics that have alienated even some fellow Republicans on Capitol Hill. "I don't think he's got the right judgment."

Mr. Trump had 27% support among Republican primary voters in the new Journal/NBC News survey, his highest showing in that poll this year and an increase from 23% in late October.

But the biggest mover was Mr. Cruz, who had 22% support, up from 10% in late October and a boost strong enough to lift him to the poll's No. 2 spot for the first time since the campaign began. Sen. Marco Rubio of Florida placed third in the survey, with 15% support.

Mr. Carson fell from 29% support in late October to a fourth-place showing of 11% in the new survey.

Mr. Cruz, unlike many of his rival candidates, has avoided criticizing Mr. Trump over his provocative comments about Mexicans and other groups, in hopes of inheriting his supporters should they stray from his camp.

It remains to be seen whether his gloves come off now, but the new Journal/NBC News poll indicates that Mr. Cruz's strategy of trying to build support among evangelical Christians, tea-party supporters and other conservatives is working.

(…)

The poll offered little cheer for former Florida Gov. Jeb Bush, long ago considered the party's front-runner, who, like the remainder of the crowded field, remained stuck with single-digit ratings. Mr. Bush was the first choice of 7% of GOP primary voters.

Former Hewlett-Packard chief Carly Fiorina was first choice of 5%; former Arkansas Gov.Mike Huckabee and New Jersey Gov. Chris Christie drew 3% each; and Ohio Gov. John Kasich and Sen. Rand Paul of Kentucky each drew 2%.
The poll apparently did not include any candidates after Rand Paul, thus limiting itself to essentially the top ten candidates, nine of whom will be on the main stage in tomorrow's Presidential debate. Given the fact that the remaining candidates — George Pataki, Lindsey Graham, and Jim Gilmore, — have been polling at one percent or less in most polling to date it's unlikely that including them in the poll would have made much of a difference. One thing that this poll did do that does provide an interesting guide to where the race may be headed, though, is to include a second question that includes only the top five candidates in the poll, which gives us the following results:
Donald Trump — 30%
Ted Cruz — 24%
Marco Rubio — 21%
Ben Carson — 13%
Jeb Bush — 9%
None/Not sure — 3%
More than any other recent polling, this iteration of the horse race poll seems to make clear that, ultimately, we're looking at a battle between Senator Ted Cruz and Senator Marco Rubio for the position of second place behind Donald Trump. While Cruz appears from recent polling to be doing quite well in Iowa, in New Hampshire, where voters head to the polls just a week after the Iowa Caucuses, Marco Rubio seems to be moving up the ranks, although there he may have to contend with a surging Chris Christie who has seemingly placed all his chips on a strong showing in the Granite State in February. Beyond Trump, Cruz, and Rubio, Ben Carson's collapse seems to be continuing a quite traditional path for candidates who have come close to the top in the past only to flame out after being subjected to scrutiny such as Herman Cain in 2012, John Edwards in 2008, and Howard Dean in 2004. After Carson, Jeb Bush continues to ride the the delicate balance between still potentially being a contender if the cards play out right and slipping down into irrelevance, while Chris Christie and John Kasich both seem to be depending on New Hampshire to turn their campaigns around. Finally, the numbers seem to indicate quite clearly that both Carly Fiorina and Rand Paul are at the point where they are likely to slip into complete irrelevance along with the crowd that has been struggling to get even one percent in the polls for months now. For those two, absent some kind of miracle, it would seem fairly clear that there's virtually no chance that they'll ever be contenders for the nomination, never mind any chance they could actually win it.
As something of a contrast, the new national poll from Monmouth University that shows Trump with his biggest national lead yet in a traditional poll:
Donald Trump just got a little more vault in his ceiling. Nationwide, the polling-obsessed Manhattan multi-billionaire and leading Republican presidential candidate broke into the 40s on Monday.

According to the results of the latest Monmouth University poll surveying voters identifying as Republican or independents leaning toward the GOP, Trump earned 41 percent, nearly tripling the support of his closest rival, Texas Sen. Ted Cruz, who took 14 percent.

The poll underscores Trump's success at keeping voters fixated on his unprecedented presidential campaign. The latest national survey was taken after Trump landed another whopper, proposing in an emailed statement last Monday to temporarily ban all Muslims from entering the U.S. The statement gave Trump another boost of media attention, and some speculated it was designed to shift the conversation away from a Monmouth poll from Iowa released earlier that day that showed Cruz with a 5-point edge in the state.

Monmouth's survey also held good news for Florida Sen. Marco Rubio, who moved up to 10 percent support and third place, and bad news for retired neurosurgeon Ben Carson, who plummeted from 18 percent in October to 9 percent in this latest survey. Other candidates, including former Florida Gov. Jeb Bush, Ohio Gov. John Kasich, New Jersey Gov. Chris Christie and former Hewlett-Packard CEO Carly Fiorina, polled within the margin of error, with 6 percent remaining undecided.

Among various demographic groups, Trump picked up 13 points among those with a high-school education, earning 54 percent support with that group, and 11 points with those identifying with the tea party, earning 52 percent with that group. Cruz, however, picked up 15 points among tea party supporters, receiving 29 percent with that group. Trump's standing among women has fallen slightly, down four points since October (41 percent to 37 percent this time), though he has gained three points with men (41 percent to 44 percent). Among those with a college degree, support for Trump fell by 10 points, from 41 percent to 31 percent.

In terms of favorability, Cruz led the way with a net positive 40 points (58 percent favorable to 18 percent unfavorable), followed by Rubio at +37 points (55 percent to 18 percent) and Trump at +32 points (61 percent to 29 percent). For Trump, the latest results mark an improvement over the last two months in the Monmouth poll. In October, his favorability sat at 52 percent to 33 percent.
After Carson in fourth place at 9%, the Monmouth polls shows a dramatic drop-off that suggests that the race is consolidating around four candidates as we head into the final debate of the year, following quickly by the Holiday Season. Jeb Bush comes in sixth place at 3% where he's tied with Ohio Governor John Kasich, and they're followed by Carly Fiorina, John Kasich, Rand Paul, and Mike Huckabee, and all the others at one percent or less. Given the size of Trump's lead in this poll as compared to other national polling, it's worth considering the fact that this Monmouth poll may be a bit of an outlier. However, it's also worth noting that this is also the first poll that was conducted entirely after Trump's announcement a week ago of a plan that would bar Muslim immigration into the United States. That may mean that, to some extent at least, Trump's numbers are reflecting Republicans reflexively lining up behind Trump because of the attacks from the media and the Republican establishment over the proposal. It likely also reflects the fact, as I observed last week, that Republicans tend to support Trump's proposal, as polling on the specific plan itself seems to have confirmed. In any case, at the very least this result, and the numbers from NBC and The Wall Street Journal show that Trump has not been hurt by proposing the idea, which really should not surprise anyone.
As far as the national poll averages go, these new numbers are obviously good news for the Trump campaign. In the RealClearPolitics average, Trump is at an average of 31.4%, nearly doubling the standing of the new holding of second place, Texas Senator Ted Cruz, at 16.3%. After Cruz, Florida Senator Marco Rubio stands at 13.3% and Ben Carson is in fourth place at 12.6%. Given the fact that Carson's numbers have been going consistently downward for the better part of a month, though, it may be time to stop considering him to be part of a "top four" in the Republican field, especially since it now seems inevitable that he will slip out of double digits unless he manages to turn things around in tomorrow's debate. After Carson, Jeb Bush continues to hold on precariously to his "middle ground" status, but the fact that he's now averaging only 4.0% nationally makes it harder and harder to continue to take his campaign seriously. After Bush, there isn't a single candidate averaging three percent or above. The numbers are fairly similar in the Pollster average with the exception that Chris Christie does a little bit better when you take polls left off the RCP average.. In both cases, though, the trends seem to make clear that we're heading into tomorrow with the top three contenders being Donald Trump, Ted Cruz, and Marco Rubio. With the exception of Trump, who has led in the national averages since shortly after entering the race, this is a decidedly different make-up from what we at the start of the debate cycle in August when Trump's biggest competitor was Jeb Bush, while Senator Rubio was a distant third.
Outside of the role they play in determining debate eligibility, including who will be invited to the two Republican debates that will occur in January before the Iowa Caucuses, the national polls aren't really the important guide to determining the state of the race, of course. For that we need to look at the state polls, particularly at this point the polling in Iowa and New Hampshire, where we see slightly different battles taking shape. In the wake of Saturday night's report regarding Ted Cruz's surge in the new Des Moines Register and Fox News polls, a new Quinnipiac poll of the Hawkeye State shows a slightly closer race. In this poll, Trump has a 28% to 27% lead over Cruz, followed by Rubio at 15%, Carson at 10%, and everyone else at 5% or less. With this poll factored in, the RealClearPolitics poll average has Cruz and Trump less than one point apart, with Rubio, Carson, and the rest far behind. In New Hampshire, by contrast, the RealClearPolitics average has Trump in the lead at an average of 28.7%, Rubio second at 12%, followed by Christie at 10.7%, Cruz at 9,7%, and Kasich (7.3%) and Bush (7.0%) seemingly at least close enough to be considered contenders considering that we're still fairly far out from the actual voting. Not surprisingly, then, Iowa and New Hampshire seem to be setting up as two different battles, as they usually do. In Iowa, then, we primarily seem to have a battle developing between Trump and Cruz, with the possibility that Marco Rubio could move up further especially as Ben Carson continues to decline. In New Hampshire, the battle for now appears to be between Rubio, Christie, and to some extent Cruz for second place behind Trump. In both these states, of course, it's worth remembering that voters in both states have a long history of not making up their minds until final weeks of the campaign, but with campaign headed into a holiday period where voters will likely be spending their time focused on things other than politics even while the candidates continue to fight, this sets up several interesting dynamics heading into tomorrow and the days that follow.