Trump Continues To Control The Race For The GOP Nomination
Notwithstanding the hopes of many Republicans, Donald Trump continues to be the person to beat in the race for the party's 2016 Presidential nomination.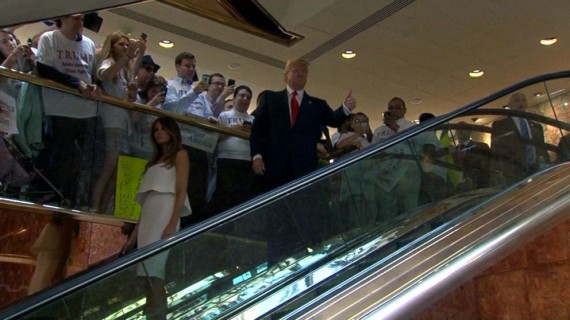 Another day, another round of polls showing Donald Trump remains firmly at the top of the race for the Republican Presidential race, as well as seeming confirmation that his controversial proposal to bar Muslim immigration to the United States isn't going to hurt him at all and may in fact help him rise in the polls even further.
First up, there's a new national poll from CBS and The New York Times that shows Trump in his strongest position in the race so far this year, a point that becomes all the more significant when one realizes we are now less than two months away from the Iowa Caucuses and New Hampshire Primary:
Donald J. Trump occupies his strongest position yet in the race for the Republican presidential nomination, yet nearly two-thirds of American voters say they are concerned or frightened about the prospect of a Trump presidency, according to the latest New York Times/CBS News nationwide poll.

The poll was taken largely before his statement on Monday afternoon proposing to temporarily bar Muslims from entering the United States.

On the Democratic side, the poll found Hillary Clinton is maintaining her 20-point lead over Senator Bernie Sanders of Vermont. The possibility of her winning the presidency in 2016 is only marginally more palatable to American voters than that of Mr. Trump.

Mr. Trump commands the support of 35 percent of Republican primary voters, leading his closest competitors, Senator Ted Cruz of Texas (16 percent) and Ben Carson (13 percent) by a more than 2-to-1 margin. While Mr. Carson's support was cut in half since the last time The Times and CBS News polled on the race in late October, Mr. Cruz has quadrupled his share. Senator Marco Rubio of Florida's support stands at 9 percent, with the rest of the candidates at 4 percent or less.

Enthusiasm for and attention to the campaign are higher among Republican primary voters than among their Democratic counterparts. A 54 percent majority of Democratic primary voters said they had made up their minds about who they will support, while 64 percent of Republicans say it is still too early to be sure. Majorities of Trump and Clinton supporters say their decision is firm.

Over all, 24 percent of voters expressed concern and 40 percent fear about what Mr. Trump would do if elected president, whereas 23 percent said they are concerned and 34 percent scared about the possibility of a Clinton presidency. Not surprisingly, voters were sharply divided along partisan lines.
In the national poll average, this now means that Donald Trump has essentially a 2-to-1 advantage over his nearly rival, Texas Senator Ted Cruz, while Cruz is followed by Ben Carson and Marco Rubio, who are tied at 13.6% but clearly going in opposite directions as far as the trends are concerned. Those four are followed by Jeb Bush at 3.6% while the rest of the field is averaging below 3% and becoming increasingly irrelevant to the conversation. The numbers and trends in the Pollster average are largely the same. In other words, this poll, along with several other national polls that have come through in the past couple days show that the race for the Republican nomination continues to seem its seemingly solidification around a core group of four candidates at the top consisting of Trump, Cruz, Rubio, and Carson, with Jeb Bush sitting seemingly alone in the middle of the field while the rest of the field fades away into seeming irrelevance. There's still time for there to to be another reshuffling, of course, but with the next debate coming up next Tuesday and the holidays following quickly thereafter, it could be some time before any such movement occurs, assuming that it ever does.
Meanwhile, a new poll of South Carolina from Winthrop University taken entirely before Trump announced the new anti-Muslim immigration plan shows Trump (24%) leading Senator Ted Cruz (16%) by eight points, followed by Ben Carson (14%), Marco Rubio (11%), and Jeb Bush (9%), with all other candidates at 2% or less. A Fox News poll of Palmetto State Republicans, meanwhile, shows Trump with a larger lead and appears to show his support increasing after the immigration plan was announced:
Donald Trump and Hillary Clinton have commanding leads in the race for their parties' nominations in South Carolina, according to the latest Fox News poll.

It's no wonder Trump is leading.  He's ahead among both those who prioritize national security and economic issues.  He's the top pick among voters on the two most important candidate qualities — strong leader and, to a lesser degree, honest and trustworthy.  Plus, he's considered the most electable — by a lot.

Trump leads with 35 percent among South Carolina Republican primary voters.  Ben Carson gets 15 percent, and Ted Cruz and Marco Rubio receive 14 percent each.

All other candidates are in single digits, including Jeb Bush at 5 percent.

The poll, released Wednesday, was conducted Saturday through Tuesday evenings.  Trump made provocative remarks Monday about barring Muslims from entering the United States.

It looks like his comments help him in South Carolina.  Support for Trump increased eight points after his statement — from 30 percent the first two nights vs. 38 percent the last two nights.  The shift is within the margin of sampling error. 

Republican pollster Daron Shaw says, "There are enough people in the last two nights of the sample to question the widespread assumption that Trump's comments will hurt him among GOP primary voters."  Shaw conducts the Fox News Poll with Democratic pollster Chris Anderson.

There's no gender gap in Trump's support, as about a third of men (37 percent) and women (32 percent) GOP voters make him their first choice.

Younger voters are less enthusiastic about The Donald.  Twenty-nine percent of those under 45 back him compared to 38 percent of those ages 45 and over.  Moreover, 30 percent of those under 45 say they would never vote for Trump.

The favorites among white evangelical Christians voting in the GOP primary are Trump (34 percent), Carson (18 percent), Cruz (15 percent) and Rubio (12 percent).

South Carolina Sen. Lindsey Graham gets rough treatment from those who know him best.  Only two percent of his home-state voters support him in the nomination race.  And nearly one in five (18 percent) say they would never support him for the GOP nomination.

The top "never" support candidates are Trump, who has 24 percent saying they wouldn't back him, and Bush, at 19 percent.

Among those part of the Tea Party movement, 28 percent say they would never back Bush or Graham.

National security is the most important issue for GOP primary voters in deciding their vote.  Thirty-nine percent feel that way compared with 24 percent who prioritize economic issues.  Some 16 percent say immigration issues will be most important and 6 percent say social issues.

Trump holds a wide lead among voters who say national security is their top issue.  He receives 32 percent — twice the support for Carson, Cruz and Rubio, who each get 16 percent among national security voters.

And those who prioritize economic issues back the same four candidates:  Trump (32 percent), Rubio (14 percent), Carson (12 percent) and Cruz (12 percent).
With these new South Carolina polls, the poll averages at both RealClearPolitics and Pollster show that the race there seems to be following the same trend as the national race, with Trump, Cruz, Rubio, and Carson at the top, Bush in the middle, and everyone else fading. Meanwhile, the news that Trump's support appears to have increased in the wake of the announcement of the anti-Muslim immigration plan on Monday isn't entirely surprising given the polls we've already seen regarding antipathy toward Muslims generally among Republicans and the Bloomberg poll released last night that shows nearly two-thirds of Republicans support the plan. At the same time, though, it will be the polling conducted entirely after the announcement of the plan, and in the wake of the negative reaction to it, that will be the true test of both how GOP voters feel about the plan itself and whether there has been any impact on Trump's level of support at the national or state level. The initial information available to us, though, would suggest that, notwithstanding whatever Republican insiders may want to hear, Trump's ideas are popular enough inside the party that, yet again, he will escape paying any real price for saying something that one would have thought would be the end of any other politician.
All of this, of course, leads back to the issue of Republican insiders who see a Trump candidacy as a potential disaster in the making for the GOP should Trump become the nominee. As I've noted before, though, these same insiders don't seem to have much of a plan at this point beyond hoping that primary and caucus voters wake up and get behind some other candidate(s) while strategists are already talking to down ballot candidates about how they should handle the possibility that Trump will be on the top of the ticket next year. In seeming response to those worries , there are a trio of pieces this morning that seem guaranteed to make those same insiders even more nervous than they already are. Lauren Fox at Talking Points Memo argues that nothing can stop Trump now thanks in no small part to the fact that Trump's supporters are devoted to him in a way that we haven't seen for a Republican Presidential candidate in quite some time. Indeed, the one comparison that comes to mind are the core supporters who rallied behind Barack Obama early in the 2008 cycle and propelled him to victory over Hillary Clinton in the race for the Democratic nomination. Henry Olsen at The Atlantic, meanwhile, puts forward the possibility that Trump's actual level of support may actually be greater than what we're seeing in the polls, and uses the example of the anti-immigrant right-wing parties in Europe as support for his argument. Finally, Paul Schwartzman and Jenna Johnson at The Washington Post look at Trump's speeches, media appearances, and social media engagements and find a much smarter, more disciplined campaign than many of have been tempted to see, suggesting that Trump isn't just going to fall apart in an Iowa blizzard or New Hampshire winter as many Republicans are likely hoping. At the very least, all of this suggests that if Trump can keep this up and actually starts winning primaries, then the prospect of stopping him may prove to be far more daunting than many Republicans who fear what he could to the party are hoping.