Republican Insiders Still Worried About Donald Trump, Still Don't Know What To Do About Him
For good reason, many Republicans are worried about the prospect that Donald Trump could end up winning the Republican nominee, but they don't seem to have a plan to stop him.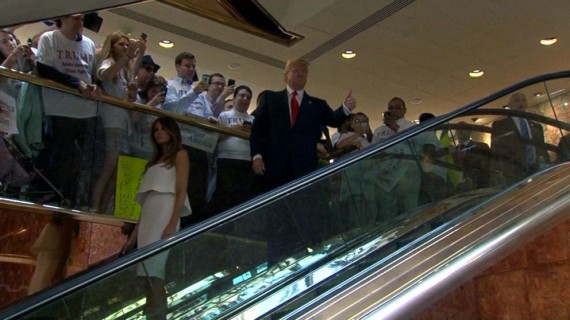 As Donald Trump's lead in the polling at the national level, as well as in early primary states such as Iowa, New Hampshire, South Carolina, and Florida, continues a streak that began shortly after he entered the race in mid-June, The New York Times reports that high-level Republicans are becoming increasingly worried that they won't be able to stop a Trump juggernaut when the primaries actually start and that a Trump nomination could lead to serious problems for the GOP further down the ballot:
WASHINGTON — For months, much of the Republican Party's establishment has been uneasy about the rise of Donald J. Trump, concerned that he was overwhelming the presidential primary contest and encouraging other candidates to mimic his incendiary speech. Now, though, irritation is giving way to panic as it becomes increasingly plausible that Mr. Trump could be the party's standard-bearer and imperil the careers of other Republicans.

Many leading Republican officials, strategists and donors now say they fear that Mr. Trump's nomination would lead to an electoral wipeout, a sweeping defeat that could undo some of the gains Republicans have made in recent congressional, state and local elections. But in a party that lacks a true leader or anything in the way of consensus — and with the combative Mr. Trump certain to scorch anyone who takes him on — a fierce dispute has arisen about what can be done to stop his candidacy and whether anyone should even try.

Some of the highest-ranking Republicans in Congress and some of the party's wealthiest and most generous donors have balked at trying to take down Mr. Trump because they fear a public feud with the insult-spewing media figure. Others warn that doing so might backfire at a time of soaring anger toward political insiders.

That has led to a standoff of sorts: Almost everyone in the party's upper echelons agrees something must be done, and almost no one is willing to do it.

With his knack for offending the very constituencies Republicans have struggled with in recent elections, women and minorities, Mr. Trump could be a millstone on his party if he won the nomination. He is viewed unfavorably by 64 percent of women and 74 percent of nonwhite voters, according to a November ABC News/Washington Post poll. Such unpopularity could not only doom his candidacy in November but also threaten the party's tenuous majority in the Senate, hand House seats to the Democrats and imperil Republicans in a handful of governor's races.

In states with some of the most competitive Senate contests, the concern is palpable, especially after weeks in which Mr. Trump has made a new series of inflammatory statements.

"If he carries this message into the general election in Ohio, we'll hand this election to Hillary Clinton — and then try to salvage the rest of the ticket," said Matt Borges, chairman of the Republican Party there, where Senator Rob Portman is facing a competitive re-election.

Pat Brady, the former state Republican chairman in Illinois, where Senator Mark S. Kirk is also locked in a difficult campaign, was even more direct. "If he's our nominee, the repercussions of that in this state would be devastating," Mr. Brady said.

Another Republican strategist in Ohio replied to an email asking about Mr. Trump's effect in the state by sending a link to a Wikipedia page on the 1964 congressional elections, when Barry Goldwater's presence atop the Republican ticket led the party to lose 36 House seats.

In Washington, many of the party's top operatives believe that there is no way even the strongest Senate candidates could overcome the tide if Mr. Trump were leading the ticket.

"Senator Portman is a great example I like to use when talking about this," said Brian Walsh, a Senate campaign veteran. "He's very well prepared, has tons of cash in the bank, and he got his campaign organized and up and running early. But if we nominate a bad presidential candidate like Trump, senators like Portman or Kelly Ayotte aren't going to be able to outrun Hillary by that much. And there goes the Senate."

Asked about concerns over Mr. Trump's potential influence on other contests, his spokeswoman, Hope Hicks, said, "I think the facts indicate the exact opposite is true," and emailed a link to a consumer marketing firm's assertion that Mr. Trump would ensure the highest general election turnout from Republicans, Democrats and independents alike.

Yet the clamor for a "Stop Trump" effort has become pervasive at the Senate's highest levels, where members up for re-election are realizing that they can no longer dismiss as strictly theoretical the possibility of his capturing the nomination. Mr. Trump's persistent ranking at or near the top of the polls is prompting urgent calls for an advertising assault to try to sink his campaign.

"It would be an utter, complete and total disaster," Senator Lindsey Graham of South Carolina, himself a presidential candidate who has tangled with Mr. Trump, said of his rival's effect on lower-tier Republican candidates. "If you're a xenophobic, race-baiting, religious bigot, you're going to have a hard time being president of the United States, and you're going to do irreparable damage to the party."

Mr. Graham recounted separate phone calls with two of the party's most sought-after donors last week, people who he insisted not be named but who give tens of millions of dollars to Republicans every election year. He said they had expressed alarm at Mr. Trump's durability and asked what could be done.

"I said, 'If you care about the future of the Republican Party, and you want to have a viable Republican Party, you better start moving,'" Mr. Graham said. "If they don't push back, they'll have nobody to blame but themselves."
This isn't the first time that we've heard reports of worries from top-level Republicans about the impact that Trump could have not just on the race for the White House but on races further down the ballot in 2016, but like those previous reports it does not seem as though anyone can agree on what, exactly can be done about the Trump phenomenon. Just last week, The Washington Post published a piece that quoted both identified and anonymous Republican donors who expressed similar worries but at the same time indicated that they didn't have any real idea what to do about Donald Trump going forward. Instead, the consensus that came out of the conversations relayed in that report is that the donors, many of whom continue to sit on the sidelines of the Presidential race, are content to put their trust in the voters to stop Trump and don't really have a 'Plan B' if that doesn't happen and Trump starts to win primaries and caucuses once voting starts in February. As I noted at the time, the fact that nothing that Trump has done or said over the past five months, no matter how outrageous, has seemed to do much of anything to stop him from at least maintain his lead in the polls, and usually rising whenever he does face criticism, suggests that the 'do nothing' approach may not work at all and that it would likely be too late to stop Trump if he actually starts winning once the voting starts.
This new report from The New York Times, though, raises concerns that may spur Republicans alarmed by the rise and continued resilience of Donald Trump to action, namely the prospect that the many gains that the party has made below the level of the White House could be put in jeopardy if Donald Trump ends up somehow winning the nomination or even just tainting the Republican Party no matter who the nominee actually is. The most immediate concern, obviously, is the Senate, where Republicans will be defending the most seats by far in quite some time thanks to their pickups in the 2010 elections. Among those seats are six in states that President Obama won in both 2008 and 2012 — Ron Johnson in Wisconsin, Mark Kirk in Illinois, Rob Portman in Ohio, Pat Toomey in Pennsylvania, Kelly Ayotte in New Hampshire, and Marco Rubio's seat in Florida, which will be open since Rubio is not running for re-election. To offset potential loses in any of these seats, Republicans are setting their sights on Michael Bennett in Colorado and the seat in Nevada that will be open thanks to Harry Reid's retirement at the end of the current Congress. With 54 seats in their favor right now, Republicans could afford to lose as many as a net three seats and still maintain a majority in the Senate. Given the fact that polling has already indicated that the seats in Wisconsin and Illinois are in danger, though, Republicans and ill afford to have a candidate at the top of the ticket that polarizes voters and causes people to vote Democratic on their lower ballot because of who is at the top of the Republican ticket. Beyond the Senate, there's also the unlikely possibility that the Republican majority in the House could be put in danger, and the more likely possibility that an electoral disaster at the top of the ticket could jeopardize the substantial gains that Republicans have made over the past five years in state legislatures and races for Governor.
Given the prospect of losing all of this, one would think that top Republicans would be doing more than talking about what to do about Donald Trump at this point and moving on to, well, actually doing something. With a little over two months to go until the Iowa Caucuses, it would seem fairly clear that the time to act is fast approaching. Yes, there's a good possibility that a big money campaign against Trump could backfire, or that an effort to pump a lot of money into the race on behalf of the candidate seen as best able to "stop Trump" (whomever that might be) would just end up being ammunition that Trump uses against that candidate as he has in the past and no doubt will continue to do in the future. It strikes me, though, that if these people truly believe that Trump is a danger to the party as a whole then they need to do more than just sit on their hands and fret about what might happen. If that's what they do for much longer then at some point they could very well wake up and find out it's too late and that the GOP is racing down the hill toward a probable electoral train wreck next November with Donald Trump driving the train while everyone on the ballot behinds him just hopes they can survive the impact.