Trump Hemmorhaging Donors and Backers
The ship is abandoning the sinking rat.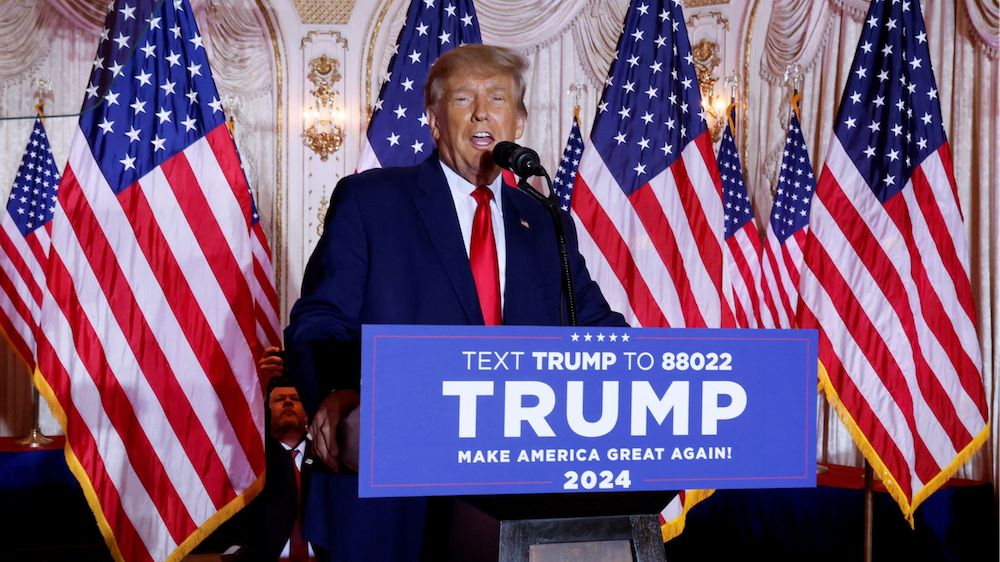 NYT ("Key Allies Are Inching Away From Trump"):
Three billionaire donors have moved on and others are actively weighing their options. A number of former allies are staying on the sidelines. A long list of potential rivals — from popular governors to members of Congress — are seriously assessing their chances for 2024. Even his own daughter has declined to get involved.

Within hours of Donald J. Trump announcing his third presidential bid on Tuesday, some of his former aides, donors and staunchest allies are shunning his attempt to recapture the White House, an early sign that he may face difficulty winning the support of a Republican Party still reeling from unexpected midterm losses.

While Mr. Trump has long faced opposition from the establishment and elite quarters of his party, this round of criticism was new in its raw bluntness, plainly out in the open by Wednesday and focused on reminding voters that the Trump era in Republican politics has led to the opposite of the endless winning Mr. Trump once promised.

"The message he delivered last night — which was self-serving, which was chaotic — was the same one that lost the last election cycle and would lose the next," said Gov. Asa Hutchinson of Arkansas, a Republican and Trump critic who spoke Wednesday from Iowa, where he is testing the waters for a presidential run in 2024. "We need alternatives."

A growing chorus of Republican officials, lawmakers and activists blame the former president for their failure to regain control of the Senate and for what will be a narrow margin in the House.

The scope of the Republican losses has prompted some of his allies to publicly voice complaints they have long kept private about the former president's ability to win the White House. For those who have been more vocal, their concerns have morphed into far more direct attacks as they try to seize what they see as a chance to move past Mr. Trump and embrace a new class of party leaders.

At an annual gathering of Republican governors in Orlando, donors and lobbyists mingled with governors past, present and future while weighing ways to wrest Mr. Trump from the party's base. Their main complaint was not over policy or even style, but losses the party has taken since Mr. Trump won the White House in 2016.

Gov. Kristi Noem of South Dakota, a Republican often mentioned as a potential 2024 candidate, said she did not believe Mr. Trump offered "the best chance" for the party in 2024.

"If we narrow our focus there, then we're not talking to every single American," Ms. Noem said in an interview as she sat across a mahogany table from her political adviser, Corey Lewandowski, who served as campaign manager for an early portion of Mr. Trump's 2016 bid. "Our job is not just to talk to people who love Trump or hate Trump. Our job is to talk to every single American."

Representative Mo Brooks of Alabama, a former Trump ally who spoke at the Jan. 6, 2021, rally that preceded the attack on the Capitol, put it more bluntly in a phone interview: "In 2020, there was no other option. In 2024 we will have candidates who are vastly superior and will do much, much better competing against the Democrat nominee than the loser Donald Trump has proven himself to be."
While I'll take it, it's noteworthy that most of the elites abandoning Trump are doing so because they think he's bad for the Republican Party, not because he's bad for the country. There are, presumably, a significant number of more traditional Republicans who never cared for him but clung to him out of cowardly expediency. They, I suppose, are feeling freer to speak their minds.
Whether the complaints filter down to a Republican Party base that has long stuck by Mr. Trump remains to be seen. Predictions of his demise among the party's rank and file have long been undone by primary results, particularly in this year's Senate contests. Officials who are closest to the party's base — state legislators and county G.O.P. leaders loyal to Mr. Trump — said Wednesday that they had not seen the sort of defections predicted by the Republican elite gathered in the swanky conference rooms of a Waldorf Astoria hotel within a stone's throw of Disney World.

"I haven't had anybody express their dissatisfaction with Trump since the midterms," said Terry Brand, the Republican chairman in Langlade County in rural northern Wisconsin. "The people that supported Trump in 2016 and 2020, the real supporters, they're going to support him again."
One imagines that's true. But it's not like he was getting supermajority support even in 2016; he was just a singular brand among a large group of fairly interchangeable candidates.
Three major party donors — Stephen Schwarzman, Ken Griffin and Ronald Lauder — said this week that they intended to back someone other than Mr. Trump or have no plans to support him this time. Mr. Trump's daughter Ivanka said she would not be involved with his campaign, saying that she is "choosing to prioritize" her children. Groups like the conservative Club for Growth, once a staunch Trump ally, are circulating polling showing Mr. Trump trailing Gov. Ron DeSantis of Florida by double digits.

Other potential contenders — including Ms. Noem, former Vice President Mike Pence and Gov. Glenn Youngkin of Virginia — are reassessing their 2024 chances in the wake of the midterms. Another possible contender, Mike Pompeo, who served as Mr. Trump's secretary of state, wrote on Twitter that Republicans needed "leaders who are looking forward, not staring in the rearview mirror claiming victimhood," a reference to Mr. Trump's declaration on Tuesday that "I'm a victim."

On Capitol Hill, some Republican lawmakers long loyal to Mr. Trump began a slow backpedal.

Representative Kevin McCarthy, who has tied his bid to become the next House speaker to Mr. Trump's political legacy, wouldn't say if he will endorse Mr. Trump for president. Senator Kevin Cramer of North Dakota, a staunch ally who won his 2018 election on the back of Mr. Trump's endorsement and support, said he was rooting for a wide-open presidential primary.

"I hope a lot of other people get in," Mr. Cramer said. "He's not entitled to the job. None of us are."

Plenty of others jumped to Mr. Trump's side, however. They included not just his most fervent supporters — Representative Marjorie Taylor Greene of Georgia and Representative Madison Cawthorn of North Carolina, who lost his primary — but rising stars, such as Wesley Hunt of Texas, one of two new Black Republicans elected to the House.
In an ideal world, a Trump-MTG-Cawthorn Caucus would comprise three people. We'll see how large it really is.
"He's a loser," said Gov. Chris Sununu of New Hampshire, who won a commanding re-election victory last week. "He lost in 2020. And most Republicans agree with that."

Former Gov. Chris Christie of New Jersey, a longtime-but-no-more Trump ally, received a standing ovation on Tuesday morning after he told a roomful of party donors, governors and strategists that Mr. Trump cost the party victory in the past three federal elections.

But in an interview hours later, Mr. Christie acknowledged that the former president might not have lost his grip on the party's base. "Primary voters need to understand the ramifications of another vote for Donald Trump," said Mr. Christie, not ruling out his own 2024 bid. "It will mean four more years of a Democratic president."

Polling indicates that about one-third of the Republican Party remains devoted to Mr. Trump, making it difficult for another candidate to oust him in a sprawling primary field. That explains why most elected Republicans have remained silent as they wait to see how far Mr. Trump gets and whether possible challengers like Mr. DeSantis will be able to withstand his taunts and assaults or will fold like his rivals in 2016.

"I am on the horns of a DeSantis-Trump dilemma," said Tom Tancredo, a Republican and former Colorado congressman who helped pioneer the anti-immigration politics that Mr. Trump successfully exploited. "I guess it will just boil down to which looks more electable by primary time." He said he thought that would be Mr. DeSantis.
The sheer fecklessness and opportunism of these people continues to astound me.
WaPo ("Trump's early 2024 launch fails to rally GOP around him") adds:
[H]is official campaign announcement on Tuesday echoed his original 2015 launch in other ways that are less to his favor — lacking the advantages of incumbency and a unified party at his back.

Republican leaders in Washington and around the country are openly blaming Trump for leading the party to its third consecutive electoral letdown. A conservative press that cheered his presidency reprised the hostile tone many right-leaning outlets took when he first appeared on the political scene in 2015. And an emboldened array of potential 2024 competitors for the nomination have stepped forward to suggest an alternative future for the party, even if they are not formally joining Trump in the race yet.

Few major donors or even former Trump administration officials immediately came to his defense — with some, most notably Blackstone CEO Steve Schwarzman, a longtime adviser to Trump in the presidency, saying he would support someone else. And some polls show Trump has seen significant erosion among Republicans.

"For the first time since the 2020 election it is clear that Trump is far more vulnerable than people may have thought," said John Tillman, CEO of the American Culture Project, a conservative nonprofit group funded by major donors to the GOP. "As Trump continues to focus on himself, criticize fellow Republicans, endorse less competitive candidates that go on to lose — that means he is helping more and more Republican primary voters see his flaws."

[…]

Back in Washington, Trump's clout within the party suffered another setback as Sen. Mitch McConnell of Kentucky defeated Sen. Rick Scott of Florida to remain the Senate's Republican leader. Trump has repeatedly demanded McConnell's immediate ouster and made clear his preference for Scott, yet the challenge attracted only 10 votes.

House GOP leader Kevin McCarthy of California — fresh off his own win in leadership elections but short of the votes needed to become speaker in January after the GOP clinched the House — declined to endorse Trump on Wednesday, telling reporters at the Capitol, "You guys are crazy."

McCarthy told others before the election that he did not expect to immediately endorse Trump if he ran for president again. He was the first member of the House leadership to endorse Trump in 2016 — as well as the first major Republican to publicly embrace Trump after the Jan. 6, 2021, attack on the Capitol — and Trump has been supporting him for speaker.

Advisers say Trump sees being an outsider as a valuable political advantage and wants to talk about "draining the swamp" and how the establishment — and the entire media — is against him. But his team also courted a number of advisers, members of Congress and other influential Republicans, including Republican National Committee members, who did not show up on Tuesday night.

The party's chairwoman, Ronna McDaniel, was not present. Nor were several of Trump's most reliable congressional allies, such as Reps. Marjorie Taylor Greene of Georgia, Matt Gaetz of Florida or Jim Jordan of Ohio, who in some cases blamed their absence on the weather.

Among the few notable Republicans present were Rep. Madison Cawthorn (N.C.), who lost his primary and is leaving office; Michigan GOP co-chair Meshawn Maddock; and Texas Attorney General Ken Paxton. Instead, the crowd was padded with Trump rally superfans, alt-right influencers, and alumni of various Trump political and business ventures. There were no prominent elected officials.

"His team was hoping for far more people there and they didn't get it," said one senior Republican, who like some others spoke on the condition of anonymity to disclose internal discussions.
Again, I would far prefer it if these people were defecting from Trump out of moral principle rather than political calculation. But to the extent Trumpism is a cult of personality rather than a movement, getting rid of the cult leader would be most helpful.