Mueller Report Coming Soon?
Robert Mueller appears to be winding down his investigation and getting ready to submit a report to the Attorney General.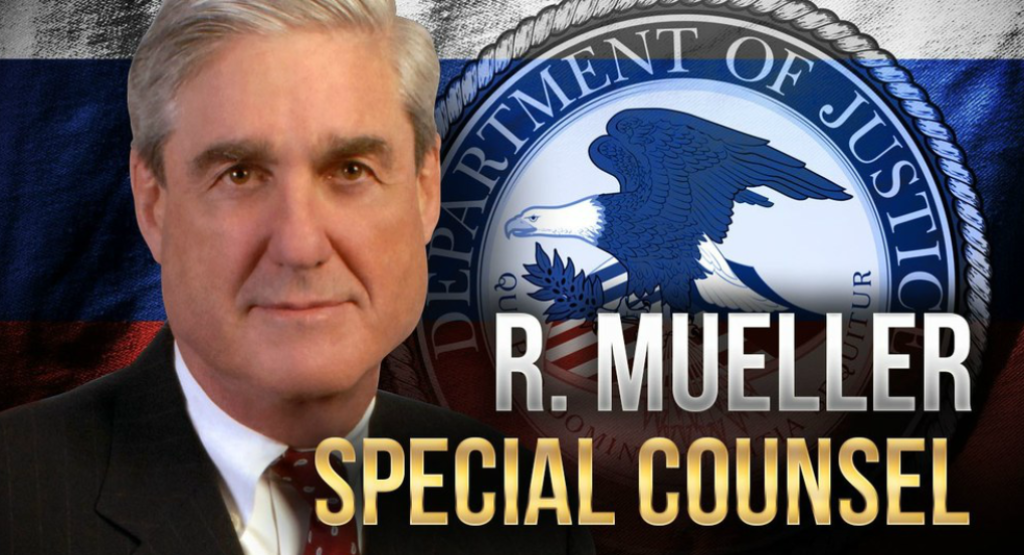 The Washington Post reported late yesterday that Special Counsel Robert Mueller may send his final report to the Justice Department as early as next week, but it's unclear when Congress or the public might see it:
Justice Department officials are preparing for the end of special counsel Robert S. Mueller III's nearly two-year investigation into Russian interference in the 2016 election and believe a confidential report could be issued in coming days, according to people familiar with the discussions.

The special counsel's investigation has consumed Washington since it began in May 2017, and it increasingly appears to be nearing its end, which would send fresh shock waves through the political system. Mueller could deliver his report to Attorney General William P. Barr next week, according to a person familiar with the matter who, like others, spoke on the condition of anonymity to discuss sensitive deliberations.

Regulations call for Mueller to submit to the attorney general a confidential explanation as to why he decided to charge certain individuals, as well as who else he investigated and why he decided not to charge those people. The regulations then call for the attorney general to report to Congress about the investigation.

An adviser to President Trump said there is palpable concern among the president's inner circle that the report might contain information about Trump and his team that is politically damaging, but not criminal conduct.

Even before he was confirmed by the Senate, Barr had preliminary discussions about the logistics surrounding the conclusion of Mueller's inquiry, a second person said. At that time, though, Barr had not been briefed on the substance of Mueller's investigation, so the conversations were limited.

CNN first reported Wednesday that Mueller could send a report to Barr as early as next week.

A spokesman for Mueller declined to comment, as did a Justice Department spokeswoman.

How detailed either Mueller's report and the attorney general's summary of the findings will be is unclear. Lawmakers have demanded that Mueller's report be made public, but Barr has been noncommittal on that point, saying that he intends to be as forthcoming as the regulations and department practice allow. He has pointed, however, to Justice Department practices that insist on saying little or nothing about conduct that does not lead to criminal charges.

(…)

According to people familiar with the special counsel's work, Mueller has envisioned it as an investigative assignment, not necessarily a prosecutorial one, and for that reason does not plan to keep the office running to see to the end all of the indictments it has filed.

Mueller's work has led to criminal charges against 34 people. Six Trump associates and advisers have pleaded guilty.

Among those who have pleaded guilty are Trump's former national security adviser, Michael Flynn; former deputy campaign manger Rick Gates; and former campaign adviser George Papadopoulos, as well as Manafort and Cohen.

Most of the people charged in Mueller's investigation are Russians. Because there is no extradition treaty with that country, those 26 individuals are unlikely to ever see the inside of a U.S. courtroom.

None of the Americans charged by Mueller are accused of conspiring with Russia to interfere in the election. Determining whether any Trump associates had plotted with the Kremlin in 2016 was the central question assigned to Mueller when he got the job, in a moment of crisis for the FBI, the Justice Department and the country.
Supporting the idea that Mueller has reached the effective end of his investigation are reports that many of the Justice Department employees, including attorneys and support personnel, who had been assigned to Mueller's office were either preparing to return to their original assignments or had already done so. Other reporters have also stated that, in recent weeks, Justice Department employees have been seen removing boxes of what is presumed to be equipment and documentation from the building where Mueller's offices have been located. This lends credence to the rumors that Mueller is basically completing the process of handing off some of the uncompleted parts of his investigation, as well a material that could prove relevant to other ongoing investigations, to other Federal prosecutors including most prominently the United States Attorney's Office for the Southern District of New York, which has been at the forefront of the prosecution of Trump lawyer Michael Cohen, as well as the Attorney General of New York State, which is investigating The Trump Foundation and various aspects of the President's financial dealings. In other words, Mueller sending his report to Attorney General William Barr will not be the end of the Administration's potential legal problems.
At least initially, the Mueller report will not be made public, nor will it be made immediately available to Congress. Instead, pursuant to the rules inside the Justice Department governing the operation of the Special Counsel's office, Mueller will instead hand his report to the Attorney General who will then decide how to proceed. As CNN notes, the options after that are multiple and don't necessarily include the idea of the public or Congress getting a copy of the Mueller report itself:
Robert Mueller's report could land within days, yet rather than offering definitive answers, his hotly anticipated filing might only ignite a new controversy — over how much of the special counsel's conclusions most Americans get to see.

Sources told CNN on Wednesday that the Justice Department is preparing for Mueller to report to Attorney General Bill Barr as soon as next week after an investigation that started as an attempt to find out whether Trump campaign members conspired with a Russian election meddling effort.

But the big question is how much of what the special counsel concludes — after an investigation repeatedly blasted as a "hoax" and a "witch hunt" by the President — will be made public or even sent to Congress.

Whenever it is filed, Mueller's report will mark a critical point in the Trump presidency, given the gravity of the accusations against his team, and offer the theoretical possibility of conclusive answers about the last White House race.

The reclusive former FBI director's findings could also put the United States on the road to a new and divisive impeachment saga, if he finds collusion with Russia and an attempt by the President to obstruct justice to cover it up.

If there is no case for Trump to answer, Mueller could at least partially lift a cloud that has haunted the White House every day of his presidency, though a flurry of spin-off cases mean the President's legal exposure is far from over.

It will be a fraught political time, since so many Americans have invested so much emotion in the outcome, whether they are liberals who dream of Trump being ousted from power or supporters who buy his claims of a huge "hoax."

Yet key players in Washington and many Americans beyond, transfixed by the barely believable drama leading up to the final report, at least at first, may be let down.

Mueller's endgame is obscured because no one really knows exactly what he will report and the information that Barr will choose — or feel compelled — to share with Congress and the public on a scandal that has polarized the nation.

The uncertainty is almost certain to spark a new struggle between Congress, the White House and the Justice Department that could lead to litigation and has every chance of reaching all the way up to the Supreme Court.

Mueller's filing could also herald the reclusive prosecutor's own exit from the stage — likely after not speaking to the American people from the beginning to the end of his investigation.

That old fashioned reticence, as well as a stellar career in law enforcement, is one reason why Mueller's conclusions will carry such weight — whether his report is ultimately critical of the President or leaves him in the clear.

(…)

According to Justice Department regulations, Mueller is required to file a confidential report with Barr. It is not clear what form it could take.

One model would be for the special counsel to adopt a traditional, sparse prosecutorial approach to explain the cases he initiated and decisions he made not to charge other people linked to the case.

Barr and Mueller will likely seek to avoid the political furor whipped up by former FBI Director James Comey when he announced he would not charge Clinton after an investigation into her email server but hardily criticized her conduct all the same.

According to the regulations governing his appointment, Mueller is only required to deliver a confidential report to the attorney general outlining why he decided to prosecute some people and declined to pursue others.

Still, a pared down approach would risk coming across as deeply insufficient given the huge political ramifications of the Mueller investigation, which after all, at least indirectly centers of the behavior of a sitting President.

Given his by-the-book history, it's likely that Mueller would follow the prevailing Justice Department opinion that a sitting President cannot be charged in a criminal case, even if he has evidence that Trump transgressed in some way.
After Mueller finishes and turns in whatever kind of report he chooses to right, the focus will shift to Attorney General William Barr, who will be charged with reviewing the report and deciding how to proceed from there. Among the options available to him are making the entire Mueller report, or a redacted version, available to the public and Members of Congress, preparing his own report based on the Mueller report and releasing that, or not making any report available at all. Given the political reality of the situation, it's unlikely that Barr will be able to get away with not releasing any kind of report at all, whether it's his report or some version of the Mueller report. Whatever decision Barr makes, he could find his choices somewhat constrained by practical concerns such as protecting the secrecy of ongoing Grand Jury investigations, the need to protect classified material, and general Justice Department policy to shield as best as possible the identity of persons who may have been interviewed or even tangentially investigated by Mueller's office but not charged. This could potentially include the President of the United States given that current Justice Department policy that says that sitting President's cannot be indicted.
Whatever Barr decides to do, or if he seems to be taking too long to make a decision about releasing the report, it's certain that he'll quickly come under scrutiny by House Democrats and by the Senate Intelligence Committee, which is still investigating the Russia matter. If necessary, they may even attempt to subpoena the full Mueller report, although it's likely that version of the report will remain classified for the aforementioned reasons. Given the fact that Barr seemed to assure members of the Senate Judiciary Committee during his confirmation hearings that he would aspire to make as much of the report available as possible, it will be hard for Barr to walk those promises back once he has Mueller's report in hand.  It will be difficult to walk that promise back.