Neil Armstrong, First Man On The Moon, Dies At 82
A true pioneer passed away today.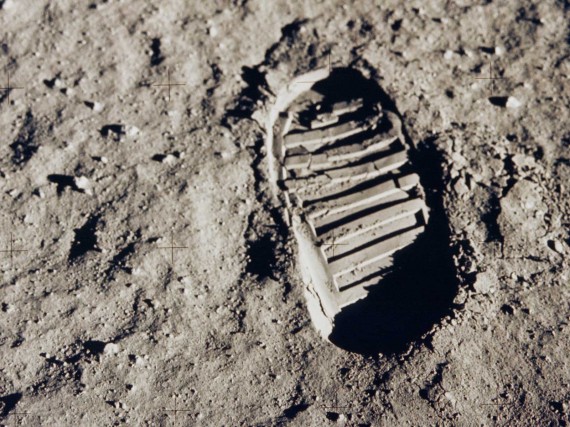 Neil Armstrong, the first human being to walk on the surface of another world, has died at the age of 82:
(Reuters) – Former U.S. astronaut, Neil Armstrong, the first man on the moon, has died at the age of 82, U.S. media reported on Saturday.

Armstrong underwent a heart-bypass surgery earlier this month, just two days after his birthday on August 5, to relieve blocked coronary arteries.

As commander of the Apollo 11 mission, Armstrong became the first human to set foot on the moon on July 20, 1969. As he stepped on the moon's dusty surface, Armstrong said: "That's one small step for a man, one giant leap for mankind."
Armstrong lived a rather quiet life after Apollo 11. He never flew in space again and, other than anniversary events for the mission itself, where he appeared with fellow astronauts Buzz Aldrin and Michael Collins, wasn't really much of a public presence. In fact, he didn't really make the news again until 1986 when he was named the head of the commission appointed by President Reagan to investigate the Challenger disaster. In more recent years, he had joined fellow astronauts like Aldrin and Gene Cernan in speaking out against the changes in NASA strategy that the Obama Administration had announced.
I wasn't old enough to really remember the Moon Landing, although my parents told me they did wake my eleven month old self up for the event, but by the time I was in grade school, Neil Armstrong was something of a living legend and his reticence for public fame was something that seemed to frustrate many people. Although he didn't exactly accomplish the feat alone, I don't think it's unfair to say that Armstrong had become a true American hero, perhaps the last real American hero. More than that, though, I'd submit that he was a hero for all of humanity. The plaque that Apollo 11 left on the Moon said in part, "We came in peace, for all mankind," and despite the tensions that existed in the world at the time that was more than mere puffery. The entire world held its breath during that mission, and the Apollo 11 crew became world heroes. Even the Soviets recognized the accomplishment. I dare to say that, hundreds of years from now, when humanity has hopefully ventured out into the Solar System, his name will still be remembered because he did something that nobody before him had ever done and he did it in a quiet, humble, Midwestern way. A true loss today.
Armstrong's family has issued a statement, which I think is worth quoting in full:
"We are heartbroken to share the news that Neil Armstrong has passed away following complications resulting from cardiovascular procedures.

Neil was our loving husband, father, grandfather, brother and friend.

Neil Armstrong was also a reluctant American hero who always believed he was just doing his job. He served his Nation proudly, as a navy fighter pilot, test pilot, and astronaut. He also found success back home in his native Ohio in business and academia, and became a community leader in Cincinnati.
He remained an advocate of aviation and exploration throughout his life and never lost his boyhood wonder of these pursuits.

As much as Neil cherished his privacy, he always appreciated the expressions of good will from people around the world and from all walks of life.

While we mourn the loss of a very good man, we also celebrate his remarkable life and hope that it serves as an example to young people around the world to work hard to make their dreams come true, to be willing to explore and push the limits, and to selflessly serve a cause greater than themselves.

For those who may ask what they can do to honor Neil, we have a simple request. Honor his example of service, accomplishment and modesty, and the next time you walk outside on a clear night and see the moon smiling down at you, think of Neil Armstrong and give him a wink."
NASA has posted a statement on Armstrong's passing as well.
And of course, we cannot let this moment pass without reliving the moment:
And here's a CBS News retrospective of the Apollo 11 mission:And here's a retrospective of Walter Conkrite anchoring CBS's coverage: