New Polls Show Biden Still Comfortably Leading In Democratic Race
Two new polls released today indicate that earlier suggestions that the race for the Democratic nomination had shifted were incorrect.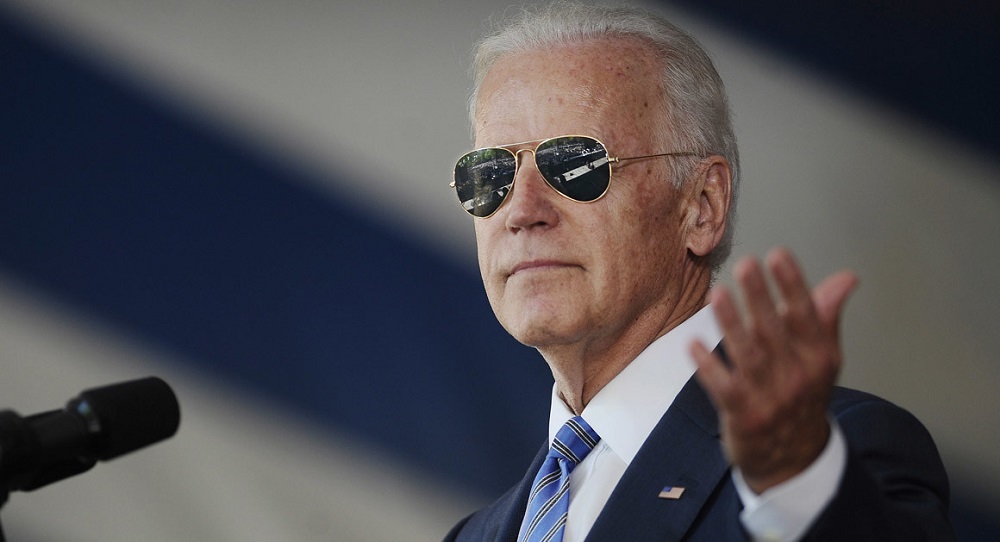 A group of new polling shows that the changes in the race for the Democratic nomination that seemed to be developing on Monday with the release of a poll from Monmouth University are apparently not real and that the race remains where it basically has been since the second debate last month. The most recent evidence for this comes from two new polls released today from USA Today/Suffolk University and Quinnipiac University:
Two new polls show Joe Biden more than a dozen points ahead of his nearest rivals in the 2020 Democratic primary — further fortifying the former vice president's front-runner status after an apparent outlier survey put his campaign on the defensive earlier this week.

Thirty-two percent of likely Democratic voters favor Biden as the party's pick to take on President Donald Trump in next year's election, according to a USA TODAY/Suffolk University poll released Wednesday.

Massachusetts Sen. Elizabeth Warren ranks in second place with 14 percent, followed by Vermont Sen. Bernie Sanders with 12 percent. South Bend, Ind., Mayor Pete Buttigieg and California Sen. Kamala Harris both received 6 percent. Entrepreneur Andrew Yang, who polled at 3 percent, was the only other candidate to garner more than 2 percent support.

Biden similarly dominated a Quinnipiac University poll published later Wednesday morning, again achieving 32 percent support among Democratic voters and independent voters who lean Democratic.

Warren directly trails Biden in the Quinnipiac primary rankings with 19 percent, followed by Sanders at 15 percent, Harris at 7 percent and Buttigieg at 5 percent. Yang received 3 percent support, with no other candidate polling at more than 1 percent.

Wednesday's pair of polls are likely to bolster morale among Biden's campaign team and deflect questions about his so-far steady standing in the crowded Democratic primary that emanated from a Monmouth University poll released Monday.

(…)

Patrick Murray, director of the Monmouth poll, acknowledged in a statement on Wednesday that "as other national polls of [the] 2020 Democratic presidential race have been released this week, it is clear that the Monmouth University Poll published Monday is an outlier."

Murray said he "understood when we released our poll that the picture it painted diverged from others," but added: "In the end, we must put out the numbers we have. They should always be viewed in the context of what other polls are saying, not only as it applies to the horse race, but also for our understanding of the issues that motivate voters in their decision-making process."
In addition to these two new polls, other polling released since Monday shows that the race remains stable, and certainly does not show the kind of radical change the Monmouth poll suggested:
Looking at the RealClearPolitics average, we find the same stability:
Joe Biden —- 28.9% (+11.8 point spread)
Bernie Sanders — 17.1%
Elizabeth Warren — 16.5%
Kamala Harris —- 7.0 %
Pete Buttigieg — 4.6%
Andrew Yang — 2.6%
Beto O'Rourke — 2.4%
Cory Booker — 2.4%
Tulsi Gabbard — 1.4%
Julian Castro — 1.1%
All other candidates below 1%
We can also see this in the RCP chart: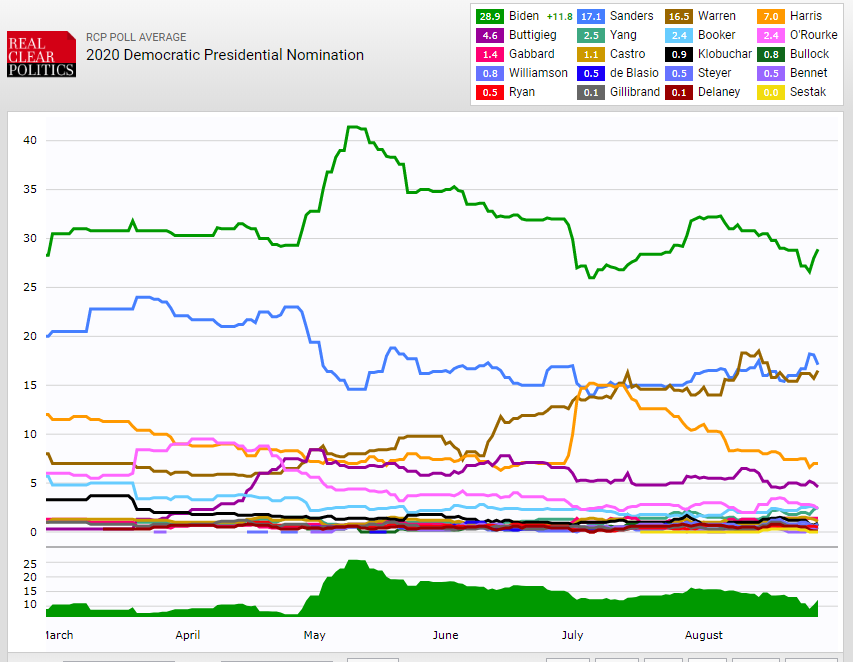 All this new polling shows that those who were skeptical of the Monmouth poll released on Monday, including yours truly, were correct. As the director of the poll himself has admitted, that poll is now clearly shown to be an outlier. This means that the race for the Democratic nomination remains in basically the same place it has been since just after the second debate in July, with Biden on top, Sanders and Warren fighting it out for second place, Harris slipping in the polls to the point where she seems like she's in third/fourth behind Warren and Sanders having lost the bounce she got after the first debate, Pete Buttigieg on the bubble, and the other candidates becoming increasingly irrelevant to the overall race.
These polls are important for another reason of more immediate concern to many of the candidates, the question of eligibility for the third debate in September. As things stand, there are only ten candidates who have met both the polling and fundraising criteria set forth by the Democratic National Committee. Going into this week there were two candidates, billionaire Tom Steyer, and Congresswoman Tulsi Gabbard, who have been on the bubble, Steyer needed to hit 2% or better in at least one more poll recognized by the DNC while Gabbard needed two such polls. Other candidates, including Minnesota Senator Amy Klobuchar, were even further out of the running for a debate invitation. None of the polling released this week has helped any of these candidates and, absent a poll released before the close of business today, these candidates will be excluded from the debate, which for the moment appears to consist of ten candidates. This could mean that we're nearing a new round of withdrawals from the race before or after Labor Day.