New York City Pay Phones To Become WiFi Hotspots
Adapting a relic of the 20th Century to the 21st Century.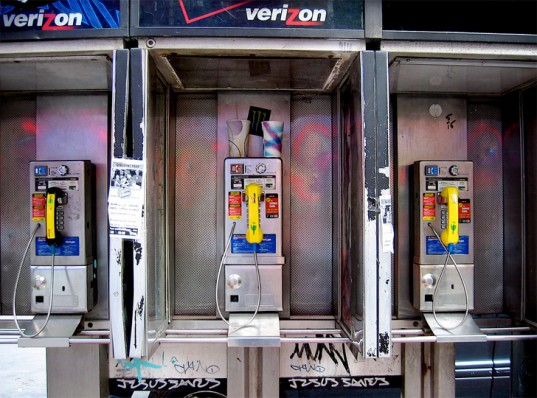 The day of the old-fashioned public telephone seems to have passed long ago thanks to how ubiquitous cell phones have become and the fact that nobody seems to carry change anymore, but the numerous pay phone locations in major cities like New York City will be re-purposed into something modern if a new proposal works out as planned:
The modern New York pay phone will provide no shelter from the rain, no alcove for the quarreling couple seeking a private moment to reconcile. It will afford little refuge to the prospective superhero requiring a wardrobe change.

In fact, the pay phone of tomorrow will include no traditional phone at all — nor any payment, for that matter, at least for communication within the United States.

But beginning next year, city officials said on Monday, the relics will evolve into something deemed far more practical: thousands of Wi-Fi hot spots across the city, providing free Internet access, free domestic calls using cellphones or a built-in keypad, a charging station for mobile devices and access to city services and directions.

Mayor Bill de Blasio's administration, which issued a request for proposals earlier this year, awarded the project to CityBridge, a consortium of companies including Qualcomm and Titan. The initiative, known as LinkNYC, will be paid for by advertising revenues from the kiosks' digital displays.

Administration officials framed the move as an extension of Mr. de Blasio's focus on inequality. Maya Wiley, counsel to the mayor, said low-income people, particularly blacks and Latinos, relied disproportionately on cellphone browsing to get online. And data charges can add up.

"It's going to help us close the digital divide," Ms. Wiley said during a briefing about the plan at City Hall.

In a statement, Mr. de Blasio called expanded broadband access "essential for everything we need to do to be a fair and just city," adding that the system would be "the fastest and largest municipal Wi-Fi network in the world."

The city's Department of Information Technology and Telecommunications said the network would be 100 times as fast as average municipal Wi-Fi systems, and more than 20 times as fast as average home Internet service in the city. A two-hour movie, officials said, could be downloaded in about 30 seconds.

The kiosks' Wi-Fi range will extend 150 feet in any direction, officials said. Up to 250 devices would be able to use the network at each kiosk without diminishing service and in heavily trafficked areas access points can be added.

The department first tested pay phone Wi-Fi as part of a pilot program under Mayor Michael R. Bloomberg in 2012. Now the city hopes to install about 10,000 kiosks, each tall and slender — about 9.5 feet high and less than a foot wide. There are now about 8,400 pay phones.

It is expected to cost more than $200 million to build the network.
This isn't the first proposal that has been floated to create a public WiFi network in a major city, of course, but it is a far more extensive, ambitious project than what we've seen before. If it is spread out across the entire city then it would essentially bring Internet access to all of New York City for what seems like a minimal cost. In the wealthier parts of the city, of course, this won't have as big an impact as it would in less affluent parts of the city where the kinds of businesses that provide free or low cost WiFi access are less common. In those areas, a public WiFi network would allow people who can't afford expensive mobile data plans, or even Internet access at home, to gain access to the Internet relatively easily, and that could make both communication and something like finding a job much easier for them than it might have otherwise been. Of course, there are some rather obvious security concerns that arise here, as they would with any public WiFi network, and I for one would be interested to see what kind of rules would govern law enforcement access to the records of the system before I would say its a good idea to use such a system on a regular basis. On the whole, though, along with the public WiFi networks that many Internet Service Providers, including Comcast/Xfinity, Time Warner, and others, have already set up for their subscribers to use at no additional charge while they are out and about, a service like this would basically mean that one could be connected online, at speeds far better than regular mobile data networks, at essentially any time. Considering the fact that it was only a relatively short time ago when we were still using those pay phone as, well, phones, that's a lot of change in a very short period of time.
Lauren Williams breaks down some of the numbers:
Twenty percent of New Yorkers don't have high-speed internet access at home and 11 percent don't have a computer, according to 2013 Census data. Nationwide, one in four U.S. households don't have a paid internet subscription, and another 16 percent don't have Internet access at home, work or school, or on mobile devices, according to Census data. And those Americans without access are overwhelmingly minorities and seniors.

Minorities disproportionately use mobile devices as a primary means to access the Internet. Only 62 percent of African Americans have a broadband Internet connection at home, compared to 87 percent of white households, Pew found. But while only half of African-Americans and Hispanics own smartphones, they're significantly more likely to use the devices to access the Internet over their white counterparts.
While C-Net has some more detail about how this project will actually work:
New York City residents won't pay a dime for the construction of the new network, and the city expects to reap millions more dollars from the contract than it receives from current payphone franchisees. In return for footing the bill for the project, CityBridge will get the chance to sell prime digital advertising space throughout New York City. It's that regular stream of ad revenue that makes CityBridge executives believe this project will succeed when others have failed.

The plan to reinvent the 6,400 payphone installations was first unveiled in 2012 by then-Mayor Michael Bloomberg, with a request for proposals going out this May. The minimum requirements for the project was free Wi-Fi access and free calls to 911 and 311, the city's general information hotline. The city had already been piloting these free Wi-Fi hotspots at payphone locations for the past two years.

"LinkNYC will fundamentally transform New York City and set the standard for responsive cities for years to come," said Colin O'Donnell, chief operating officer of Control Group, a member of CityBridge.

The first 500 CityBridge sites will be available by late 2015 to early 2016, with the construction expected to go on for six years. The contract would last for 15 years.

The LinkNYC plan offers free phone calls anywhere in the US, a touchscreen tablet powered by Google's Android operating system embedded in the hotspot to access city services and directions, and free charging stations. The digital displays can be used by city government to provide public-service announcement and emergency information. Also, unlike some other municipal Wi-Fi services that limit use to a few hours, CityBridge plans to provide uninhibited access to users, except in potential security cases to protect the network from cyber-attacks.

(…)

Anyone in the city, including tourists, will be able to log into CityBridge once and stay on, even when transitioning to different hotspots. CityBridge plans to make its hubs work together with a project to provide wireless and Wi-Fi signals to subway stations throughout the city. Transit Wireless, which is leading the subway project, will provide the high-speed fiber infrastructure powering the LinkNYC hotspots.

CityBridge will share 50 percent of all its revenues with the city, and will provide minimum payments starting at $20 million annually regardless of sales. Comparatively, the payphone network in the latest fiscal year brought in about $16.5 million to city coffers.
And the good news in all this is that, maybe, Superman will still have somewhere to change.