Two More Potential Explosive Devices Discovered In Florida, New York
Two more potential explosive devices, addressed to New Jersey Senator Cory Booker and former Director of National Intelligence James Clapper, have been discovered by law enforcement.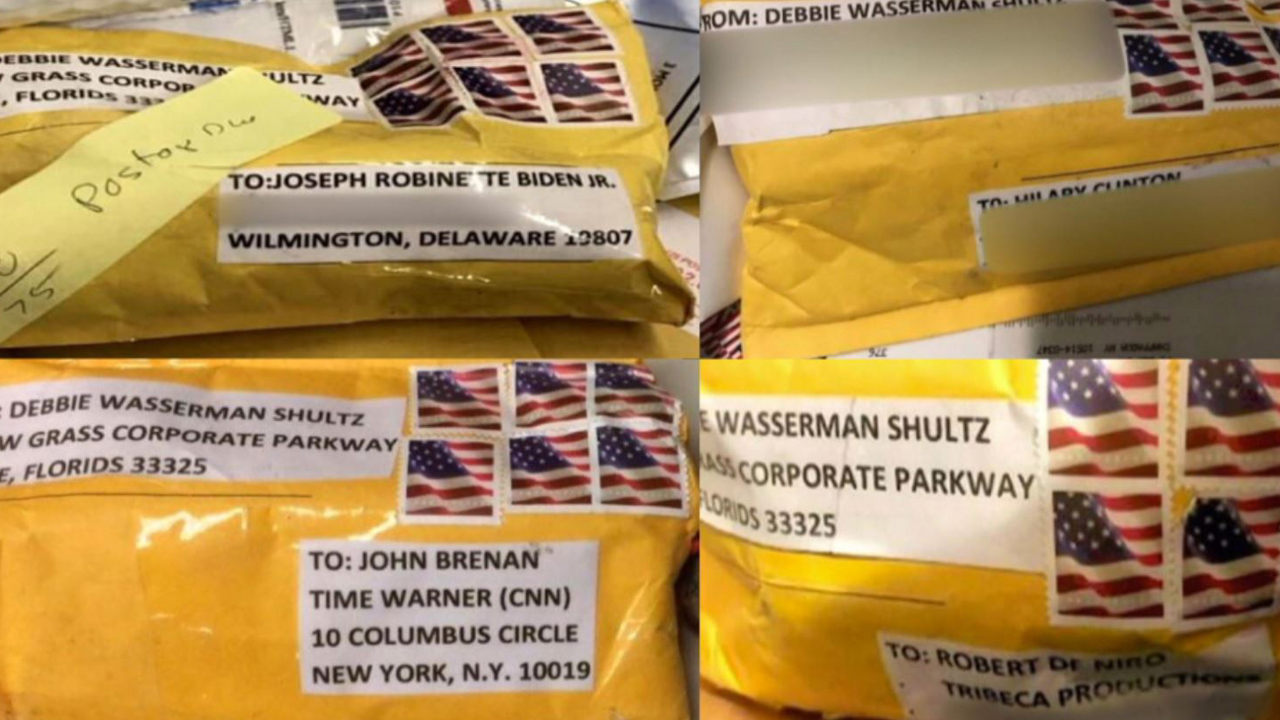 This morning, authorities in Florida and New York have discovered explosive devices similar to those that have been sent to at least ten different people, all of them prominent critics of President Trump:
Federal authorities discovered two more explosive devices, one addressed to Senator Cory Booker and the other to James R. Clapper Jr., the former director of national intelligence, law enforcement officials said on Friday.

The package sent to Mr. Clapper was addressed to CNN's offices in New York, similar to a pipe bomb found Wednesday that was addressed to John O. Brennan, a former C.I.A. director via CNN. The package for Mr. Brennan was found at CNN's offices in Midtown Manhattan.

The discoveries came as investigators looking into a spate of pipe bombs sent this week have turned their attention to southern Florida, believing that a number of the devices were mailed from there and passed through a mail facility near Miami, two people briefed on the matter said Thursday.

The package addressed to Mr. Clapper at CNN was discovered on Friday morning at a United States Postal Service facility in Midtown Manhattan, a few blocks south of the news network's building. The package for Mr. Booker, a New Jersey Democrat, was found in Florida, the F.B.I. said.

Mr. Clapper said Friday that he was not surprised a device was sent to him. He has been a vocal critic of President Trump, a similarity shared with everyone whose names have appeared on the packages discovered so far.

"This is definitely domestic terrorism," Mr. Clapper told CNN, where he works as an analyst, shortly after the package for him was found on Friday. "Anyone who has in any way been a critic, publicly been a critic of President Trump, needs to be on an extra alert."

Mr. Clapper said Wednesday night that he had taken precautions after the first packages were discovered. While he and his wife are away from their home this week, Mr. Clapper said, he told his neighbor not to collect their mail.

A total of 12 packages have been found so far. They have been addressed to former President Barack Obama; former Vice President Joseph R. Biden Jr.; former Secretary of State Hillary Clinton; Representative Maxine Waters of California; former Attorney General Eric Holder; the actor Robert De Niro; and George Soros, the billionaire Democratic donor.
More from The Washington Post:
Authorities on Friday recovered two more potential explosive devices sent to public figures, the latest packages addressed to Sen. Cory Booker (D-N.J.) and former director of national intelligence James R. Clapper Jr.

These packages — recovered in Florida and New York — push the total number of devices found by law enforcement to 12. None have detonated, but all have pushed officials onto high alert as they worry about additional devices being delivered.

The FBI said a package, "similar in appearance to the others" found this week, was addressed to Booker and located in Florida. A spokesman for Booker, a prominent Democrat and potential 2020 presidential candidate, declined to comment and referred questions to law enforcement.

Police in New York said they were responding to a suspicious package in midtown Manhattan, just blocks from where one of the explosive devices was found earlier this week at CNN's offices in the Time Warner Center.

A law enforcement official said that package was a device addressed to Clapper, a CNN contributor, and sent to him at the news network. It was found at a mail sorting facility in New York, the official said.

Appearing on CNN not long after news of this package broke, Clapper said he felt relief that no one was harmed by that device.

"This is definitely domestic terrorism, no doubt about it in my mind," he said. Clapper said anyone who has criticized Trump should take extra precautions when handling their mail, adding: "This is not going to silence the administration's critics."

These newest packages come as authorities have intensified their hunt for a serial mail bomber who has sent packages to a string of political figures and others who have publicly criticized President Trump. On Thursday, the FBI said three suspected pipe bombs were found — one in actor Robert De Niro's Manhattan office, and two in mail facilities in Delaware addressed to former vice president Joe Biden.

(…)

The explosives have prompted a sprawling, nationwide investigation. One lead being pursued by investigators is that some of the devices may have been mailed from south Florida, but officials were cautious Thursday and urged the public to call in with tips from anywhere.

The packages had many of the hallmarks of suspicious mail, including large block lettering and excessive postage aimed at making it harder to track, said Matthew Doherty, who formerly led the U.S. Secret Service's National Threat Assessment Center. And the fact that none detonated provides investigators with considerable evidence, he said.

"There's a rich treasure trove of forensic information since they were found intact," Doherty said. That means FBI investigators can "look for patterns such as the device, the technical expertise, the method of mailing, a whole host of great, rich forensic evidence that can be gathered."

Authorities appealed to the public for tips at a Thursday afternoon news conference in New York.

"We are investigating all of this with great precision and I can say with certainty that we will identify and arrest a person or people responsible for these acts," said NYPD Commissioner James P. O'Neill.

Officials on Thursday declined to say whether the devices were intended to detonate or were meant to scare people, but they repeatedly urged the public to view them as if they could pose a threat.

"We are treating them as live devices," said O'Neill, urging people not to touch packages they deem suspicious. "This is something that should be taken seriously."
This brings the count of devices that have been discovered either in the mail or at other locations, to twelve and the number of devices discovered to twelve. It began on Monday with the discovery of a package in the mailbox of George Soros's Westchester, New York home. On Wednesday, authorities across the country found packages addressed to former President Clinton, former Secretary of State Hillary Clinton, former Attorney General Eric Holder, the New York City offices of CNN, and two packages sent to the Washington, D.C, and California district offices of Congresswoman Maxine Waters. Yesterday, there were two packages discovered, one sent to actor Robert DeNiro at his office in the TriBeCa neighborhood located in Lower Manhattan, and two addressed to former Vice-President Joe Biden, both of which were found at mail facilities in Delaware. All of the packages that were discovered through yesterday were sent in similar looking envelopes, with stamps, and using the Florida district address of Congresswoman Debbie Wasserman-Schultz as a return address, and initial reporting is that the two packages discovered today are identical to the other ten. As with the initial package that was received at CNN but actually addressed to former CIA Director John Brennan, the package to Clapper was addressed to CNN's New York office. Additionally, the package to Booker, although intercepted at a facility in Florida, addressed to an address in Camden, New Jersey, which is where one of Booker's New Jersey offices is located although it's unclear if the package had the correct address on it or not.
At this point, there is about as little publicly known about these explosive devices as there was when the week began with the discovery of the device at Soros's home. In no small part, of course, that's due to the fact that law enforcement is being circumspect about what they are revealing publicly, which is to be expected since there may be facts they are aware of that could tip off the suspect or suspects that they are about to be caught. What we do know is that all of these devices appear to have been transported through or intercepted while traveling through the United States Postal Service's mail delivery system, that they all apparently were sent in similar-looking envelopes covered with excessive amounts of postage stamps (although one of the packages sent to Biden appears to have been stopped in transit due to the fact that there was insufficient postage), and that they were all of a similar design (we don't know that yet about the devices sent to Booker and Clapper, although it seems safe to assume that). Specifically, the devices in question consisted of small pieces of PVC pipe stuffed with what law enforcement has described as "fireworks powder" and glass, with electrical wires leading out of the pipe attached to an electric timer taped to the pipe. Beyond that, we don't know much of anything including who may have sent them, why they were sent, and exactly where they originated from, although one theory that the F.B.I. is apparently working on is that at least some of them were placed in the mail from somewhere in Florida.
All of this is happening at the same time that discussion about what may be motivating these attempted bombings and who may be responsible for them. As I said yesterday, it is impossible to ignore that every single person to whom these packages have been addressed to date is someone who has been a prominent critic and/or political opponent of President Trump. This has led many to attempt to make connections between the President's long history of bitter political rhetoric against his political opponents and critics and the events unfolding this week. The President, meanwhile, has responded by seeking to blame the media for the level of political vitriol and animosity the nation is dealing with today and which may be motivating the bomber(s) in this case. As I noted yesterday, though, if the President is looking for the party responsible for the heated level of political rhetoric in America today, he needs to look in the mirror.
In any case, with the discovery of these two additional devices, it seems clear that we are not out of the woods just yet. There could very well be additional devices out there somewhere, and if the bomber(s) is using Trump's enemies list as a guide for who to target, plenty of potential targets out there. Hopefully, any such other packages will be intercepted by alert postal workers or law enforcement personnel and investigators will be able to track down the person or persons responsible for what is, notwithstanding the fact that none of the bombs have gone off (fortunately), an attempt to terrorize the general populace and silence people who have been critical of the President.
Update: NBC News is reporting that an individual in Florida has been taken into custody for questioning, but there is no indication that this person is a suspect or simply someone who may have information relevant to the case. It has also been announced that the Justice Department will be holding a press conference at 2:30 p.m. this afternoon regarding the bombing attempts in general and this development in particular:
DEVELOPING: A man has been taken into custody in Florida for questioning as part of the pipe bomb packages investigation, law enforcement sources tell @NBCNews – @PeteWilliamsNBC

— NBC News (@NBCNews) October 26, 2018
LIVE: NBC News Special Report: Man taken into custody in Florida for questioning as part of the pipe bomb packages investigation, law enforcement sources tell @NBCNews. https://t.co/5MGorR3Wih https://t.co/QgUZl8JVhG

— NBC News (@NBCNews) October 26, 2018
US Justice Dept. spokesperson: "We can confirm one person is in custody. We will hold a press conference at the Dept. of Justice at 2:30 p.m. ET."

— NBC News (@NBCNews) October 26, 2018
Update #2: It is now being reported that a Florida man has been arrested and will be charged in connection with the bombing attempts:
BREAKING: Man arrested in Florida will face charges in connection with wave of pipe bomb packages across the US, federal sources tell @PeteWilliamsNBC.

— NBC News (@NBCNews) October 26, 2018
<
NBC News Special Report: Man taken into custody in Florida for questioning as part of the pipe bomb packages investigation, law enforcement sources tell @NBCNews. https://t.co/5MGorR3Wih pic.twitter.com/Fzy3aJNjSD

— NBC News (@NBCNews) October 26, 2018


"A person has been arrested in connection with this string of package bombs, and will face charges in connection with the bombing…. I don't know if the conclusion is that this is the only person involved. " – @PeteWilliamsNBC. pic.twitter.com/F4ZIeMf8IZ

— MSNBC (@MSNBC) October 26, 2018

Additionally, police have taken possession of a white van that appears to have a large number of pro-Trump stickers and emblems on it:

Here is a much clearer closer pic courtesy of account RT'd one down in my feed. pic.twitter.com/d2UiYNF6w4

— Josh Marshall (@joshtpm) October 26, 2018
Update #3: The person in custody has been identified:
BREAKING: Cesar Sayoc Jr., a Florida resident, is suspect arrested in Florida in connection with wave of pipe bomb packages, law enforcement sources tell @NBCInvestigates. https://t.co/kdrUxk2XiK

— NBC News (@NBCNews) October 26, 2018
Update #4: NBC News is reporting that a 13th device addressed to Senator Kamala Harris has been intercepted:
NBC's Tom Winter just reported on @MSNBC that multiple law enforcement officials are telling NBC News that another device that was addressed to Kamala Harris has been picked up in Sacramento, California. Reporting by Andrew Blankstein and Jonathan Dienst.

— Kyle Griffin (@kylegriffin1) October 26, 2018
Update # 5: Police in California are also investigating a potential 14th device addressed to billionaire and liberal activist Tom Stever:
Authorities are investigating a suspicious package addressed to California billionaire, philanthropist and liberal activist Tom Steyer at a Burlingame postal sorting facility, two law enforcement sources tell @NBCNews – @anblanx

— NBC News (@NBCNews) October 26, 2018
Update #6: A 56-year-old Florida man named Cesar Sayoc, who perhaps not surprisingly is a strong Trump supporter, has been arrested and charged in connection with this case.