James Clapper Tells Congress He Testified Falsely Because, 'I Forgot'
Director of National Intelligence now tells Congress that he testified falsely about NSA spying because he forgot the program existed.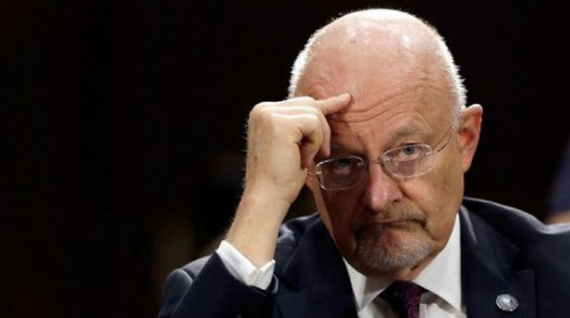 Back in 2013, Director of National Intelligence James Clapper was asked by Oregon Senator Ron Wyden if the Federal Government was not collecting data on American citizens without search warrants or other Court authorization. This occurred at a hearing in March several months prior to the release of information regarding the National Security Agency's metadata collection program, which includes the collection of phone call data regarding nearly every phone call made in the United States. Once that information became public thanks to the information revealed to Glenn Greenwald and other journalists by Edward Snowed, Wyden and other Members of Congress began to publicly criticize Clapper and to demand an explanation for why Clapper gave what clearly seems to be false testimony and then fail to take steps to correct the record either in public or in a classified briefing to committee members.
For reference, here's the exchange between Wyden and Clapper:
The issue of Clapper's apparently false testimony has gone back and forth between Congress and the Administration several times in the intervening two years and, now, a lawyer for Clapper's office is saying that Clapper was not intentionally lying when he testified two years ago because he had forgotten that the program exists:
Director of National Intelligence Jim Clapper wasn't lying when he wrongly told Congress in 2013 that the government does not "wittingly" collect information about millions of Americans, according to his top lawyer.

He just forgot.

"This was not an untruth or a falsehood. This was just a mistake on his part," Robert Litt, the general counsel for the Office of the Director of National Intelligence, said during a panel discussion hosted by the Advisory Committee on Transparency on Friday.

"We all make mistakes."

The comments add to the years of criticism that Clapper has received for his testimony in the 2013 Senate Intelligence Committee hearing.

In the public session, longtime surveillance critic Sen. Ron Wyden (D-Ore.) had asked Clapper whether or not the NSA collected "any type of data at all on millions of Americans."

"No sir," Clapper responded. "There are cases where they could inadvertently perhaps collect, but not wittingly."

Just a few months later, however, leaks from Edward Snowden proved Clapper wrong. As documents released by Snowden made clear, the NSA collects records about millions of Americans' phone calls under a program the government has said is authorized by Section 215 of the Patriot Act.

After the fact, Clapper has said that his statement was the "least untruthful" possible answer, given the secrecy of the program at the time.

Still, critics such as Sen. Rand Paul (R-Ky.) have called for Clapper to resign over the flap, which they say amounts to perjury.

Litt on Friday said that Clapper merely did not have a chance to prepare an answer for Wyden and forgot about the phone records program when asked about it on the spot.

"We were notified the day before that Sen. Wyden was going to ask this question and the director of national intelligence did not get a chance to review it," Litt said.

"He was hit unaware by the question," Litt added. "After this hearing I went to him and I said, 'Gee, you were wrong on this.' And it was perfectly clear that he had absolutely forgotten the existence of the 215 program."

Instead, Litt said, Clapper had been thinking about separate programs authorized under Section 702 of the Foreign Intelligence Surveillance Act, which the NSA has used to collect massive amounts of foreigners' Internet data. The law explicitly prohibits the government from gathering the same kind of data about Americans, unless it is "incidental."

"If you read his answer it is perfectly clear that he was thinking about the 702 program," Litt said. "When he is talking about not wittingly collecting, he is talking about incidental collection."
Essentially what this lawyer is arguing is that Clapper was asked a question that he didn't anticipate and, mistakenly, thought it was referring to something else entirely. Therefore, his testimony wasn't false, it was just a mistake. One problem with that explanation is that it doesn't appear to be one that either Clapper or anyone else in the Obama Administration has tried to make at any other time during the two years or so that this has been a point of contention between Congress and the White House. That seems especially relevant given the fact that Litt says that he brought the "mistake" to Clapper's attention soon after his testimony in March 2013. If that was the case, then it makes no sense for either Clapper or anyone else to have brought this up over the past two years. More importantly, there is no evidence that Clapper or anyone else in the DNI's office sought to make any effort to correct Clapper's testimony This could have been accomplished in any number of ways, including at another public hearing, during a classified committee briefing if Clapper felt that what he was revealing would touch on classified material, or in writing, which again could have been done either publicly or in a matter to ensure that it would remain classified. What really makes Litt's explanation of temporary amnesia incredulous, though, is the fact that Wyden had told Clapper what he was going to ask him about twenty-four hours before the hearing began. The idea that Clapper was caught off-guard, then, or that he didn't have time to prepare in his mind a response to the question that was asked simply doesn't comport with the evidence. Finally, the "I forgot" defense is inconsistent with Clapper's own explanation for what happened when he talked about it the immediate aftermath of the Snowden revelations, which is that he could not properly answer Wyden's question in an open, non-classified hearing.
Litt's explanation for what happened is not only laughably inane, it is also inconsistent with the facts of what actually happened. If this is the best they can do, then I'm not sure why the calls for Clapper's resignation haven't gotten louder, or why we should believe anything he says.