No, Flynn Shouldn't be Court-Martialed
Retired generals are no longer in the military.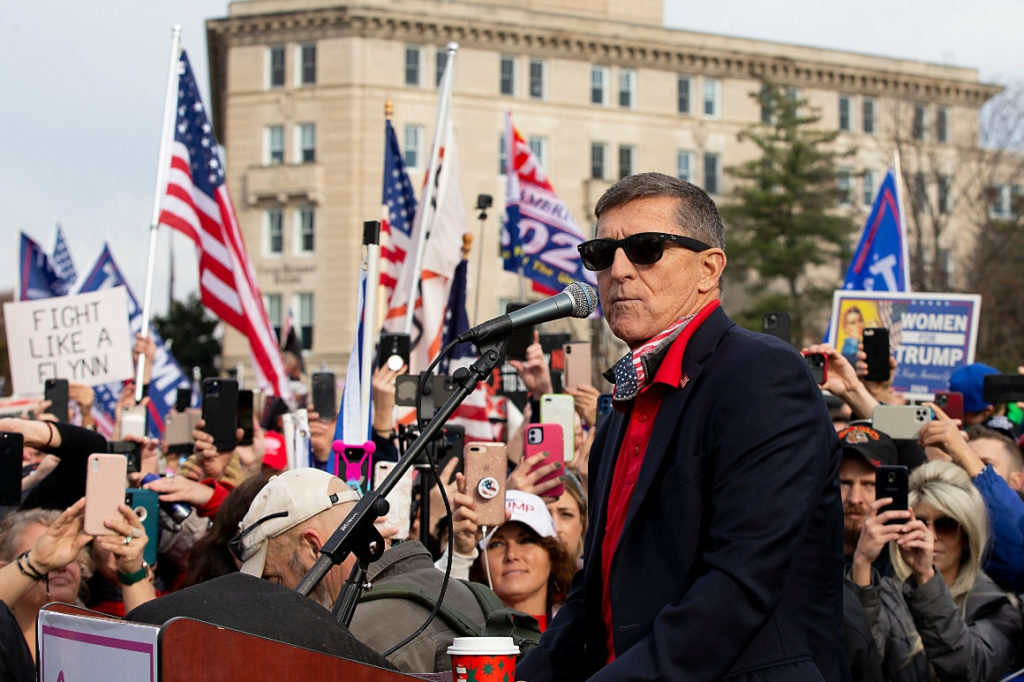 WaPo's Missy Ryan explains "Why the Pentagon isn't heeding calls to prosecute Michael Flynn under military law." despite widespread calls for it to do so. The answer should really be obvious. The background, for those who might have missed it:
When Michael Flynn, a retired three-star general, appeared to back calls for a coup last week, critics accused him of defying military deference to civilian authority, a tenet that is central to the ethos of the armed forces.

Speaking at a QAnon-themed conference in Texas, Flynn was asked why a coup similar to one that occurred in Myanmar could not happen in the United States. Flynn, President Donald Trump's first national security adviser, has remained a vocal supporter of the former president and the false assertion he won a second term in office.

"I mean, it should happen here," Flynn responded to the questioner, a man who identified himself as a Marine. "No reason."

While Flynn subsequently disavowed any support for a coup on social media, saying his words had been misrepresented by the media, the comments intensified calls from some lawmakers and other critics for the military to prosecute the former officer, who receives a military pension, for sedition.
When I first saw the reporting on this a few days ago, I somehow got the impression that Flynn called for a Myanmar-style coup in his speech rather than agreeing with a questioner. Still, given the overall context of the rally and Flynn's continual demonstrations that he's an authoritarian loon over the last five years, I'm disinclined to give him much benefit of the doubt.
Still, he's been out of the Army since 2014. As much as his comments disgrace the military profession and his oath of office, he is no longer legally beholden to either. His only obligations are moral and ethical, which, alas, seem not to bind him and which come with no legal remedy, much less in military courts.
The military can recall retired personnel to try them for alleged crimes under the Uniform Code of Military Justice (UCMJ), even when those acts occur after retirement. But experts say it has done so only a few dozen times since the 19th century.
And even the first part of that statement is too permissive and overbroad.
According to a senior defense official, who spoke on the condition of anonymity to describe internal deliberations, "one factor that was most likely considered in this case was the speed with which Gen. Flynn walked back his comments and the decisiveness and the clarity with which he did it."
While I'm sure that would have made the difficult politics of the Biden administration prosecuting a former Trump official even more fraught, there would simply have been no grounds for court-martial even if he had doubled down.
According to Mark Nevitt, a former military lawyer who teaches law at Syracuse University, most of the instances in which the military had used the UCMJ to hold retirees accountable have had a "clear military nexus," for example when an incident occurs on a military base or involves a military victim.
Right. If Flynn had committed a crime while on active duty, he might well be recalled from retirement to face the charges. (Although even that would be unusual this far removed.) And, while I'm not a lawyer, I very much doubt he could be court-martialed for crimes committed today on an American military base or against an American servicemember unless it occurred overseas. Domestically, he could simply be tried in US federal court.
Moreover, the military's ability to try retirees is being challenged in federal courts in a trio of cases, another factor that may heighten Pentagon wariness.

Stephen Vladeck, a University of Texas law professor who is representing retired service members in two of those cases, said that circumstances that led to the establishment of the military's ability to prosecute retirees under the UCMJ have changed.

Around the time of the Civil War, military retirees were often considered a last-resort officer cadre that could be called back as needed. But that is no longer the case. In addition, courts have ruled that military pensions do not constitute pay for any ongoing service, but rather are deferred compensation, which some experts say means retirees should not be seen as part of the military subject to the UCMJ.
Indeed, while retired officers may theoretically be recalled to active duty involuntarily, it's exceedingly rare. Sometimes, retired generals are brought back, voluntarily, for a very short period to perform some special duty. In times of expansion during war, recently-retired officers in special skill categories with limited active duty numbers may be asked to voluntarily return to active service. But Flynn, who is over 60 and has been retired or more than five years, is the lowest possible category for call-up.
Beyond that, as outrageous and un-American as Flynn's comments were, resort to court-martial might be worse still:
A chief reason critics have advocated military prosecution for Flynn, Vladeck said, is that courts have allowed the military to restrict the free speech rights of military personnel in a way that is prohibited for other Americans, potentially making for easier prosecution.

But experts said any case against Flynn would likely be questionable, especially since he quickly disavowed support for overthrowing the government.

"The Army is never going to bring this as a test case," Vladeck said. "I think it's more wishful thinking on the part of his critics."
Flynn, a civilian, committed no civilian crime. He answered an outrageous question in an outrageous manner. We can that "free speech."
Had he called for a coup more directly, and were he in a position where people listening might plausibly go try and stage one right then and there (which, granted, would have been difficult from Dallas), he might have been charged with incitement. But, then, he would be tried in a civilian court.