North Korea Conducts Another Nuclear Weapons Test As The World Runs Out Of Options
North Korea conducts yet another nuclear weapons test, and it's unclear what anyone can do to stop them.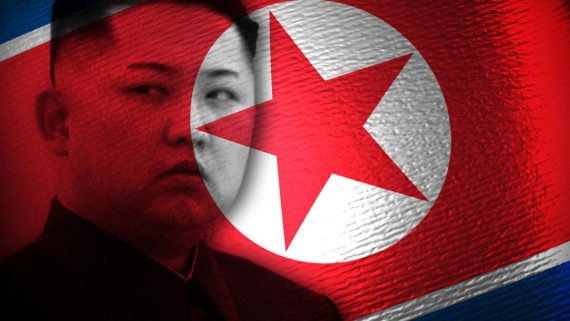 In yet another move guaranteed to increase tensions on the Korean Peninsula and in Asia generally, North Korea conducted its fifth nuclear test overnight and all signs indicate that they've made real progress in increasing the power and decreasing the size of their weapons:
SEOUL, South Korea — North Korea conducted its fifth underground nuclear test on Friday, its government said, despite threats of more sanctions from the United States and the United Nations. The latest test, according to South Korean officials, produced a more powerful explosive yield than the North's previous detonations, indicating that the country was making progress in its efforts to build a functional nuclear warhead.

The test confirmed the explosive power and other characteristics of a "nuclear warhead that has been standardized to be able to be mounted on" its ballistic missiles, the North's nuclear weapons institute said in a statement on Friday.

A statement from the South Korean military also said that an artificial tremor, registered as magnitude 5, had originated from Punggye-ri in northeastern North Korea, where the North has conducted its four previous underground nuclear tests.

A senior official at the Defense Ministry later told reporters that it had concluded that a nuclear detonation had caused the tremor.

The ministry estimated the explosive yield was equivalent to 10 kilotons of TNT, the most powerful detonation unleashed in a North Korean nuclear test so far, according to the official, who briefed reporters on the condition of anonymity. The South's government estimated the North's last nuclear test, conducted in January, at 4.8 magnitude with an explosive yield of six to nine kilotons. (By comparison, the atomic bomb dropped on Hiroshima in 1945 exploded with 15 kilotons of energy.)

North Korea's first nuclear detonation, conducted in 2006, was largely dismissed as a fizzle, registering only as a 3.9 magnitude tremor with about one kiloton of energy. But its nuclear devices have steadily improved, producing bigger explosions with stronger seismic tremors in subsequent tests.

At the same time, the North has launched a series of ballistic missiles with growing ranges that it said were intended to carry nuclear warheads, though doubts persisted that the country had mastered the technology needed to produce a nuclear warhead small and sturdy enough to travel a long distance through Earth's atmosphere.

On Friday, North Korea reported a major advance in its efforts.

"The standardization of the nuclear warhead will enable the D.P.R.K. to produce at will and as many as it wants a variety of smaller, lighter and diversified nuclear warheads of higher strike power," it said in a statement on Friday, using the initials of the country's official name, Democratic People's Republic of Korea. "This has definitely put on a higher level the D.P.R.K.'s technology of mounting nuclear warheads on ballistic missiles."

Prime Minister Hwang Kyo-ahn of South Korea called an emergency meeting of top security officials, while his boss, President Park Geun-hye, cut short a visit to Laos, the president's office said.

The episode unfolded less than a day after President Obama concluded the final Asian tour of his presidency and highlighted the conundrums that the North Korean threat presents to the United States and China, which have often been at odds over how to respond to the bellicose acts of the North's leader, Kim Jong-un.
This is the second North Korean nuclear test of the year, coming after January's test in which the Kim regime claimed to have tested the nation's thermonuclear (Hydrogen) bomb, a claim that was a first disputed by most international observers but subsequently confirmed to be the case based on atmospheric testing. In response to that test, the United Nations Security Council, with the support of Russia and China, imposed yet another round of sanctions on the Pyongyang regime. As I noted at the time, though, it was unlikely that these new sanctions would have any more of an impact on North Korean behavior than previous sanctions have had. For years now, each advance that the Kim regime, regardless of which Kim we're talking about, has moved forward with the development of nuclear weapons with little to no regard for international opinion, the sanctions that have essentially cut it off from the rest of the world more than any other nation on Earth, or even the objections of its chief patron China, which has signaled its own increased impatience with a client state that seems intent on heading off in its own direction. As such, it was hard to believe that the January sanctions were going to accomplish anything, and today it seems apparent that this assessment was correct. For better or worse, and make no doubt it is mostly for the worse, the North Koreans are likely to continue their nuclear testing, and the fact that they keep getting closer to a smaller, more powerful weapon is a matter of deep concern. This is especially true given the fact that their nuclear weapons research is going hand in hand with missile testing that seems to have the obvious goal of creating a reliable intercontinental ballistic missile, or at least one that is capable of reaching not only its immediate neighbors but also deep into China and Russia as well as at least the West Coast of the United States. If they reach that point, then it's unclear what, if anything, anyone will be able to do about North Korea.
The problem we face, of course, is the same one that we've faced for some time now, namely that it's unclear what could be done, or could have been done, to deter the North Koreans from this course of action once they developed the level of technical expertise needed to develop nuclear weapons and acquired the raw materials necessary to accomplish the task. Even before Pyongyang began developing nuclear weapons, a military solution to the North Korea problem was a dangerous endeavor due to the fact that, while the combined forces of the United States and South Korea would likely easily defeat the North in short order, it would come with a huge loss of military and civilian life. North Korea still has tens of thousands of weapons on its sided of the border that could easily be aimed at the massively populated areas around Seoul, for example, resulting in thousands of civilian deaths and tens of thousands of casualties. For years, it has been believed that the north had also developed a powerful biological and chemical weapons program that would massively increase both military and civilian casualties into the mix. With the missile technology it has developed, Kim Jong Un could direct that type of weaponry not only toward South Korea but also Japan. Now, with the possibility of adding nuclear weapons to the mix we're reaching the point where the leadership in Pyongyang may be essentially untouchable.
In the past, the Chinese seemed to have some influence over events in North Korea, but it's not clear that this is the case anymore. As the North Koreans have continued with their nuclear and missile testing in defiance of international sanctions, Beijing has become increasingly publicly impatient with the Kim regime, but it appears from the outside that the old influence doesn't have the power that it once used to. This is hardly surprising, of course. As North Korea becomes more of a nuclear power in its own right it becomes harder for even the Chinese, who are essentially the only nation with which the North has any real economic relationship at this point, to intimidate Pyongyang into action. In fact, we may be close to the point where China's ability to significantly influence North Korea has already passed. If that's the case, it's hard to figure out what other options the world may have when it comes to dealing with this reclusive and increasingly dangerous regime.