North Korea Says Kim Jong Un's Uncle Has Been Executed
Well, that didn't take long.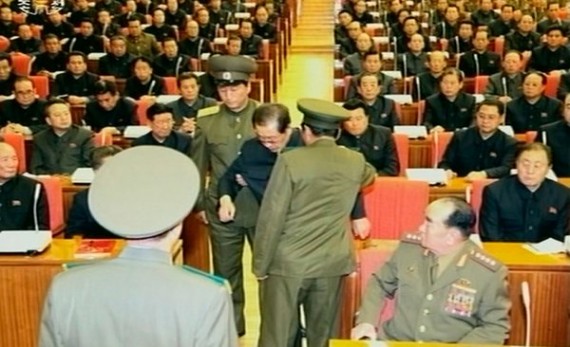 Just days after publicly acknowledging the rumors about the removal from office of Jang Song-thaek, the uncle of North Korean ruler Kim Jong Un who had been seen by many as a power behind the throne ever since the younger Kim succeeded his father as leader of the DPRK, North Korean media is now reporting that Jang has been executed:
SEOUL, South Korea — North Korea announced early Friday it had executed the uncle and one-time mentor of its top leader Kim Jong-un, calling him a traitor.

The announcement, reported by the official Korean Central News Agency, said the uncle, Jang Song-thaek, was put to death on Thursday after a special military trial.
Here's how Reuters put it:
(Reuters) – North Korea said on Friday Jang Song Thaek, the uncle of leader Kim Jong Un and previously considered the second most powerful man in the secretive state, has been executed after a special military tribunal found him guilty of treason.

"The accused Jang brought together undesirable forces and formed a faction as the boss of a modern day factional group for a long time and thus committed such hideous crime as attempting to overthrow the state," the North's official KCNA news agency said.
And, finally, the BBC:
The once-powerful uncle of North Korean leader Kim Jong-un has been executed after being purged for corruption, state news agency KCNA reports.

Chang Song-thaek was dramatically removed from a Communist Party session by armed guards earlier this week.

He was accused of forming factions against the state, corruption and "depraved" acts such as womanising and drug abuse.

It was the biggest upheaval since Mr Kim succeeded his father two years ago.

KCNA said Mr Chang had been executed immediately after a military trial on Thursday, calling him a "traitor" and accusing him of seeking to overthrow the state.

He had already been stripped of all his official titles and expelled from the party.

Mr Chang was seen as a major power broker in North Korea, and had mentored Mr Kim as he took over the leadership of the secretive, tightly controlled country.

Analysts say his fall from grace could be seen as the latest in a series of carefully calibrated moves to demonstrate Kim Jong-un's authority and an assertion of his independence.

As news of his purge emerged, South Korean President Park Geun-hye warned the North was "carrying out a reign of terror" to reinforce Mr Kim's position.

She said the volatile relationship between the two countries was likely to become "more unstable" as a result.
The major news websites in South Korea, Japan, and China don't seem to have been updated with any news regarding these events as of the moment I'm writing but it will be very interesting to see how these nations in particular react to the news of what can only be characterized as a modern-day Stalinist purge unlike anything we've seen in quite some time. It will be most interesting in particular to see what the Chinese government has to say through the news sites that are considered its official news outlets, as well as what the South Korean govenrment has to say given the recent comments of their President.
Quite obviously, Jang was not any more of an innocent man than anyone else affiliated with the Kim regime, but his removal from power and quick execution are clearly part of some kind of wider political move by Kim Jong Un. As I speculated when the initial reports of Jang's removal came out, the most obvious explanation is that at the root of this is Kim's desire to remove any possibility of potential rivals for power, which would most obviously have to include Jang given his long relationship with party and military insiders who reportedly had doubts about the much younger Kim's ability to lead the nation when he first succeeded his father. Additionally, while Kim may have needed Jang's support in the beginning to solidify his relationship with men much older than he is. Now that he's been in power for several years, Kim no doubt concluded that he no longer needed Jang for that purpose, and that keeping him around posed the risk of someone challenging him for power in the future. So, he followed the example of his father, grandfather, and of their initial patron Joseph Stalin, and purged and executed him. To the extent that North Korea is often compared to a medieval hereditary kingdom, consider this another chapter in the Pyongyang version of Game Of Thrones.
UPDATE (James Joyner): See "Despicable Human Scum Jang Song Thaek, Traitor for All Ages, Worse Than Dog, Executed With Warmest Paternal Love" for more details.