Not Exactly A Honeymoon In Vegas
It was a Las Vegas slugfest last night, but once again Mitt Romney walked away unscathed.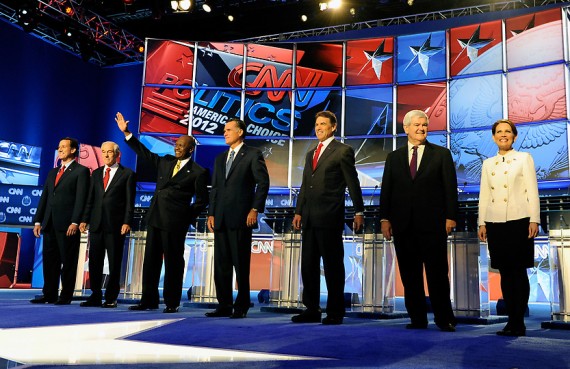 Last night's Republican debate in Las Vegas was certainly the most energetic of the recent encounters we've seen. Herman Cain came under a withering assault from all sides for his 9-9-9 tax plan. Mitt Romney got hit on health care reform, again. And, perhaps most surprisingly of all, Rick Perry actually decided to show up this time and remain relatively conscious throughout the entire event. What the debate had in energy, though, it seemed to lack in substance. With the exception of the opening questions about Cain's tax plan and a later question about foreclosures, we went for nearly the entire two hours without a single question about jobs or the economy. Instead, thanks to audience member participation, we got questions about the role of religion in politics and the candidate's position on the storage of nuclear waste at the Yucca Mountain facility in Nevada. I blame this mostly on Anderson Cooper, who certainly could have asked economic questions if he'd wanted to, but the format itself wasn't all that helpful either. Perhaps it would've been improved had Wayne Newton, who was in the audience, had opened the show was Danke Scheon.
More than anything else, though, what the night was about was an an all-out effort by his rivals to get under Mitt Romney's skin:
LAS VEGAS — Mitt Romney came under intensive attack from his rivals for the Republican presidential nomination at a debate here Tuesday night, with a newly assertive Rick Perry leading a sometimes personal barrage against him on conservative consistency, health care policy and even the immigration status of yard workers at his home.

It was the most acrimonious debate so far this year. Marked by raised voices, accusations of lying and acerbic and personal asides, it signaled the start of a tough new phase of the primary campaign a little more than two months before the first votes are cast.

Mr. Romney responded aggressively to the attacks and sometimes testily. Once, after Mr. Perry spoke over him, he turned to the debate moderator, Anderson Cooper of CNN, to plead, "Anderson?"

President Obama came in for some criticism, but it was almost entirely overshadowed as the seven Republicans on stage spent most of their time challenging one another. Most of the candidates faced questions on some of their biggest vulnerabilities, including Herman Cain, who spent the debate's opening moments defending his 9-9-9 tax plan against nearly unanimous criticism from his fellow candidates.

But more than any other debate, this one was about Mr. Romney, a former Massachusetts governor. Previously, he had managed to parry attacks relatively easily. But he had yet to face a barrage like the one he walked into on Tuesday.

It came at a time when the Romney campaign was seeking to present an air of inevitability that he will be the nominee, while his rivals were seeking to exploit the sense that his support is soft and that Republican primary voters continue to seek an alternative.

The most striking difference from the last several debates was the performance of Mr. Perry, the governor of Texas, whose candidacy has floundered after a series of unsteady debate appearances. He displayed a much more combative style, if at times appearing too heated and occasionally drawing jeers from some in the Republican audience.

Striding onto the stage with an air of confidence, Mr. Perry seemed to relish challenging Mr. Romney from his opening statement. He called himself "an authentic conservative — not a conservative of convenience," a swipe at Mr. Romney, who has been criticized by some conservatives for changing positions on issues like abortion.
For all of his confidence and energy, most of Perry's attacks on Romney came up short, though. The most bizarre one came when, in the middle of an exchange between the panel about health care, Perry attacked Romney for hiring illegal aliens:
This was obviously a planned and rehearsed attack on Perry. Apparently, the story had come out at some point during the 2008 cycle but never went anywhere, and it's easy to see why. The landscaping company that Romney had hired to maintain his home had apparently hired illegal immigrants. Romney didn't hire them directly, and there's no way that he can possibly be expected to know what their hiring practices are. Romney completely had the better of Perry in that exchange, and for the first time that I can remember there was a pro-Romney (or was it anti-Perry?) crowd in the audience. I'm not sure what it was that the Perry campaign thought they were going to accomplish with that exchange, but it ended up being a massive swing and miss on the candidate's part. At the end of this exchanges, I'm guessing most viewers were left wondering what the heck it was the Rick Perry was talking about.
Romney also came under attack, again, on health care. The candidates arguments are familiar at this point, and they haven't really done much to damage or fluster the former Massachusetts Governor to date. Last night was no different. Taking a tack that he had not before, Romney actually defended the program more than he had in the past, and none of the candidates bothered to take the bait. The one interesting moment came when Newt Gingrich said that likening the Massachusetts health care plan to the Affordable Care Act was not a fair charge, but then proceeded to attack Romney for putting in place a "big government, bureaucratic" program. Romney shot back by noting that the idea of an individual mandate had come from plans put forward in the 90s by Gingrich himself, and the Heritage Foundation. That pretty much ended the health care exchange, and, once again, Romney had walked away with very little damage and having made no real mistakes.
The other target for the night was, of course, Herman Cain. Right at the beginning, his tax plan came under attack from all sides, with the candidates repeating most of the criticisms I've detailed here over the past week or so, as well as a new study from the Tax Policy Center that says that Cain's plain would result in higher taxes for 84% of Americans, with most of those not paying higher taxes being in the upper income brackets. Everyone from Rick Santorum to Michele Bachmann criticized Cain for putting forward a plan that was entirely regressive, and Mitt Romney pointed out that Cain's argument that you can't include state sales taxes in an analysis of his plan was pure nonsense. The entire exchange is worth watching:
Cain, and his tax plan, certainly came out of this worse for wear and it's hard to believe that its not going to have some impact on his standing in the polls. When his own tax advisers are telling him he needs to change the plan because part of it is so unpopular that it could never become law, it's fairly clear that 9-9-9, which has really been the only thing most people know about Cain's campaign, is not being taken seriously.
It's hard to tell what impact this debate, the last one until November 9th when we'll be inside of 60 days until the Iowa Caucuses, will have on the race. Nate Silver suggests that it won't have much of an impact at all that the debate was mostly a draw, and he may be right. However, there were two candidates who walked onto that stage last night with a clear goal they had to achieve. Herman Cain needed to prove that he deserved to be among the top tier of the candidates for the Republican nomination. Rick Perry needed to prove that he still deserved to be in that top tier. Based on what I saw, only one of those two men succeeded.
Rick Perry came into this race as the great hope for conservatives and, thanks largely to his disastrous debate performance, he fell out of the good graces of conservatives, most of whom turned to Herman Cain. One debate performance is not going to turn things around for Perry, obviously. However, last night we saw the Rick Perry that conservatives thought they were getting when he entered the race in August and, if he keeps it up and supplements it with the kind of retail campaigning that he's well known for in Texas, it's likely that he'll start turning around slowly but surely. Perry could have put a nail in the coffin of his campaign last night if he'd made the mistakes he did in September, instead he's given himself a second chance.
Herman Cain, on the other hand, struck me as the same novelty act we've been seeing from the beginning. His defenses to the argument against the 9-9-9 plan essentially boiled down to "go ready my analysis." He refuses to see how a national sales tax on top of  state and local sales taxes would harm lower income earners and small businesses. And, as demonstrated by his odd comments before the debate about possibly releasing prisoners at Gitmo if an American soldier were kidnapped, he displays a studied ignorance on foreign policy that I think voters are going to find disturbing once the charm wears off. Last night was Herman Cain's chance to prove himself. He failed. And people are going to start noticing.