Obama Approval Up! Or Not!
Don't confuse modest bumps in a polling trend with actual changes in the thing being polled.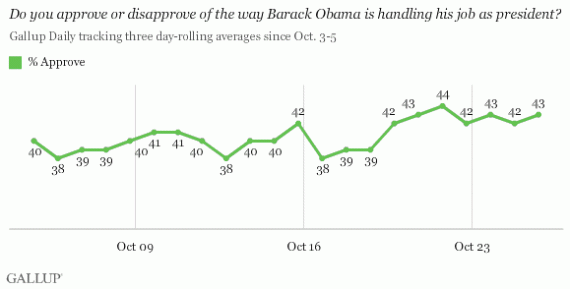 This, from Gallup's Jeffrey Jones, is rather amusing:
President Barack Obama's job approval rating has shown modest improvement in the past week. His latest rating, based on Oct. 24-26 Gallup Daily tracking, is 43%, and his approval has been at or above 42% in each of the last seven days. In the prior two weeks, his averages were generally at or below 40%.

More broadly, Obama's approval rating averaged 40% from Oct. 1-19, but 43% since Oct. 20.

The increase in Obama's approval rating could be tied to two recent major foreign policy events — the death of Libyan President Moammar Gadhafi and Obama's announcement that virtually all U.S. troops would be withdrawn from Iraq by Dec. 31. Additionally, the U.S. stock market has shown gains this month, particularly in the past week.
Indeed, it could be tied to those events in the news. Then again, it could be normal fluctuation within the poll's sampling error of ±3 percentage points. Given that every single result during the time frame sampled falls within that margin, I'm going to go with that explanation.
UPDATE (bumped from the comments): Given a few sustained days, the probability increases that we're seeing a trend rather than random noise. I'm not arguing that Obama's approval isn't rising, just that we don't know.
Look at the movement around October 16: He dropped from 42 to 38-a whopping 5 points-in a single day. A journalist will look to see what happened that day. A political scientist will start observing for a trend but note that that's actually within the margin of error. 42 isn't really 42 but the median possibility in the range 39 to 45. Likely, 38 is the representation of a range 35 to 41. Given that these two intersect, it's not exciting until it's sustained.
Does three days in a row from there mean that Obama's numbers had fallen and something else occurred on the 20th to boost him back to where he was? Well, either we've got five days of confirmation of that or we can look at the drop-off around the 20th as an aberration and say that, essentially, Obama's approval has been somewhere around 40 for quite some time now.
That's not me reading my preferences into the numbers, just my skepticism that tiny fluctuations in poll numbers tell us anything meaningful given the nature of sampling.
via Taegan Goddard