Obama Endorses Barrett. On Twitter.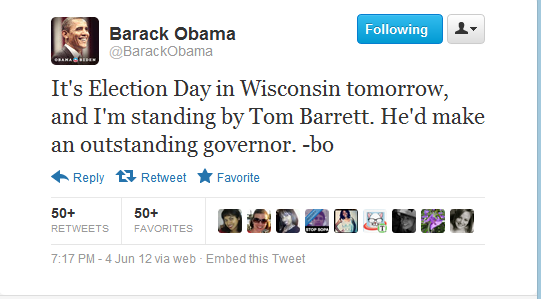 President Obama finally made his preference in the Wisconsin Recall election known via an early evening tweet yesterday:
On the eve of Tuesday's election to recall Wisconsin's Republican Gov. Scott Walker, President Barack Obama declared his support for Walker's Democratic rival, Milwaukee Mayor Tom Barrett, via Twitter.

Obama tweet read: "It's Election Day in Wisconsin tomorrow, and I'm standing by Tom Barret. He'd make an outstanding governor. -bo."
This led the Wisconsinite Chairman of the RNC to respond:
The single tweet gave Republicans a chance to remind people that, while Obama may back Barrett, he hasn't campaigned for him personally.

Reince Priebus, chairman of the Republican National Committee, replied to Obama on Twitter: "Bold tweet from the President who wouldn't actually campaign with him or step foot in Wisconsin."
Yes, that  was rather conspicuous wasn't it?