Obama: "They" Underestimated ISIS
Apparently, the buck doesn't stop in the Oval Office these days.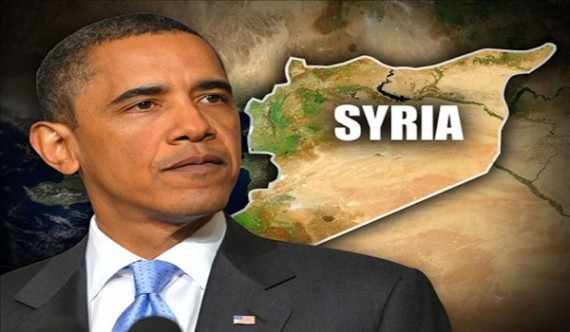 Last night on 60 Minutes President Obama said that the United States had "underestimated" the threat posted by ISIS/ISIL in the past and that the full scope of the threat the organization poses until very recently when it became to overrun the Iraqi Army and establish something resembling a state:
WASHINGTON — President Obama acknowledged in an interview broadcast on Sunday that the United States had underestimated the rise of the Islamic State militant group, which has seized control of a broad swath of territory in the Middle East, and had placed too much trust in the Iraqi military, allowing the region to become "ground zero for jihadists around the world."

Reflecting on how a president who wanted to disentangle the United States from wars in the Middle East ended up redeploying to Iraq and last week expanding air operations into Syria, Mr. Obama pointed to assessments by the intelligence agencies that said they were surprised by the rapid advances made in both countries by the Islamic State, also known as ISIS or ISIL.

"Our head of the intelligence community, Jim Clapper, has acknowledged that, I think, they underestimated what had been taking place in Syria," Mr. Obama said on "60 Minutes," the CBS News program, referring to James R. Clapper Jr., the director of national intelligence. Mr. Obama added that the agencies had overestimated the ability and will of the Iraqi Army to fight such Sunni extremists. "That's true. That's absolutely true," he said.

In citing Mr. Clapper, Mr. Obama made no mention of any misjudgment he may have made himself. Critics have repeatedly pointed to his comment last winter characterizing groups like the Islamic State as a "JV team" compared with the original Al Qaeda.

But he rebutted critics who say his refusal to intervene more directly in the Syrian civil war and his decision to pull all American troops out of Iraq in 2011 had created conditions that allowed the rise of the Islamic State. Instead, he pointed a finger at Nuri Kamal al-Maliki, until recently the prime minister of Iraq. "When we left, we had left them a democracy that was intact, a military that was well equipped and the ability then to chart their own course," Mr. Obama said. "And that opportunity was squandered over the course of five years or so because the prime minister, Maliki, was much more interested in consolidating his Shia base."

By contrast, he praised Mr. Maliki's newly installed successor, Haider al-Abadi, whom he met in New York last week, for assembling a more inclusive government that may undercut Sunni support for the Islamic State. Mr. Abadi "so far at least has sent all the right signals," Mr. Obama said. "We can't do this for them."

But he was measured in that assessment, saying there had been "some progress" by the new Baghdad government. "I wouldn't say great yet," he said.

Mr. Obama conceded that his strategy would be less likely to succeed in Syria, where he is working at odds with the government rather than in tandem. Mr. Obama has called for President Bashar al-Assad of Syria to step down, but now the two share an enemy in the Islamic State. The United States' plan relies on trying to build up a separate rebel force that can take on both Mr. Assad's government and the Islamic State, but Mr. Obama dismissed as "mythology" the notion that he should have done that two years ago.
The President's comments are being perceived by made observers and analysts as an effort shift blame in the argument over who may have been responsible for not being on top of the situation in the Middle East, and in some sense to the through the intelligence community under the bus, specifically by referencing statements by Director National Intelligence James Clapper from last week. In those statements, Clapper did say that he had underestimated the fighting ability of ISIS fighters and, in tern, overestimated the will to fight of the Iraqi Army. That, however, is a far way from saying that the intelligence community didn't properly assess what was going on in Syria and Iraq before this summer, and Eli Lake reports that the President's remarks are already receiving some push back:
Reached by The Daily Beast after Obama's interview aired, one former senior Pentagon official who worked closely on the threat posed by Sunni jihadists in Syria and Iraq was flabbergasted. "Either the president doesn't read the intelligence he's getting or he's bullshitting," the former official said.

(…)

Still, other senior intelligence officials have been warning about ISIS for months. In prepared testimony before the annual House and Senate intelligence committees' threat hearings in January and February, Lt. Gen. Michael Flynn, the recently departed director of the Defense Intelligence Agency, said the group would likely make a grab for land before the end of the year. ISIS "probably will attempt to take territory in Iraq and Syria to exhibit its strength in 2014." Of course, the prediction wasn't exactly hard to make. By then, Flynn noted, ISIS had taken the cities of Ramadi and Fallujah, and the demonstrated an "ability to concurrently maintain multiple safe havens in Syria."

The ability of ISIS to hold that territory will depend on its "resources, local support, as well as the responses of [Iraqi security forces] and other opposition groups in Syria," Flynn added. He noted that while many Sunnis likely opposed ISIS, "some Sunni tribes and insurgent groups appear willing to work tactically with [ISIS] as they share common anti-government goals."

Flynn was not alone. Clapper himself in that hearing warned that the three most effective jihadist groups in Syria—one of which he said was ISIS—presented a threat as a magnet for attracting foreign fighters. John Brennan, Obama's CIA director, said he thought both ISIS and Jabhat al-Nusra, al Qaeda's formal franchise in Syria, presented a threat to launch external operations against the West.
It's worth noting that January was when President Obama was referring to ISIS and other groups that had spun off from "core" al Qaeda as the "jayvee" team in what seemed at the time as a way of saying that they didn't pose nearly the threat to the United States that they would like to think, or that al Qaeda did in the time before September 11th. I'm not sure how much I'd read into those January comments, though. To some degree, it seemed to me at the time that they were part of an Administration strategy to diminish the importance of ISIS/ISIL internationally. It may not have been a wise strategy, but I'm not sure that, in and of themselves, the President's remarks in January were an indication that he didn't take see the group as a potential threat. As Lake notes, if that's what he actually believed then he apparently wasn't paying attention to his own intelligence briefings.
That being said, the President deserves criticism for attempting to pawn off responsibility for missing the ISIS threat on the intelligence community. This is especially true given the fact that "they" appear to have been well aware of ISIS long before the summer and, presumably, were briefing the President on the matter as warranted. At the very least, it is a marked difference from the idea expressed in Harry Truman's famous maxim that "the buck stops here," meaning that the President is ultimately responsible for everything that happens under his watch. Even if it were true that the intelligence community dropped the ball here, which is most certainly what the President was implying in his interview last night, the President is the one who should take public responsibility when something goes wrong. If it turns out down the road that personnel changes are warranted because of what happened, then that's a different issue. As a broad matter, the President, any President, owes it to the American people to take responsibility for what his Administration does and what it fails to do. Instead of that, however, the President is asking us to believe that if something went wrong with regard to our response to the supposed ISIS threat, it wasn't his fault. That's not leadership.