Obama's ISIL Speech – First Reaction
The Global War on Terror isn't over after all.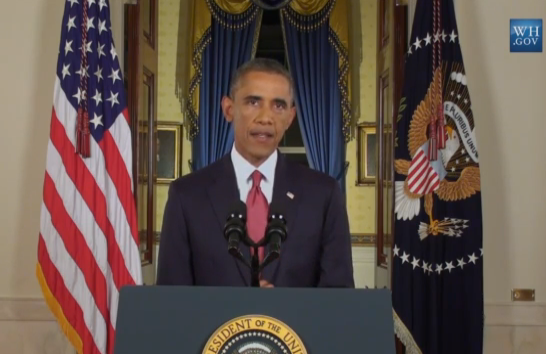 I've just finished listening to President Obama's speech announcing his "strategy" to "degrade and ultimately destroy the terrorist group known as ISIL."
The first thing I'd note is how much it sounded like any number of foreign policy speeches given by his predecessor.  He declared again and again that, "As Commander-in-Chief, my highest priority is the security of the American people" and proudly enumerated all the ways that "we have consistently taken the fight to terrorists who threaten our country." He noted that, "We took out Osama bin Laden and much of al Qaeda's leadership in Afghanistan and Pakistan. We've targeted al Qaeda's affiliate in Yemen, and recently eliminated the top commander of its affiliate in Somalia."
After reminding his countrymen that we've ended Bush's war in Iraq and are "drawing down our forces in Afghanistan," he declared that, "Thanks to our military and counterterrorism professionals, America is safer." The evidence for that was not provided and the notion is rather dubious in the context of a speech explaining why we've renewed hostilities in Iraq and why we need to double down. Naturally, without boots on the ground.
The second observation is that it's still not clear exactly what Obama's strategy is. His stated political objective is to  "degrade, and ultimately destroy, ISIL through a comprehensive and sustained counter-terrorism strategy" but he offered no plan that could plausibly do more than the former.
The president is certainly right that " ISIL poses a threat to the people of Iraq and Syria, and the broader Middle East – including American citizens, personnel and facilities." And it's not implausible that, "If left unchecked, these terrorists could pose a growing threat beyond that region – including to the United States." But his counter-terrorism "strategy" is not a strategy at all. We're going to be "hitting ISIL targets as Iraqi forces go on offense." But these are the same Iraqi forces that gave up large swaths of their country to ISIL rather than fight to begin with.
We're also going to send in another 475 military advisors "to support Iraqi and Kurdish forces with training, intelligence and equipment." But we had quite more than 475 American service members doing that for the better part of a decade, with no less than the vaunted General David Petraeus leading the mission at one stretch. Why is this time different?
Third, it's worth mentioning  that "Iraqi and Kurdish" is an interesting construct at substantial variance with previously announced US policy; the Kurds in question are ostensibly Iraqi. Are we implementing Joe Biden's "break Iraq into sectarian pieces" strategy now? Maybe: we're also going to be supporting "Iraq's efforts to stand up National Guard Units to help Sunni communities secure their own freedom from ISIL control."
Fourth, the president announced that he's going to expand the war into Syria and called on Congress to support him. He made it clear that, if they refuse, he'll do it anyway and that he has "the authority" to do so.
Frankly, this is simply the logical continuation of Obama's existing ISIL non-strategy and, indeed, his general counter-terrorism strategy of blowing up the bad guys and hoping they get tired of it eventually.  We could call it the Global War on Terror but, alas, that name's been taken. That's rather unsatisfying but it's not at all obvious what more the United States can or should do to degrade ISIL. The threat to the homeland is too tangential at present to warrant the proverbial boots on the ground.  So, it's Whack-a-Mole with no end in sight.