Obama's Missed Opportunity
My latest for The National Interest, "Obama's Paris Blunder: Part of a Much Bigger Problem," has posted.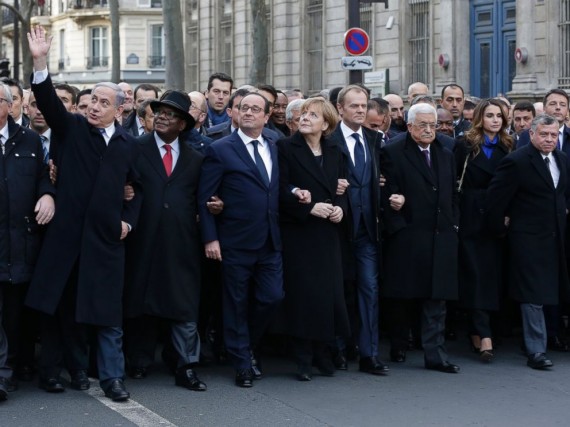 My latest for The National Interest, "Obama's Paris Blunder: Part of a Much Bigger Problem," has posted.
"Blunder" isn't my word choice or my assessment but it's better headline fodder than "missed opportunity." The piece makes two points, one about the president:
From his change of course on Eastern European missile defense to the "pivot" to Asia to the decision to largely stay out of the Syrian civil war, this president has combined sound strategic instincts with phenomenally bad messaging and rollouts. As Jonathan Chait notes in an entirely different context, this is ironic, since Obama emerged on the public scene and swept to the presidency largely on the strength of his skills as an "inspirational speechmaker."
And one about the culture that surrounds our presidency:
Magnifying the failure to send a high-level representative to such a high-profile event was the reason given: the onerous demands of presidential security. White House press secretary Josh Earnest explained that, "We're talking about a march that came together in about thirty-six hours, and a march that took place outdoors." Secret Service spokeswoman Nicole Mainor added, "It would have been a challenging advance to have a Secret Service protectee attend the Paris rally based on what we know. Our logistic and security requirements had the potential to affect the planning and/or event."

What message does it send that millions of French citizens and heads of state and government from around the world are willing to gather to show unity in the face of terrorists trying to stifle free expression, but the leader of the free world can't go, because hey, it's outside and there's only thirty-six-hours notice?

Does Barack Obama—or Joe Biden or John Kerry—really need more security than Benjamin Netanyahu? King Abdullah? Some forty world leaders put together?

This was, after all, a rally held in one of the most developed countries with some of the most sophisticated security forces on the planet. And, ironically, the leaders were apparently cordoned off from the public, anyway.

John Kennedy was assassinated before I was born, but there have been serious attempts on Gerald Ford and Ronald Reagan in my memory. Obviously, a presidential assassination is a national trauma and we rightly take great pains to protect our leaders. But making a fetish of security hampers their ability to lead.
More at the link.