Obama's Solution To Deficit: Spending Cuts, Tax Increases, Few Specifics, But A Clear Roadmap For 2012
President Obama's budget speech was light on specifics, but that's because it was really the opening salvo of the 2012 campaign.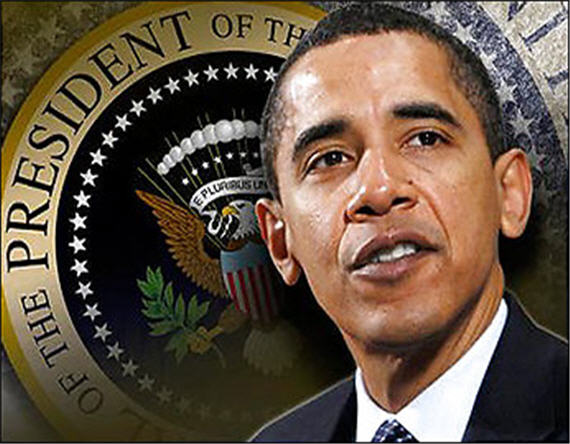 The President spoke before an audience of mostly college students this afternoon and outlined his plan to attack America's budget deficits by cutting $4 trillion over the next twelve years. The problem is, he didn't really offer many specifics and the speech seemed more like that opening salvo of a political campaign than a call for all parties to come together and attack a serious problem before it gets worse:
WASHINGTON — President Obama called for cutting the nation's budget deficits by $4 trillion over the next 12 years on Wednesday, countering Republican budget plans with what he said was a more balanced approach that relies in part on tax increases for the wealthy as well as on spending cuts.

In a 43-minute speech that serves as the administration's opening bid for negotiations over the nation's fiscal future, Mr. Obama conceded a need to cut spending, rein in the growth of entitlement programs and close tax loopholes.

But he also insisted that the government must maintain what he called investment in programs that are necessary to compete globally. And he made clear that, despite his compromise with Congressional leaders in December, he would fight Republicans to end lowered tax rates for wealthy Americans that have been in place since President George W. Bush championed them in the last decade.

"There's nothing serious about a plan that claims to reduce the deficit by spending a trillion dollars on tax cuts for millionaires and billionaires," Mr. Obama said of budget proposals put forward by Republicans in the House. "There's nothing courageous about asking for sacrifice from those who can least afford it and don't have any clout on Capitol Hill. And this is not a vision of the America I know."

Mr. Obama made clear in his remarks, delivered at George Washington University, that he would oppose the Republicans' proposals, which he said include unprecedented cuts to Medicare and could lead to millions fewer Americans with health care coverage and seniors paying thousands of dollars more. Mr. Obama offered an impassioned defense of the popular Medicare and Medicaid programs. "We are a better country because of these commitments," he said. "I'll go further — we would not be a great country without those commitments."

To the likely disappointment of some of his most liberal supporters, though, Mr. Obama signaled that he agreed with Republicans about the need to cut spending.

He acknowledged that some people would oppose cutting spending now, "mostly folks in my party," the president said. "I'm sympathetic to this view, which is one of the reasons I supported the payroll tax cuts we passed in December. It's also why we have to use a scalpel and not a machete to reduce the deficit.

"But doing nothing on the deficit is just not an option," he said.
One of the few areas where the President did get specific is on taxes, where he made it clear that he would not agree to once again extend the so-called "Bush tax cuts" for high income earners:
In December, I agreed to extend the tax cuts for the wealthiest Americans because it was the only way I could prevent a tax hike on middle-class Americans. But we cannot afford $1 trillion worth of tax cuts for every millionaire and billionaire in our society. And I refuse to renew them again.
The President also talked about reforming the tax code, but, again, only with respect to the so-called "rich":
Beyond that, the tax code is also loaded up with spending on things like itemized deductions. And while I agree with the goals of many of these deductions, like homeownership or charitable giving, we cannot ignore the fact that they provide millionaires an average tax break of $75,000 while doing nothing for the typical middle-class family that doesn't itemize.

My budget calls for limiting itemized deductions for the wealthiest 2% of Americans – a reform that would reduce the deficit by $320 billion over ten years. But to reduce the deficit, I believe we should go further. That's why I'm calling on Congress to reform our individual tax code so that it is fair and simple – so that the amount of taxes you pay isn't determined by what kind of accountant you can afford. I believe reform should protect the middle class, promote economic growth, and build on the Fiscal Commission's model of reducing tax expenditures so that there is enough savings to both lower rates and lower the deficit. And as I called for in the State of the Union, we should reform our corporate tax code as well, to make our businesses and our economy more competitive.
Obviously, this part of the President's plan is not going over well with Republicans:
Fresh from a White House briefing with President Barack Obama, top Republican congressional leaders made one thing clear ahead of the president's speech on the deficit: They won't raise taxes and renegotiate the deal they made last year to extend Bush-era tax cuts.

"I think the president heard us loud and clear. We're willing to resolve our differences and do something meaningful but raising taxes will not be part of it," said House Speaker John Boehner (R-Ohio), who attended the meeting with Majority Leader Harry Reid (D-Nev.), Senate Minority Leader Mitch McConnell and House Majority Leader Eric Cantor (R-Va.).

McConnell described the roughly one-hour meeting as "constructive," saying both sides managed to "put talking points aside" to have a real debate on how to reduce spending. But Cantor said the only concrete proposal he heard from Obama Wednesday was a plan to raise taxes.

"I find that very unacceptable," Cantor said. "We don't believe that raising taxes is the answer here."
As I noted earlier today, I think that the GOP is making a mistake by refusing the even talk about revenue increases as part of an comprehensive plan to attack the deficit. The President did talk about reforming the individual and corporate tax codes in his speech, and this strikes me as an area where the parties could find common ground if only the GOP would tone down its anti-tax orthodoxy.
Moreover, the President's decision to draw a line in the sand over the issue of further extensions of the Bush tax cuts for the "rich," is a purely political move that's likely to work to his advantage. Polling before the December tax cut debate by CBS News, Gallup, Bloomberg, and CNN all showed broad support for the idea of allowing the Bush tax cuts to expire for those earning more than $250,000 per year. This is, quite honestly, a winning issue for the President and one that he could have won on if he'd chosen to make a fight out of it back in December. Of course, the fact that he didn't fight back then and instead backtracked on his own campaign promise to let the Bush tax cuts expire for everyone is likely to make the GOP think he's bluffing this time around. If he's not, though, this issue could have an interesting impact on the 2012 race.
The other part of the President's speech that has implications for 2012 is the fact that he directly attacked the Paul Ryan Path To Prosperity without naming the Congressman, and instead is clearly making the bet that the American public doesn't necessarily want to give up the Federal Government they've become used to:
From our first days as a nation, we have put our faith in free markets and free enterprise as the engine of America's wealth and prosperity. More than citizens of any other country, we are rugged individualists, a self-reliant people with a healthy skepticism of too much government.

But there has always been another thread running throughout our history – a belief that we are all connected; and that there are some things we can only do together, as a nation. We believe, in the words of the first Republican president, Abraham Lincoln, that through government, we should do together what we cannot do as well for ourselves. And so we've built a strong military to keep us secure, and public schools and universities to educate our citizens. We've laid down railroads and highways to facilitate travel and commerce. We've supported the work of scientists and researchers whose discoveries have saved lives, unleashed repeated technological revolutions, and led to countless new jobs and entire industries. Each of us has benefitted from these investments, and we are a more prosperous country as a result.

Part of this American belief that we are all connected also expresses itself in a conviction that each one of us deserves some basic measure of security. We recognize that no matter how responsibly we live our lives, hard times or bad luck, a crippling illness or a layoff, may strike any one of us. "There but for the grace of God go I," we say to ourselves, and so we contribute to programs like Medicare and Social Security, which guarantee us health care and a measure of basic income after a lifetime of hard work; unemployment insurance, which protects us against unexpected job loss; and Medicaid, which provides care for millions of seniors in nursing homes, poor children, and those with disabilities. We're a better country because of these commitments. I'll go further – we would not be a great country without those commitments.
Republicans will call this "socialism," but it's actually just the New Deal and the Great Society, both of which have been around for at least a generation now. While I could spend several blog posts pointing out the economic inefficiencies that most of these programs have created, or their Constitutional problems, the fact of the matter is that these programs are generally accepted now, and nearly every effort to radically transform them has been rejected out of hand. President Obama is betting that the American people want these programs to stick around in largely their present form, and he's probably right. The fact that we're fast approaching the point where we might no longer to be able to afford this safety net we've all become used to ? Well that's just an unpleasant fact that we won't talk about right now.
What this means for 2012 is quite simple. President Obama's speech today wasn't really about responding to Paul Ryan. Everyone knows that Ryan's plan isn't going to be adopted, at least not under this Congress and President. What this is all about is laying the ground work for 2012 and what promises to be the starkest debate over the role of government in American life that we've seen since the 1980's. Or at least, that's what I'd like to hope we'll see.