Obama's War Policy Continues To Lose Support
The American military is on a mission in Afghanistan that the public is increasingly starting to question.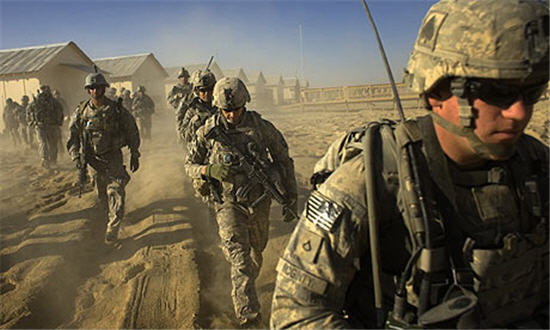 A new USA Today/Gallup poll has yet more bad news for the Obama Administration:
WASHINGTON — Public support for President Obama's Afghanistan war policy has plummeted amid a rising U.S. death toll and the unauthorized release of classified military documents, a USA TODAY/Gallup Poll shows.

Support for Obama's management of the war fell to 36%, down from 48% in a February poll. Now, a record 43% also say it was a mistake to go to war there after the terrorist attacks in 2001.

The decline in support contributed to the lowest approval ratings of Obama's presidency. Amid a lengthy recession, more Americans support his handling of the economy (39%) than the war.

Even Obama's handling of the war in Iraq received record-low approval, despite a drawdown of 90,000 troops and the planned, on-schedule end of U.S. combat operations there this month.

Only 41% of those surveyed Tuesday through Sunday approved of the way Obama is handling his job, his lowest rating in the USA TODAY/Gallup Poll since he took office in January 2009. In Gallup's separate daily tracking poll, his approval was at 45% Monday.

The waning support for the Afghanistan war coincides with the deaths of a record 66 U.S. servicemembers in July, up from 60 in June. As the last of 30,000 reinforcements ordered by Obama enter the country, the international military force is encountering heavy Taliban resistance in the southern provinces of Kandahar and Helmand.

"It's hard to find any positive news that would boost public opinion," says Richard Eichenberg of Tufts University, who studies presidential polling and foreign policy.
Indeed, the current counter-insurgency strategy seems designed to bring nothing but bad news on a regular basis. If there were even the slightest possibility of success in the near-term future, that would probably be an acceptable thing for the Obama Administration to bear as the military works toward achieving our stated goals. Unfortunately, there doesn't seem to be any likelihood that the current strategy will achieve those goals, or that those goals are even capable of being achieved.
At this point, it seems clear that President Obama's decision to agree with Stanley McChrystal's counter-insurgency plan, rather than the counter-terrorism plans put forward by people like Vice-President Biden was the wrong decision. The American people seem to be realizing that, even if they aren't exactly voicing that specific thought. Now it's time for our leaders in Washington to accept that fact.