Obama's Wimpy Debt Reduction Plan
As more details roll in on President Obama's millionaire tax hike, it's looking like it was drawn up by J. Wellington Wimpy: "I'll gladly pay you Tuesday for a hamburger today."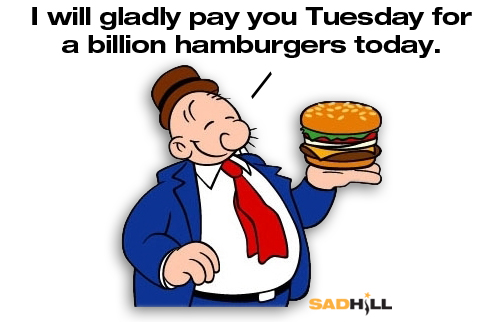 As more details roll in on President Obama's debt reduction plan, it's looking like it was drawn up by J. Wellington Wimpy: "I'll gladly pay you Tuesday for a hamburger today."
The Hill ("Obama to propose $3T in cuts, threaten to veto tax cuts for wealthy"):
The $3 trillion in deficit reduction is made up of money saved from ending the war in Iraq and drawing down in Afghanistan, raising taxes for the wealthy and corporations and cutting about $540 billion in Medicare and Medicaid, administration officials said Sunday night.

The proposals represent the president's vision for the path he thinks the supercommittee should take; not the elements of compromise Obama sought with House Speaker John Boehner in a "grand bargain" in July.

Of the mandatory program cuts, Obama will propose $248 billion in cuts and reforms to Medicare — 90 percent of which would come from reducing overpayments — and $72 billion in Medicaid and other healthcare programs, all over 10 years.
WaPo ("Obama's debt-reduction plan: $3 trillion in savings, half from new tax revenue"):
Combined with his call this month for $450 billion in new stimulus, the proposal represents a more populist approach to confronting the nation's economic travails than the compromises he advocated earlier this summer.

Obama will propose new taxes on the wealthy, a special new tax for millionaires, and eliminating or scaling back a variety of loopholes and deductions, officials say. About half of the tax savings would come from the expiration next year of the George W. Bush administration tax cuts for the wealthy.

But the president won't call for any changes in Social Security, officials say, and is seeking less-aggressive changes to Medicare and Medicaid than previously considered. He will propose $320 billion in health-care savings but will not include raising the Medicare eligibility age from 65 to 67, officials said.

Any reduction in Medicare benefits would not begin until 2017, they said. Other cuts in domestic spending would bring the total spending savings to $580 billion. About $1 trillion in savings is also expected from winding down the wars in Iraq and Afghanistan.
NYT ("Obama Plan to Cut Deficit Will Trim Spending by $3 Trillion"):
Mr. Obama will call for $1.5 trillion in tax increases, primarily on the wealthy, through a combination of closing loopholes and limiting the amount that high earners can deduct. The proposal also includes $580 billion in adjustments to health and entitlement programs, including $248 billion to Medicare and $72 billion to Medicaid. Administration officials said that the Medicare cuts would not come from an increase in the Medicare eligibility age.

Senior administration officials who briefed reporters on some of the details of Mr. Obama's proposal said that the plan also counts a savings of $1.1 trillion from the ending of the American combat mission in Iraq and the withdrawal of American troops from Afghanistan.
So, the idea is to get a promise to raise taxes in exchange for spending "cuts" achieved by ending two wars when they're planned to end and some Medicare savings that will begin toward the end of the next presidential term and phase in over the next two terms after that? Sweet.
I get that this isn't so much a plan as a campaign strategy. But even by that standard, this is pretty silly.