Obsessing Over Bill Clinton And Sex Would Be A Dumb 2016 Campaign Strategy For Republicans
Going after Hillary Clinton by attacking her husband won't work.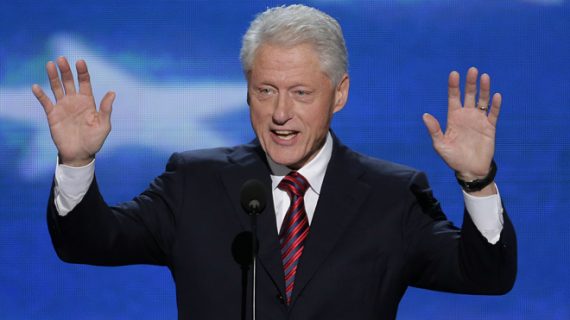 As I've noted over the past couple of weeks, Kentucky Senator Rand Paul has taken it upon himself to resurrect the Monica Lewinsky scandal from the early years of Bill Clinton's second term on the apparent theory that it would somehow be relevant to a 2016 run for the White House by Hillary Clinton. More recently, he has tried to make the Lewinsky affair, and other allegations against former President Clinton that date as far back as when he first entered the race for the 1992 Democratic Presidential Nomination, in the Kentucky Senate race with his rather odd demand that Allison Lundergan Grimes should return the funds that Bill Clinton has raised on her behalf in that race. Not surprisingly, Paul's attacks on the 42nd President and his wife have earned him kudos among conservatives. Given the fact that the Clinton Derangement Syndrome that typified much of the right during the 1990s, this isn't entirely surprising. However, based on what I'm reading from many on the right, there seems to be belief in conservative political circles that Senator Paul is pursuing a strategy that would work not just in rallying the hard right in a primary campaign, but also in attracting the voters that the GOP needs in order to win a General Election. Unfortunately for those who may be tempted to follow in Senator Paul's footsteps, though, there's no evidence to support this position and plenty of evidence to suggest that bringing up 15 year old allegations about someone who isn't even on the ballot would ultimately be politically damaging.
As a preliminary matter, it's important to recognize the simple fact that, outside of the original negative reaction when the allegations of an affair by Gennifer Flowers first became public when Clinton was just beginning his campaign for the White House, there simply isn't any evidence that the personal allegations against Clinton harmed him politically in any way. Even the Flowers allegations didn't end up hurting Clinton all that much. Yes, he came in second in the New Hampshire primary that year, but the fact that he was running against Paul Tsongas from neighboring Massachusetts meant that he was something of an underdog in that race anyway. Indeed, in the end, Clinton ended up doing far better in the Granite State that year, earning 24.78% of the vote compared to Tsongas's 33.2%, than expected, thus earning himself the moniker "The Comeback Kid."  By the time of the South Carolina Primary in March of that year, Clinton was on a glide path that led him to win the overwhelming majority of delegates to the Democratic Convention. In the end it was apparent that the Flowers allegations had done nothing to dent Clinton's ultimate victory, although its possible that they might have had he been running against a stronger group of opponents than Jerry Brown and Paul Tsongas. Ultimately, Clinton went on to win a solid victory in the General Election, although he garnered less than a majority of the Popular Vote due to a strong third party showing by Ross Perot.
The allegations against Clinton didn't end once he became President, of course, and they didn't just include allegations about his sex life. There were reports that the Clinton's had profited while Clinton was Governor from a shady land deal that came to be called Whitewater, that Hillary had somehow profited from insider trading knowledge on the cattle futures markets, and of course the sexual allegations involving women such as Paula Jones and Juanita Broderick. On the more bizarre and paranoid side, there were allegations from the far right involving everything from drug running to black helicopters to the allegation that the suicide of White House aide and Clinton friend Vince Foster was actually a murder. Thanks to the burgeoning Internet and the rise of conservative talk radio, these allegations were aired far and wide and led to Congressional hearings, the appointment of a Special Prosecutor, and ultimately the impeachment proceedings themselves.1
Despite all of this, President Clinton suffered only minimally in the polls. Consider, for example, this compilation of Presidential Job Approval polling from the beginning of his term to the very end: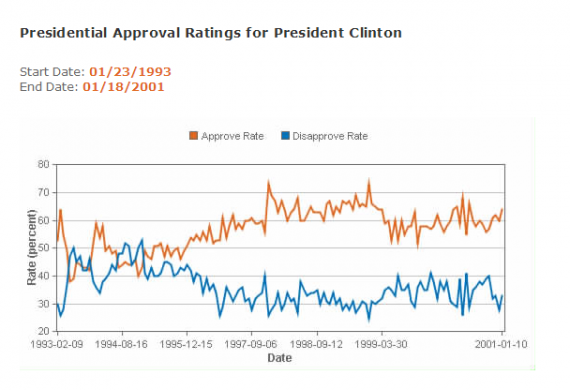 As you can see, there was really only one time when President Clinton's Job Approval numbers were in negative territory, and that roughly coincided with the first full year of his First Term and the 1994 midterms. Not coincidentally, this was a time when the new Administration had made a variety of political missteps ranging from problems finding a nominee for Attorney General that didn't have legal problems to misjudging public opinion on issues like gays in the military, health care reform, and gun control. It was largely because of these early mistakes that 1994 witnessed one of the biggest midterm defeats for a sitting President's party ever, one that was even worse than the defeat Democrats suffered in 2010 because Republicans gained control of not just the House of Representatives but also the Senate. Aside from that  brief period, though, and despite the fact that after 1994 the allegations of improper sexual behavior by Clinton continued to mount, the American people continued to support him. Indeed, during the height of the impeachment proceedings, Clinton's Job Approval number was at some of the highest points of his Presidency. No doubt, these numbers were helped by the fact that the ec0nomy was booming from roughly 1993 onward, but there simply isn't any evidence to suggest that the American people even cared about the Lewinsky "scandal" while it was going on.
In addition to the reality of Clinton's popularity while he was in office, there's the fact that after being out of office four some 13 years now, Bill Clinton is the most popular living former President. A CNN/ORC poll conducted in July 2012, for example, put Clinton's positive numbers at 66% and his negative numbers at 31%. In a Gallup poll released in the summer of 2013, those numbers were 69% and 27% respectively. How the GOP would be helping itself by attacking a former President with approval numbers like that over stories that are nearly two decades old and which did not negatively impact his Presidency when they initially became public is beyond me.
Finally, as I've noted in my previous posts on this matter, Bill Clinton will not be on the ballot in 2016, Hillary Clinton will be. Yes, the former President will likely be a strong stump speaker and advocate for his wife, but he also served in that role in 2008 and, other than the missteps he made during the South Carolina primary, he had absolutely no negative impact at all on Hillary's campaign. The idea that allegations regarding Bill Clinton that by then will be 20 years old 0r more will somehow harm Hillary Clinton in 2016 is simply laughable. Some Republicans already recognize this fact, and are warning their party not to follow Senator Paul down this particular path:
Karl Rove took a shot at Kentucky Sen. Rand Paul on Tuesday for attacking Bill Clinton over his "predatory" behavior toward Monica Lewinsky, saying that it's not good strategy for running for president.

But Rove said he's not sure Paul has a strategy.

Frankly, Rand Paul spending a lot of time talking about the mistakes of Bill Clinton does not look like a big agenda for the future of the country," Rove said on Fox's "America's Newsroom."

(…)

Candidates for the presidency need to do two things in 2014, Rove said: make their campaigns about something larger their personal ambitions and strengthen their skills.

"I'm not certain, again, that beating up on Bill Clinton and Monica Lewinsky is a particularly good thing to strengthen your skills," Rove said.
Rove happens to be right in this instance. In fact, I'd say that his criticism of Paul is considerably understated. Going after Hillary Clinton by attacking her husband is dumb. Doing so based on things that happened 20 years ago is even dumber. Doing so despite the fact that the public clearly didn't care then and doesn't care now is quite simply downright politically stupid. If this is the kind of campaign Rand Paul intends to ruin in 2016, it isn't going to last very long.
1 Recall that Kenneth Starr's original mandate was to investigate only Whitewater and yet his final report spent more time talking about the affair with Monica Lewinsky than anything else. Ultimately, it seems, there was no illegality at all regarding the land transaction(s) known as Whitewater, or at least none involving either of the Clintons.