Occupy Wall Street: What It Isn't
There's no consensus for European-style social democracy or a Randian libertarian paradise.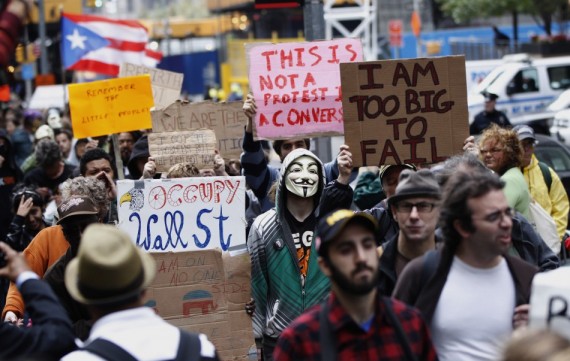 David Graeber, who claims to have coined the phrase "we are the 99 percent" but probably didn't has a long-winded, convoluted, and interesting take on why Occupy Wall Street has caught on while dozens of other similarly motivated populist movements have not.
First, despite the intentions of Adbusters and other organizers, they explicitly rejected organization and coherence:
Two days later, at the Outreach meeting we were brainstorming what to put on our first flyer. Adbusters' idea had been that we focus on "one key demand." This was a brilliant idea from a marketing perspective, but from an organizing perspective, it made no sense at all. We put that one aside almost immediately. There were much more fundamental questions to be hashed out. Like: who were we? Who did want to appeal to? Who did we represent? Someone—this time I remember quite clearly it was me, but I wouldn't be surprised if a half dozen others had equally strong memories of being the first to come up with it—suggested, "well, why not call ourselves 'the 99%'? If 1% of the population have ended up with all the benefits of the last 10 years of economic growth, control the wealth, own the politicians… why not just say we're everybody else?"
Not only did the theme resonate but the lack of specific policy demands maximized the early turnout since everyone with a grievance and less than half a mil in household income could identify.
We quickly decided that what we really wanted to do was something like had already been accomplished in Athens, Barcelona, or Madrid: occupy a public space to create a New York General Assembly, a body that could act as a model of genuine, direct democracy to contrapose to the corrupt charade presented to us as "democracy" by the US government. The Wall Street action would be a stepping-stone.
We'll see, I guess, but I'm gonna go out on a limb here and predict that the Zuccoti Park campers don't become our de facto government.
This, too, strikes me as a stretch:
Revolutionary coalitions have always tended to consist of a kind of alliance between children of the professional classes who reject their parents' values, and talented children of the popular classes who managed to win themselves a bourgeois education, only to discover that acquiring a bourgeois education does not actually mean one gets to become a member of the bourgeoisie. You see the pattern repeated over and over, in country after country: Chou Enlai meets Mao Tse Tung, or Che Guevara meets Fidel Castro. Even US counter-insurgency experts have long known the surest harbingers of revolutionary ferment in any country is the growth of a population of unemployed and impoverished college graduates: that is, young people bursting with energy, with plenty of time on their hands, every reason to be angry, and access to the entire history of radical thought. In the US, the depredations of the student loan system simply ensures such budding revolutionaries cannot fail to identify banks as their primary enemy, or to understand the role of the Federal Government—which maintains the student loan program, and ensures that their loans will be held over their heads forever, even in the event of bankruptcy—in maintaining the banking system's ultimate control over every aspect of their future lives.
This system has been in place as long as I can remember without sparking a protest movement.
Ordinarily, though, the plight of the indebted college graduate would not be the sort of issue that would speak directly to the hearts of, say, members of New York City's Transit Worker's Union—which, at time of writing, is not only supporting the occupation, but suing the New York Police Department for commandeering their buses to conduct a mass arrest of OWS activists blocking the Brooklyn Bridge. Why would a protest by educated youth strike such a chord across America—in a way that it probably wouldn't have in 1967, or even 1990? Clearly, it has much to do with the financialization of capital.
I'm not seeing it. There are all manner of much more direct reasons for blue collar workers to be angry at Wall Street. The "financialization of capital" ain't high on the list. He explains why straight away:
It may well be the case by now that most of Wall Street's profits are no longer to be being extracted indirectly, through the wage system, at all, but taken directly from the pockets of ordinary Americans. I say "may" because we don't really have the numbers. In a way this is telling in itself. For all the endless statistical data available on every aspect of our economic system, I have been unable to find any economist who can tell me how much of an average American's annual income, let alone life income, ends up being appropriated by the financial industries in the form of interest payments, fees, penalties, and service charges.
Aside from ATM fees and the chicanery of credit card companies, this isn't the type of thing likely to seep into the public consciousness.
For those patient enough to keep reading, we finally start getting to something more thought-provoking:
Back when I was in college, I learned that the difference between capitalism and feudalism—or what was sometimes called the "tributary mode of production"—is that a feudal aristocracy appropriates its wealth through "direct juro-political extraction." They simply take other people's things through legal means. Capitalism was supposed to be a bit more subtle.[2] Yet as soon as it achieved total world dominance, capitalism seems to have almost immediately begun shifting back into something that could well be described as feudalism.[3] In doing so, too, it made the alliance of money and government impossible to ignore. In the years since 2008, we've seen examples ranging from the comical—as when loan collection agencies in Massachusetts sent their employees out en masse to canvas on behalf of a senate candidate (Scott Brown) who they assumed would be in favor of harsher laws against debtors, to the downright outrageous—as when "too big to fail" institutions like Bank of America, bailed out by the taxpayers, secure in the knowledge they would not be allowed to collapse no matter what their behavior, paying no taxes, but delivering vast sums of culled from their even vaster profits to legislators who then allow their lobbyists to actually write the legislation that is supposed to "regulate" them. At this point, it's not entirely clear why an institution like Bank of America should not, at this point, be considered part of the federal government, other than that it gets to keep its profits for itself.
Hyperbole aside, he's actually on to something here. The capture of the political system by Big Money strikes me as, by far, the most compelling grievance of both Occupy Wall Street and the Tea Party. It's overstated by the most ardent spokesmen but there's no doubt that there's an uneven playing field when some have the ability to hire lobbyists, air TV ads, and gain access to candidates via big donations and others do not.
At the end of the day, it's still one man, one vote. But ordinary voters have so many filters on the information they receive that it's hard for them to make rational choices. And, of course, if there are only two viable alternatives and both agree on principles like Too Big To Fail, voting doesn't matter much in this context.
This seems to be, at least obliquely, Graeber's argument here:
In politics, too, as in education, we are looking at a generation of young people who played by the rules, and have seen their efforts prove absolutely fruitless. We must remember that in 2008, the youth vote went overwhelmingly to Barrack Obama and the Democrats. We also have to remember that Obama was running, then, as a candidate of "Change", using a campaign language that drew liberally from that of radical social movements ("yes we can!", "be the change!"), and that as a former community organizer, he was one of the few candidates in recent memory who could be said to have emerged from a social movement background rather than from smoke-filled rooms. This, combined with the fact that Obama was Black, gave young people a sense that they were experiencing a genuinely transformative moment in American politics.
I would argue that these people were damned fools. Not because Obama is some toady of Wall Street but because we don't elect a king but rather a chief executive to preside over one of three more-or-less-coequal branches of government. If, by fiat, David Graeber or the most charismatic member of the Occupy Wall Street movement were made president as I hit Publish on this post, we wouldn't see that radical a change. Institutions matter and our system is designed to work against radical swings of policy.
Next, we get this strange argument:
All this happened in a country where there was such a straightjacket on acceptable political discourse in the US—what a politician or media pundit can say, without being immediately written off as lunatic fringe—that the views of very large segments of the American public simply are never voiced at all. To give a sense of how radical is the disconnect between acceptable opinion, and the actual feelings of American voters, consider a pair of polls conducted by Rasmussen, the first in December 2008, right after Obama was elected, the second in April 2011. A broad sampling of Americans were asked which economic system they preferred: capitalism, or socialism? In 2008, 15% felt the USA would be better off adopting a socialist system; now, three years later, the number has gone up, to one in five. Even more striking was the breakdown by age: the younger the respondent, the more likely they were to reject a capitalist system. Among Americans between 15 and 25, a thin plurality still preferred capitalism: 37%, as opposed to 33% in favor of socialism (the rest were unsure). But think about what this means here. It means that almost two thirds of America's youth think it might be a good idea to jettison the capitalist system entirely! This in a country where most have never seen a single politician, TV pundit, or mainstream "expert" use the term "socialism" as anything but a term of condescension and abuse. Granted, for that very reason, it's hard to know exactly what young people who say they prefer "socialism" actually think they're embracing. Presumably not an economic system modeled on that of North Korea. What then? Sweden? Canada? It's impossible to say. But in a way it's also beside the point. Most Americans might not be sure what socialism is supposed to be, but they do know a great deal about capitalism, and if "socialism" means anything to them, it means "something, pretty much anything, other than that!"
So, we have a meaningless poll that admittedly doesn't tell us much of anything. From this, we can conclude that most people agree with David Graeber. Uh huh.
My guess on this–and it's just that–is that two things are happening. First, for those under 40, "socialism" no longer carries the Soviet-era connotation. Second, the fact that Republicans are using "socialism" to demonize things like relatively minor expansions of the health care safety net might actually be backfiring. That is, there may be a lot of young people that say, "Hey, this socialism thing is pretty good!" Third, during periods of severe economic distress–and the polling took place during one of the worst in modern history–capitalism doesn't look quite as appealing, especially if you're in the cohort bearing the biggest brunt of the unemployment burden.
Commenter John Personna, who pointed me to the piece, was especially drawn to this portion:
How, then, do you expect a young American voter to feel, after casting a vote for a fundamental change to our political and economic system, on discovering that in fact, they have elected a man who twenty years ago would have been considered a moderate conservative?

I mean that word, "conservative," in its literal sense by the way. This literal sense is now rarely used. Nowadays, in the US, "conservative" has come to mean "right-wing radical," but it used to mean someone whose main political imperative is to conserve existing institutions, more or less exactly as they are—and this is precisely what Obama has turned out to be. Almost all his greatest political efforts have been aimed in one way or another at preserving some institutional structure under threat of radical transformation: the banking system, the auto industry, even the health insurance industry, since Obama's main argument in pushing for health care reform was that the US health care system, based on for-profit, private insurers, was not economically viable over the long term, and indeed, what he ended up doing was preserving exactly that for-profit system in a way that it might endure for at least another generation. Considering the state of the US economy in 2008, it required genuinely heroic efforts not to change anything. Yet Obama did expend those heroic efforts, and the result was no structural change in existing institutions of any kind at all.
Now, again, Graeber's not helping himself with over-the-top rhetoric about "right-wing radicals" and all the rest. And the notion that the man who lifted the ban on gays in the military and pushed through the biggest expansion of the social welfare system since the Great Society would have been a "moderate conservative" in 1991 is laughable. See Clinton, Bill and his foray into the gays in the military issue.
But Graeber nonetheless makes two strong points here: Young people who voted for Hope and Change were sorely disappointed and Obama is in fact "conservative" in the sense of preserving much of the status quo. Indeed, these are really two aspects of the same point.
This insight, gleaned from reading DailyKos, is amusing:
Over the last two years, the level of hatred directed against Obama is extraordinary. He is regularly accused of being a fraud, a liar, a secret Republican who has intentionally flubbed every opportunity for progressive change presented to him in the name of "bipartisan compromise" with a rabid and uncompromising Right.
This is followed by something more ominous:
Others suggest he is a well-meaning progressive whose hands are tied; or, alternately, blame progressives for not having mobilized to provide sufficient pressure to his Left. The latter seem to forget the way the grassroots activist groups created during the campaign, which were expected to endure afterwards for just this purpose, were rapidly dismantled once Obama was in power and handing the economic reigns of the US over to the very people (Geithner, Bernanke, Summers) responsible for the crisis, or how liberal groups that actually try to mount campaigns against such policies are regularly threatened with defunding by White-House friendly NGOs. But in a way, this feeling of personal betrayal is pretty much inevitable. It is the only way of preserving the faith that it's possible for progressive policies to be enacted in the US through electoral means. Because if Obama was not planning all along to betray his Progressive base, then one would be forced to conclude any such project is impossible. After all, how could there have been a more perfect alignment of the stars than happened in 2008?
Such is the nature of being a rabid ideologue or a hopeless romantic, I'm afraid. Of course Obama tacked to the center immediately upon getting the nomination and even moreso upon entering office. He's not the president of the Progressive Cause but President of the United States. Hard core progressives are, maybe, 20 percent of the country. Not only couldn't he have enacted a progressive platform if he tried–he barely got his watered down healthcare bill passed as it is and had to rely on every parliamentary trick in the book to get it through the Senate–but the "shellacking" that he took in 2010 would have instead been a bloodbath had he tried.
Instead Wall Street gained even greater control over the political process, and, since Republicans proved the only party willing to propose radical positions of any kind, the political center swung even further to the Right.
This just doesn't make sense. What Republican positions, let alone "radical" ones, were passed? Republicans have been in a position to block, not pass.
Clearly, if progressive change was not possible through electoral means in 2008, it simply isn't going to possible at all. And that is exactly what very large numbers of Americans appear to have concluded.

Say what you will about Americans, and one can say many things, this is a country of deeply democratic sensibilities. The idea that we are, or are supposed to be, a democratic society is at the very core of what makes us proud to be Americans. If Occupy Wall Street has spread to every city in America, it's because our financial overlords have brought us to such a pass that anarchists, pagan priestesses, and tree-sitters are about the only Americans left still holding out for the idea that a genuinely democratic society might be possible.
Again, there's no such thing as "very large numbers of Americans" who are pining for "progressive change." Rather, there's a very large number of Americans–from all across the political spectrum–who are pissed off about a bad economy, bailouts for Wall Street and Detroit, and a bevy of offenses real and imagined committed by the financial sector.
Despite what ideologues love to think, we're simply not a radical country. There's no consensus for European-style social democracy or a Randian libertarian paradise. Instead, people want pretty much what they have gotten–relatively low taxes, relatively low regulation, a moderate safety net for the very poor and the elderly, and a lot of resources devoted to public safety.
They frankly wouldn't give two toots about Wall Street or ancillary issues if the economy wasn't in the crapper. Certainly, they didn't three years ago. But the combination of an international quasi-depression sparked by the financial sector, the Too Big to Fail bailouts that kept that sector more-or-less whole while everyone else suffered, and the fact that the relatively benign regulations designed to correct the problems that got us here seem already to have been circumvented and turned into an excuse to raise fees has managed to get a lot of people united in anger.
This anger is justified and the fact that it hasn't coalesced into public policy consensus–here or in Europe–only fuels more anger, since it speaks to the sense of regulatory capture and powerless of ordinary folks. Mostly, though, it's a function of the diffuse nature of the anger. The Tea Party types are mad about some of the same things as the Occupy Wall Street crowd but have very different objectives.
Protest movements can be useful for spotlighting issues and getting the attention of the governing bodies. They can lead to coalition building and winning of elections. But, ultimately, somebody has to write a law or series of laws that get passed in both Houses of Congress and signed by the president. And I'll go out on another limb here and predict that David Graeber won't be happy with it.