Officially Out Of Ideas, Hollywood Aims For Sequel To 67 Year Old Film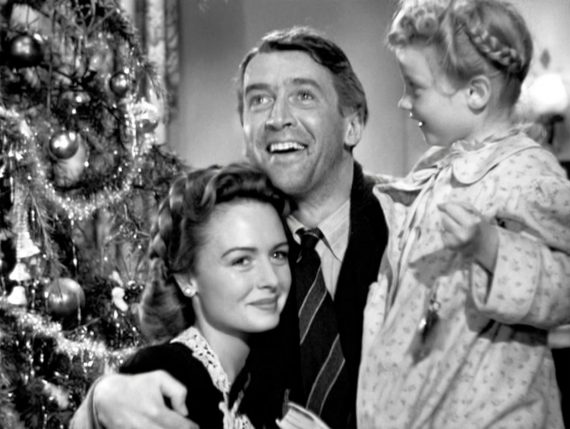 Yet another sign that Hollywood is officially out of ideas:
Star Partners and Hummingbird Prods. are collaborating on production of a sequel to Frank Capra's iconic 1946 movie "It's a Wonderful Life," which starred Jimmy Stewart and Donna Reed.

The sequel, titled "It's a Wonderful Life: The Rest of the Story," is being financed by Allen J. Schwalb of Star Partners who will also produce along with Bob Farnsworth of Hummingbird. The duo are aiming to get the movie into theaters for the 2015 holiday season.

Karolyn Grimes, who played George Bailey's daughter "Zuzu" in the original, will return for the "Wonderful Life" sequel as an angel who shows Bailey's unlikeable grandson (also named George Bailey) how much better off the world would have been had he never been born.

Grimes, of course, bellowed the iconic line "Every time a bell rings, an angel gets his wings!" in the original movie, about a troubled family man (Stewart) whose near-suicide on Christmas Eve brings on the intervention of his guardian angel.

Farnsworth and Martha Bolton have written the screenplay.

"The storyline of the new film retains the spirit of the original – every life is important as long as you have friends," Farnsworth said.

No casting decision for the lead role of Bailey's grandson will be made until February but producers have also begun discussions with original cast members Jimmy Hawkins, who portrayed Tommy Bailey, and Carol Coombs,who played Janie Bailey, to reprise their roles as well.
The only relevant question is why? There was a time, back during the 80s and early 90s when "It's A Wonderful Life" was in danger of being filed away with all the other schmaltzy movies that get shown repeatedly during the holidays, largely because it kept being repeated over and over again on television. In the past ten years or so, though, it has generally only shown up once, maybe twice, during the month of December on NBC so it's still retained some of its originality. And, for all the you can say about the "hokey-ness" of its message, it's worth remembering that it was nominated for Best Picture, and the great Jimmy Stewart was nominated for Best Actor, in the Academy Awards for films released in 1946.
The idea that there needs to be a sequel after 67 years (or, if it really is released in 2015, 69 years) is beyond me.
Besides, Saturday Night Live already did the definitive sequel: