Ohio Prosecutor Indicts Punxsutawney Phil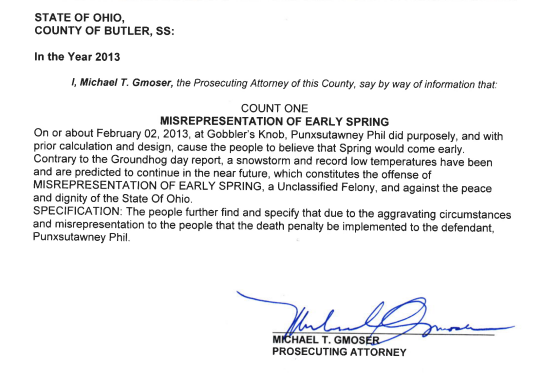 Finally, someone is bringing this fraud to justice:
CINCINNATI — Punxsutawney Phil is innocent.

That's what one of his handlers, John Griffiths, declares in response to an "indictment" that the Butler County, Ohio, prosecutor issued Thursday against Pennsylvania's famous weather-predicting groundhog.

Apparently frosted over Ohio's cold start to the spring season, prosecutor Mike Gmoser accuses Phil of "misrepresentation of spring."

On Groundhog Day, Feb. 2, Phil did not see his shadow. By legend, that portends an early spring.

But in an official-looking document, Gmoser alleges that Phil acted "with prior calculation and design" to cause people to believe that spring would arrive early.

"Contrary to the Groundhog Day report, a snowstorm and record low temperatures have been and are predicted to continue in the near future," Gmoser wrote.
This injustice has gone unpunished for far too long.
Photo via New York Magazine