OTB Caption Contest Winners
The Exorcism of Arizona Edition OTB Caption ContestTM is now over.
The Exorcism of Arizona Edition OTB Caption ContestTM is now over.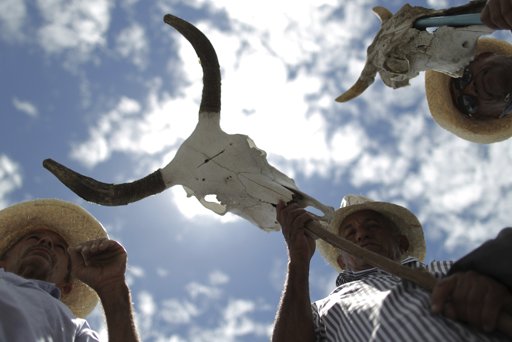 Photo By UESLEI MARCELINO/REUTERS

✰ THE WINNERS ✰
First: Let's Be Free – But they said prosperity followed deficit spending!

Second: Jeremy – "Longhorns fans prepare for the annual ritual that they say will finally convince God to bring them to the BCS Championship Game."

Third: Mr. Prosser – Karl Rove's first sight waking up after a post-election debriefing session with Sheldon Adelson.
HONORABLE MENTION
Neil Hudelson – Look at this, Bob! Look at this and tell me Land Sharks don't exist!

OzarkHillbilly – 2016 election, Tea Partier 1 to Tea Partier 2: "This is gonna work, I swear."

Herb – The churrascaria is that way.

Timothy Watson – Aids to Arizona Governor Jan Brewer (R) show reporters new evidence of executions by Mexican drug cartels

jc – Archeologists unearth evidence of 5000-year-old taser. This is actually true. I wouldn't steer you wrong.

CSK – By a ratio of 500,000 to one, pregnant women opted for Caesarian sections after the Texas Obstetrical Association introduced its new Longhorn-themed delivery forceps.
ℛODNEY'S BOTTOM OF THE BARREL
"My advice to you, is to start drinking heavily."

The remake of Time Bandits as a Musical had a rather dark twist.

Beef, it's what's for dinner.

Chick-Fil-A's new advertising commercial
The Monday Contest is already drinking the elixir of crushed hope and change.