OTB Caption Contest Winners
The Wright Stuff Edition OTB Caption ContestTM is now over.
The Wright Stuff Edition OTB Caption ContestTM is now over.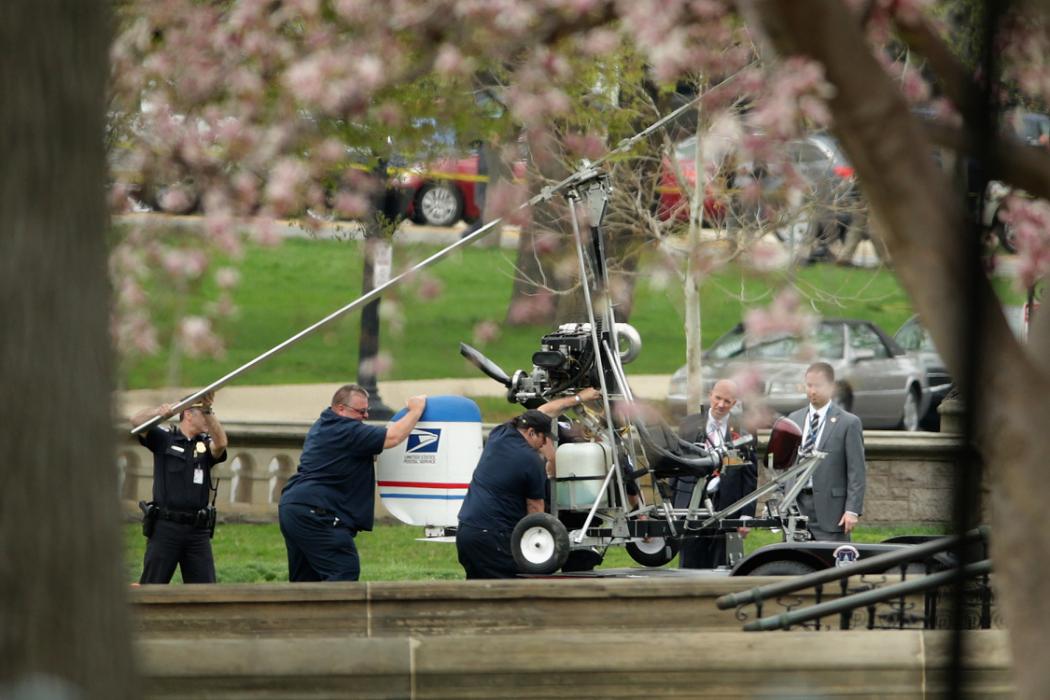 (Chip Somodevilla/Getty Images) 9/17

✰ THE WINNERS ✰
First: al-Ameda – "Wait a minute, only black helicopters have clearance to land here"

Second: Franklin – Checking his undies after a scary crash landing, Billy now knows the answer to "What Can Brown Do For You?"

Third: Guarneri – Shut up and load it on the truck. The HillaryBus didn't work out so she wants this.
HONORABLE MENTION
Mu – The post office response to "Marine One sponsored by FedEx" was considered weak.

RockThisTown – Fences, borders, barricades, ramparts . . . . what difference, at this point, does it make?

markm – "Neither snow nor NORAD nor rain nor heat nor gloom of night stays this courier from the swift completion of his civil disobedience"

Paul Hooson – "….And to think some thought Saturday mail service was dead!"

OzarkHillbilly – I dunno but I don't think this is the right way to steer this thing.

John425 – Amazon.com's drone crash is swiftly blamed on the Post Office.
ℛODNEY'S BOTTOM OF THE BARREL
"…and I live in a van down by the river"

These Congressional franking privileges have got to stop.

Why is Chris Christie pushing that copter?

These GOP Presidential candidacy announcements have gotten out of control.

Harrison Ford crashes an aircraft once again. Insists on being referred to as Han Solo.

USPS… Fly like an Eagle

Upon hearing of the autogyro crash Rand Paul immediately called for a bill banning Greek food from vending machines.