Palin Wins Two More (But Romney's Better)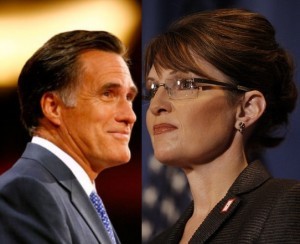 The Hill's Shane D'Aprile notes, in a piece titled "Palin racks up two more wins," that the former half-term Alaska governor is on a hot streak.
Two South Carolina Republicans who received the backing of former Alaska Gov. Sarah Palin emerged victorious in their run-off elections Tuesday.

Palin had endorsed gubernatorial candidate Nikki Haley and publicly stuck with her amidst allegations of an extra-marital affair. She also endorsed Republican Tim Scott against Paul Thurmond in South Carolina's 1st congressional district. That makes Palin two for two Tuesday — she stayed out of the Republican Senate runoff in Utah between Tim Bridgewater and Mike Lee. That brings Palin's win-loss record for this cycle to 9-3, according to an analysis by The Hill.

The three Palin-backed candidates who have lost this season: Tim Burns in Pennsylvania's special election, and GOP House candidates Vaughn Ward in Idaho and Cecile Bledsoe in Arkansas.

The nine who have won: Senate candidates Carly Fiorina in California, Rand Paul in Kentucky and Rob Portman in Ohio; gubernatorial candidates Terry Branstad in Iowa, Nikki Haley in South Carolina, Susana Martinez in New Mexico and Rick Perry in Texas; and congressional candidates Tim Scott in South Carolina and Adam Kinzinger in Illinois.
She has made some bold — and some odd — choices and has a pretty good batting average.  The degree to which this is a mathematical fluke, she's a political savant, or her endorsements influence outcomes is really hard to say based on such a small sample size.
Buried in the story, though, is this interesting fact:
Unlike Palin, [former Massachusetts Governor Mitt] Romney has opted to avoid the cycle's most contested Republican primaries. While Palin backed Ward in Idaho's 1st district primary in May, Romney stayed out of the race until after the primary. The day after, Romney made several endorsements in the state, including the candidate who defeated Ward, state Rep. Raul Labrador.

In all, Romney has made 13 primary endorsements so far this year and has only lost one. Romney backed Sen. Bob Bennett (R-Utah) who lost his spot on the ballot at the party's state convention last month.
So, Romney's 12 for 13 (92.3%) and Palin's only 9 for 12 (75%).   But, since they're not picking exactly the same races, it's difficult to draw much from that, either.