Paul Krugman Wonders Where The President He Thought He Was Voting For Went To
Paul Krugman is disappointed with the President, but it's really his own fault for being so naive.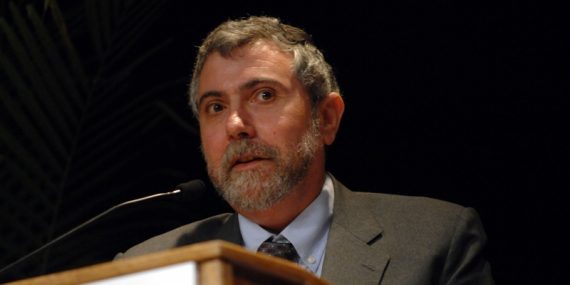 New York Times columnist Paul Krugman is pretty disappointed in his fellow Nobel Laureate:
What have they done with President Obama? What happened to the inspirational figure his supporters thought they elected? Who is this bland, timid guy who doesn't seem to stand for anything in particular?

I realize that with hostile Republicans controlling the House, there's not much Mr. Obama can get done in the way of concrete policy. Arguably, all he has left is the bully pulpit. But he isn't even using that — or, rather, he's using it to reinforce his enemies' narrative.
I guess the first question I'd ask Krugman here, is where the heck have you  been the past two years? Krugman still seems to think we're dealing with Obama the great orator of the 2008 Presidential campaign, but the reality of the past two years has been quite different from the impression the Barack Obama seems to have given to "progressive" intellectuals like Krugman, who apparently thought he'd ride into office on a wave of victory with the intent of reshaping America to their desires. What they've gotten instead is a President who, right off the bat, ceded control over the two central pieces of legislation of  his first term to Congress. As the economy faltered, he told Americans that we were in a recovery that everyone knew didn't exist. In December, when the Bush tax cuts were set to expire, he went behind the back of his own party and made a (politically smart) deal with the opposition. Then, most recently, he sat on the sidelines for weeks while Senate Democrats and House Republicans were unable to make a deal, then he acceded to Republican demands for spending cuts while holding the line on the relatively unimportant issue of Federal funding for Planned Parenthood.
Krugman seems to think that he voted for Franklin Roosevelt or Harry Truman in November 2008 rather than Barack Obama. This, I suppose, is the problem with hooking your trailer onto a guy who was only in the United States Senate for a year and a half before he started running for President. He didn't have much of a record, so its easy for him to convince people that he is whatever they want him to be. The problem with that, of course, is that once you win, you have to actually perform and the rose colored glasses starhttps://www.outsidethebeltway.com/wp-admin/post-new.phpt coming off.  This isn't Obama's fault as much as it is an indictment of the naivete of supposedly smart people like Krugman.
Krugman goes on to complain about the Administration's reaction to Paul Ryan's proposed FY2012 budget:
You might have expected the president's team not just to reject this proposal, but to see it as a big fat political target. But while the G.O.P. proposal has drawn fire from a number of Democrats — including a harsh condemnation from Senator Max Baucus, a centrist who has often worked with Republicans — the White House response was a statement from the press secretary expressing mild disapproval.

What's going on here? Despite the ferocious opposition he has faced since the day he took office, Mr. Obama is clearly still clinging to his vision of himself as a figure who can transcend America's partisan differences. And his political strategists seem to believe that he can win re-election by positioning himself as being conciliatory and reasonable, by always being willing to compromise.

But if you ask me, I'd say that the nation wants — and more important, the nation needs — a president who believes in something, and is willing to take a stand. And that's not what we're seeing.
Bruce McQuain responds:
Baloney.  Krugman has to have lived in a cave if he believes the rhetoric has even come close to matching the reality of the Obama presidency.  He is not a transcendent figure by any stretch.  He is, instead, a true exception to the Peter Principle and has indeed risen to a level above his incompetence.

But to Krugman's last point – Obama believes in one thing – Obama.  And any objective appraisal of his performance in office these past 2+ years cannot give him very high marks on "principle" or a willingness to take a stand.   There's a reason for that.  Obama traded principle for the achievement of his ambition years ago.  He's intelligent enough to talk the talk, but he seems absolutely incapable of walking the walk or even attempting to do so.
Again, Krugman must be thinking of some mythical President, perhaps The West Wing's Josiah Bartlet, because none of that describes the last two years of the Obama Administration.  Of course, much of Krugman's complaining is fairly phony. He's going to support Obama for re-election, and, a few months from now, he'll find some brilliant decision that the President has made and devote a column to it. Yes, he'll be disappointed again, but he'll keep coming back like they all do. I think you can call it "Battered Voter Syndrome."  This isn't a matter of buyer's remorse, so much as it is a sucker realizing he's been had but wanting desperately to believe that the fantasy is true.