Paul Krugman: 9/11 Has Become "An Occasion For Shame"
Paul Krugman chose to mark the the 10th anniversary of September 11th with an odd blog post.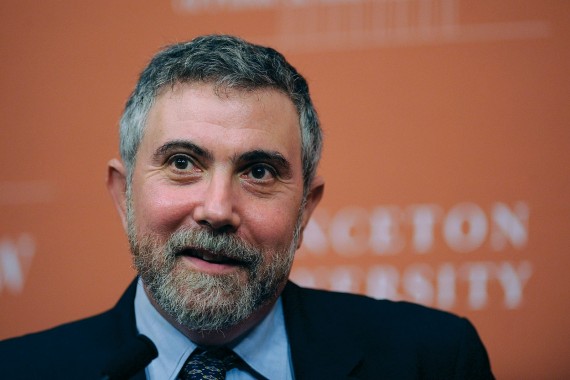 In a blog post that went live on The New York Times' web site just moments before the 10th anniversary of the moment when American Airlines Flight 11 slammed into the north face of the North Tower of the World Trade Center, Paul Krugman says that the events of September 11, 2001 have been tarnished by the events that occurred afterwards:
Is it just me, or are the 9/11 commemorations oddly subdued?

Actually, I don't think it's me, and it's not really that odd.

What happened after 9/11 — and I think even people on the right know this, whether they admit it or not — was deeply shameful. Te atrocity should have been a unifying event, but instead it became a wedge issue. Fake heroes like Bernie Kerik, Rudy Giuliani, and, yes, George W. Bush raced to cash in on the horror. And then the attack was used to justify an unrelated war the neocons wanted to fight, for all the wrong reasons.

A lot of other people behaved badly. How many of our professional pundits — people who should have understood very well what was happening — took the easy way out, turning a blind eye to the corruption and lending their support to the hijacking of the atrocity?

The memory of 9/11 has been irrevocably poisoned; it has become an occasion for shame. And in its heart, the nation knows it.
Not surprisingly, as he is wont to do, Krugman has stirred up a good deal of controversy in the blogosphere, most of it quite negative. The column is being called unconscionable. Krugman himself, an idiot.  Red State's Erick Erickson says the following:
If he speaks for liberals, liberals are truly disgusting. I assume and believe that most liberals reject this and hope many of them will be vocal about the disagreement. And the New York Times might want to rethink using Krugman's conscience as that of a typical liberal.
For his part, William Jacobson seems to think that Krugman's thinking is typical of many on the left:
Don't think this is just Krugman.  It's the way they really feel about 9/11, as expressed in this post by a blogger I quoted over a year ago, 9/11 Was "Right-Wing Christmas":

Really, Mr. President, don't you know that right-wingers love 9/11, and hold it sacred? It's their favorite day of the year, their favorite day in living history; every year, 9/11 fills them with the unsurpassable bliss of self-righteousness. It's a day that provided so many grievance points to them (and, as far as they're concerned, to them alone, although those of us who, y'know, lived where the attacks took place might beg to differ) that they know they can't possibly ever run out.

Right-wingers love 9/11 because it's a day when they felt they became extraordinarily virtuous just for slathering their homes with flags, their vehicles with "Terrorist Hunting License" bumper stickers, their homepages with sentimental video of property destruction in a city they otherwise despise. They use 9/11 to justify hatred of Muslims, liberals — even Mexicans.

That's how they feel, so in a sense I'm glad Krugman gave voice to it on this day.
I'm not sure that pointing to one blogger and one blog post by Paul Krugman are indicative of what people who may share particular political beliefs hold. Surely, Krugman's post was idiotic and, considering the timing, more than just a little insensitive, but does he really speak for anyone other than himself? I'm not so sure.
As for Krugman's post itself, the opening question strikes me as bizarre. What, exactly, would he have preferred to see to mark the 10th anniversary of the 9/11 attacks? Of course the ceremonies are subdued, we're talking about marking the day that more than 3,000 people were killed in attacks that we all watched unfold on television. The people they left behind are still around, and many of them didn't even have a body they could bury. Does Krugman want us to through a big party like the one that erupted outside the White House when Osama bin Laden was killed? Somehow I think not.
I'd also add that Krugman's designation of Rudy Giuliani and George W. Bush as "fake heroes" strikes me as totally off base. I'm no fan of the former President, but there are few people who will or can deny that his leadership in the days and weeks after September 11th was something that history will always remember him positively for, as Vice-President Biden noted in his speech yesterday in Pennsylvania:
Biden said he also wanted to recognize "a man responsible for bringing our country together at a time when it could have been torn apart, for making it clear that America could not be brought to her knees, and helping us stand tall and strike back — President George W. Bush. "

"In the darkest hour of our generation, your voice and leadership, Mr. President, helped us find our way," Biden said of Bush. "And for that, you deserve our gratitude for a long, long time."
The same can be said of Rudy Giuliani, who helped keep New Yorkers united at a time when their city faced a shock unlike anything American city had ever experienced.
That's not to say that there isn't a need to look back over the past ten years at the mistakes, the mis-steps, and the price that's been paid over the past ten years. The retrospective pieces we've published here at OTB on the subjects (here and here) were meant to do just that. Additionally, one can look at the Afghan War, and the misguided adventures in Iraq and find much to criticize in the decisions that have been made over the past decade. One can do so, however, without the obvious vitriol and contempt that Krugman displays in his post today.
Interestingly enough, Krugman closed comments on his post today the moment he published it. Perhaps he wasn't willing to hear what he knew would come from words that one would think he regrets on some level.