Are We Safer?
Measuring our progress a decade after the 9/11 attacks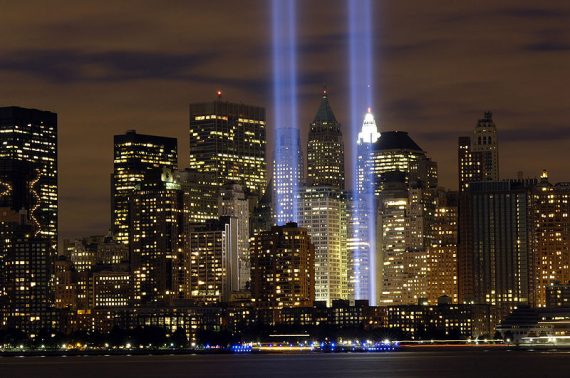 This weekend marks the tenth anniversary of the most lethal terrorist attack on American soil. OTB's writers offer their thoughts on our progress.
Dave Schuler: Despite the passage of ten years, the expenditure of trillions of dollars, and the loss of thousands of lives, we are no safer than we were ten years ago. To understand why you don't need to engage in yet another futile and frustrating rehashing of our actions since the attacks on September 11, 2001. We have done very little if anything to address the critical success factors for the attacks and, consequently, the risk of a devastating attack is just as high as it was on 9/10.
Afghanistan was not a critical success factor behind the attacks. There are hundreds of square miles of ungoverned territory between the Bosporus and the Indus and in the deserts of North Africa and the Arabian Peninsula. The Taliban was not a critical success factor. They are not the only Islamist masters of a state who sponsor terrorism. Osama bin Laden was not a critical success factor for the attacks. Any number of attacks have taken place since he went to ground shortly after the attacks and there continue to be threats after his death.
Certainly Saddam Hussein's government in Iraq, dangerous as it might have been, was not a critical success factor behind the attacks.
The actions that we have taken domestically especially including centralizing security agencies and federalizing airport boarding pre-screening have not addressed the critical success factors behind the attacks.
This is not to say that we should not have responded to the attacks or that we shouldn't have removed the Taliban or pursued Osama bin Laden. Failing to respond in any would have placed us at even greater risk than we faced on 9/10.
In a sense looking for safety is asking the wrong question. If there is a single lesson that unites the Oklahoma City bombing, the first World Trade Center attack in 1993, and the attacks on 9/11, it is the enormous increase in individual empowerment. Individuals or small groups at relatively low expense can wreak tremendous devastation. This will only increase. Today radiological, chemical, and biological weapons are well within the capability of small groups without extensive funding. You can construct these things in your basement or even in the closet of your apartment bedroom. Fortunately, nuclear weapons appear to remain beyond the reach of anything but a state but that may not always continue to be the case.
Rather than looking for safety I believe we should be thinking more clearly about resilience. How can we make our institutions and ourselves more resilient to disruption and attack? We have hardly begun this inquiry.
James Joyner: The people who attacked us ten years ago are substantially weaker and less able to do us harm. It would now be so difficult to hijack a commercial airliner, much less four, that nobody has seriously tried.  We've hardened several other targets, most notably federal buildings and national monuments. We've raised citizen awareness, which has directly foiled attempted attacks. These factors help explain why there has not been another mass casualty terrorist attack on American soil in the intervening decade.
Mostly, though, it's serendipity. After all, the only significant foreign terror attack within the country prior to 9/11 was the 1993 World Trade Center attack, in which massive deaths were averted only by the incompetence of the bombers. Then as now, most of the attacks on Americans take place where the terrorists live and thus have support networks: Karachi, Riyadh, Amman, Damascus, Mumbai.
I continue to be surprised, if thankful, that Israel-style suicide bombings haven't caught on here. Three or four successful attacks in shopping malls, sports stadia, airports, and similar places where large crowds gather would cripple the country with fear and lead us to spend more trillions we don't have hardening those targets at the expense of freedom and convenience.
Note that airports are on the list. We've made it much harder–although by no means impossible–to smuggle a bomb onto an airplane. But we've done it in a way that makes our airport terminals target rich environments, with hundreds of people queued up in a tight gaggle and focused only on making it through the infernal line.
Our wars in Iraq and Afghanistan–which, unlike Dave, I supported–have bled our resources, diminished our soft power, and quite possibly bred more radicals than we've killed. Additionally, as my friend Daveed Gartenstein-Ross, author of the new book Bin Laden's Legacy, argues,
We have an economy in shambles and a national debt of more than $14 trillion. If this continues, we won't be able to maintain our current security apparatus and our ability to project power — both seriously expensive enterprises — forever. A decade ago, American safety came in part from the fact that we had the capacity, if needed, to ramp up resources to devote to the problem. In the coming decade, fewer resources will be available to devote to counterterrorism and to other problems the country faces; just look at the political scuffle over finding federal money to deal with the aftermath of Hurricane Irene. In fact, if current concerns about U.S. creditworthiness snowball, the U.S. could come to have drastically fewer resources to deal with its challenges, foreseen and unforeseen.

It's not just the U.S. that's cost-cutting. Austerity is now a global phenomenon, with most developed countries trimming — or severely slashing — their intelligence and security budgets. Austerity can diminish capabilities as well as spread instability, as we saw in the riots in the UK and Greece.  The problem is compounded by resource scarcity — prices are skyrocketing for everything from oil to rare metals to food — further constraining the U.S. and its allies. Not only will we be more hard-pressed to prevent terrorism, but it will be more difficult to absorb another attack. Our resilience has eroded in multiple ways, from our weakened economy, which has increased joblessness and slashed personal savings, to the bitter partisan divide fraying American social cohesion.
Yes, as Michael Cohen responds, we've managed to "find" the money to not only sustain but ramp up spending in Afghanistan and elsewhere and would likely do the same were there another attack. But our economic might was the chief factor in turning us into a global superpower a century ago; our national security state is helping undermine that strength.