Paul Ryan Gives An Acceptance Speech That Most People Will End Up Forgetting
Paul Ryan did what he needed to do last night, but in the long run his speech will be lost to history.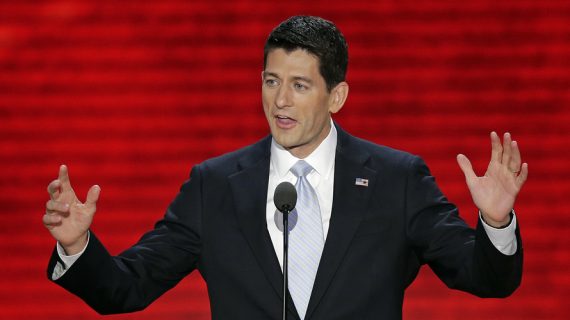 Last night, Paul Ryan took to the stage to accept the Republican nomination for Vice-President and, at least judging by the reaction of the delegates on the floor, succeeded quite handily in setting the tone for the rest of the convention leading up to tonight's speech by Mitt Romney:
TAMPA, Fla. — Representative Paul D. Ryan of Wisconsin, whose budget plans have come to define conservative opposition to President Obama's governing philosophy, accepted the Republican vice-presidential nomination on Wednesday as his party embraced the gamble that the small-government principles he represents have more political payoff than peril.

Before an audience of party faithful that he brought to life with his address, Mr. Ryan, 42, sought to turn his relative youth to his advantage, saying he would stand with Mitt Romney in embarking on a generational struggle to protect the very social program — Medicare — that Democrats accuse him of trying to dismantle.

"Ladies and gentlemen, our nation needs this debate. We want this debate. We will win this debate," Mr. Ryan said to thunderous applause from the Republican National Convention, making it clear that he and Mr. Romney have no intention of backing off in the face of withering Democratic attacks and unease among some Republican Congressional candidates fearful of a backlash from voters.

The crowd came to hear an indictment of Mr. Obama, and as he gave the highest-profile speech of his career, Mr. Ryan delivered one, fully adopting the vice-presidential nominee's traditional role of leading the charge against the other party. Welcomed to sustained applause of a full minute, he delivered his address with a mix of searing takedowns of Mr. Obama ("a ship trying to sail on yesterday's wind"), a gentle joke about the songs Mr. Romney favors ("which I've heard on the campaign bus and on many hotel elevators"), and appeals to undecided voters to leave behind whatever lingering hopes they had that Mr. Obama could bring the economy back to full strength.

"Ladies and gentlemen, these past four years we have suffered no shortage of words in the White House," Mr. Ryan said, drawing a roar of approval. "What's missing is leadership in the White House."

Mr. Ryan even at one point appeared to flirt with accusations of socialism as he recounted his own work history, starting with his days as a waiter. "That's the American dream," he said. "That's freedom, and I'll take it any day over the supervision and sanctimony of the central planners."

If his vigorous support for shrinking the size and role of government has left the party exposed to withering attacks from Mr. Obama and the Democrats, it did not seem to cause concern. Rather, Mr. Ryan ran headlong into the fire he expects to draw.

Mr. Ryan made it clear that he would portray the Romney-Ryan ticket as protecting Medicare, not "raiding it," as he said Democrats would, saying his own mother's reliance on the program should be proof of his commitment to it.

"A Romney-Ryan administration will protect and strengthen Medicare, for my mom's generation, for my generation, and for my kids and yours," he said. "So our opponents can consider themselves on notice. In this election, on this issue, the usual posturing on the left isn't going to work. Mitt Romney and I know the difference between protecting a program and raiding it." Mr. Ryan's final line — which included the declaration "We can make the safety net safe again" — brought a cheer resembling something like a last-minute goal in overtime of a championship game.

The night gave the first real answer about what sort of wingman Mr. Ryan will be for Mr. Romney. He showed that he was more than willing to go after Mr. Obama, using a mocking tone often laced with humor.

"College graduates should not have to live out their 20s in their childhood bedrooms, staring up at fading Obama posters and wondering when they can move out and get going with life," he said midway through his speech, eliciting laughter and delighted applause.

But he also showed that he would serve as a steadfast advocate for Mr. Romney, pivoting between the two messages.

"He helped start businesses and turn around failing ones," Mr. Ryan said of Mr. Romney. "By the way, being successful in business — that's a good thing."

(…)

Mr. Romney's aides have said they believe that antipathy for Mr. Obama's health care overhaul has upended the political dynamic of Medicare in way that tilts the presumed advantage away from the Democrats. Mr. Ryan's speech reflected that thinking.

"Obamacare comes to more than two thousand pages of rules, mandates, taxes, fees and fines that have no place in a free country," he said. "And the biggest, coldest power play of all in Obamacare came at the expense of the elderly."

Mr. Ryan was referring to a provision of the health law that cuts more than $700 billion in projected spending from the Medicare program. Mr. Ryan's budget assumes similar reductions, a point Democrats will be certain to continue making in the weeks ahead.

Likewise, Mr. Ryan, whose deep budget-cutting plans drew intense criticism from Mr. Obama long before the Republican ticket was completed, accused the president of failing to act on the recommendations of his own bipartisan debt commission. Mr. Ryan did not mention that he had served on that commission and dissented from its policy proposals, which included specific steps to reduce budget deficits.

But that was of no concern to the audience, whose raucous reception of Mr. Ryan was a resounding affirmation of his popularity with conservatives who have at times shown less enthusiasm for Mr. Romney.
The reaction to the speech has been about what you'd expect it to be. Conservatives have praised it quite heavily, while the liberal blogopshere is filled with accusations that Ryan was misleading on several levels. James Joyner has already dealt with the issue surrounding Ryan's claims about the closing of a General Motors plant in Ryan's hometown of Janesville, Wisconsin. Other portions of Ryan's speech that have aroused ire include his comment that President Obama essentially ignored the recommendations of the Bowles-Simpson Commission without mentioning that Ryan himself was a member of that Commission and ended up voting against the plan because of the tax provisions that it contained. Ryan also repeated a claim that has been a central part of the Romney campaign for weeks now, the accusation that Affordable Care Act takes some $700 billion from Medicare without mentioning that Ryan's own plan does the same thing.  We'll no doubt here these same claims from Ryan and Romney, and the Democratic push back, throughout the campaign, and the voters can decide how to evaluate the competing claims.
In our current political climate, though, it's not clear that campaigns care about fact checkers anymore:
"The press is all full of itself about how they're going to declare that it's false," [Mickey] Kaus says [about the Romney campaign's welfare ad], "but it's really a lot less false than you think it is."

Dickerson replies that that is merely Kaus's interpretation, and then Fournier — a guy who, if you'll forgive my pomposity, has pretty much devoted his adult life to the pursuit of truth — has a bit of a Howard Beale moment:

With all due respect, to say 'It's a lot less wrong than you think it is' is a lot like saying, 'She's a lot less pregnant than you think she is.' Wrong is wrong, and the ad is distorted. But to John's point, both sides are making up lies, both sides are distorting…. Both sides are demeaning the process, both sides are making the public mad as hell about the process — including the media institution…. That's why we all have to take a good look at how we're conducting ourselves.

The bottom line, of course, is that the ad is continuing to run. It is continuing to run because the Romney campaign's polling shows it to be effective. And therefore, kind of by definition, the press pushback is not having much effect — at least not so far, and at least not in the battlegrounds where the ad is playing.
To a large degree, I have to wonder what the average voter actually things of these charges and counter-charges. I don't think that many of them spend their time obsessively reading political blogs and fact-check web sites looking for lies. Indeed, it seems rather apparent that the common attitude in America these days is that all politicians lie when it suits them. So, when voters here one side saying the other side is lying do they really listen, or do they just dismiss it as more partisan rhetoric? I'm beginning to think it's the latter, and not the former.
The truth about Ryan's speech, though, is that, in the end, it's not likely to leave much of a long-standing mark on either the race itself or Ryan's career:
We want to make a final point about Ryan's acceptance speech, and it's the same one we made yesterday: Don't get carried away by a strong VP speech; it typically doesn't have a long shelf life. Think Ferraro in '84, Bentsen in '88, Kemp in '96, Lieberman in '00, and Edwards in '04. The exception, of course, is Sarah Palin in '08. But she isn't the rule.
Palin's speech is remembered mostly, though, because she was a relative unknown before McCain announced her as his VP pick on August 29th, 2008 and that speech was the first opportunity that anyone — the delegates in the hall, reporters, pundits, and the American people — had really had a chance to see Sarah Palin and hear what she had to say. Thanks to a well-written speech and a crowd in Minneapolis that was very receptive to Palin both personally and ideologically, she hit a home run that night and, albeit temporarily, pushed the McCain campaign into a lead in the polls that lasted until mid-September. All the same, though, what is it that everyone actually remembers about Palin's 2008 speech? It's this:
Can any of you name much of anything else that Palin said in her speech in 2008, or anything that any other Vice-Presidential nominee said in any of their speeches? Have we ever had an election where anything a Vice-Presidential candidate said during the course of a campaign, never mind in their prime time convention speech really had an influence on the election. I'd dare to say that the answer to that question is a pretty clear no. The purpose of the running mate's nominating speech is two-fold. First, it introduces the running mate to the country since, in most cases, we're talking about someone who has not been a major national figure before being selected to join the Presidential ticket. Second, it sets up the crowd, and the viewing audience, for the far more important speech they'll hear twenty-four hours later from the Presidential nominee. The speech isn't intended to sell the Vice-Presidential running mate, or their ideas. Indeed, the entire job of a running mate is to sell the Presidential candidate and to play the traditional running mates role of "attack dog." Judged from that standard, Ryan's speech strikes me as having been a complete success. Pundits and partisans will continue to argue about the substance of his speech, but the American people will have moved on. Win or lose, few people will remember Paul Ryan's speech last night, and that's just how it's supposed to be.