Pennsylvania Considers Electoral College Reform
Pennsylvania Republicans want to do the right thing for the wrong reason.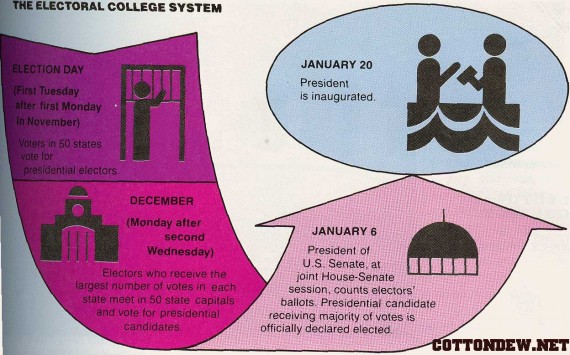 MoJo's Nick Baumann has an alarmist post titled "GOP Resurrects Plan to Rig Electoral College." The actual proposal, though, is inarguably more democratic than the status quo.
In September, top Pennsylvania Republicans shocked the nation by proposing a change to the state's election rules that would have rigged the Electoral College in favor of Mitt Romney. Facing a nationwide backlash, the state's GOP backed down—but not beforeWisconsin Republicans considered a similar plan. With the old rules still in place, President Barack Obama won a 332-206 electoral college victory over Romney.
Changing the rules in September would have been blatantly unfair, since the campaign had been waged under existing rules and the likely outcome was predictable. But, surely, changing the rules nearly four years out—well before the campaign has commenced—isn't inherently a bad idea.
The Constitution allows each state to allocate electoral votes however it wants, but in every state except for Nebraska and Maine, the contest is winner-take-all. If you get the most votes in Pennsylvania, you get all of its electoral votes.

Republicans want to change that.
Okay. But Baumann doesn't argue that there's anything wrong with the way Nebraska and Maine have allocated their electors for many cycles. So, what would be wrong with Pennsylvania following their lead?
Before the election, Pileggi's plan (backed by a mysterious dark-money group called All Votes Matter) was to allocate electoral votes by congressional district, with the winner of each district receiving one electoral vote and the statewide winner getting a two-electoral-vote bonus. That might not seem like a big deal. But Pennsylvania, like other blue states in the upper Midwest, was subjected to a very effective Republican gerrymander after the 2010 midterm elections. Republicans won 13 of its 18 districts in 2012, so if Pileggi's preelection plan had been in effect, Obama could have been awarded as few as 7 of Pennsylvania's 20 electoral votes, despite winning the state.
That would indeed have been an inequitable outcome, considering that Obama won 51.9% of the statewide vote to Romney's 46.9%.  But I'm not sure why it's inherently more unfair than the fact that the same thing happens with Pennsylvania's House delegation. Further, the fact that Republicans were able to successfully gerrymander the seats in this manner is a testament to the fact that they controlled the state legislature rather handily in 2010. And the fact that it had any chance at passing at all is a pretty clear indicator that, presidential voting patterns notwithstanding, Pennsylvania isn't really a "blue" state; Republicans are clearly highly competitive in state elections.
Regardless, that plan isn't actually the one being proposed now:
Pileggi's postelection scheme has a new twist. Instead of awarding electoral votes by congressional district, it would award them in relation to the statewide popular vote, with a two-electoral-vote bonus for the winner. That would prevent blatantly undemocratic effects like a candidate losing a state's popular vote but still winning its electoral votes. But it would still have a similar effect to Pileggi's earlier idea—it would ensure that at least some of Pennsylvania's 20 electoral votes, which have gone to Democrats in every election since 1992, would go to Republicans. In a close election, that could change the outcome.
Sure. But why is that a bad thing? To the extent that Pennsylvania's 20 electors are a lock for the Democrats, the current system is "rigged" (to use Baumann's scare word) in their favor. After all, while a 5 point statewide margin is substantial, it's nonetheless the case that 47% of Pennsylvanians are disenfranchised by the result. Obama should have gotten 10.3 electors to Romney's 9.7; or, since that's not possible, 11 to Romney's 9. And even that would substantially overstate Obama's margin of victory. Since Pileggi is proposing a 2 point "bonus" (actually, just an awarding of the 2 electors based on the Senate) to the winner, the 11-9 outcome would make sense.
Pileggi has said his new plan "much more accurately reflects the will of the voters in our state." (He did not respond to a request for comment.) Dems say that misses the point. "The Republican Legislature has been brutally honest about wanting to move Pennsylvania into the Republican column," says Daniel Roth, a spokesman for the Democratic Legislative Campaign Committee, which works to elect Dems to state legislatures. "They wouldn't be doing this if Pennsylvania had gone Republican in the past six elections. This is clearly an attempt to move electoral votes to the Republican column because they know they cannot win the state."

Roth has a point: The states where Republicans have proposed changing Electoral College rules—Pennsylvania and Wisconsin, where legislation has been introduced, and Michigan and Ohio, where activists have pushed the idea (see below)—went for Barack Obama in both 2008 and 2012. There are no such GOP proposals, for example, in deep-red Texas.
Well . . . duh. But maybe there should be Democratic proposals along those lines in states with a similar history of both being relatively close and yet always winding up in the Republican column?
Awarding the entirely of a state's votes to even a narrow winner makes no sense whatsoever. And, in the cases of states where one party has a decisive advantage, they might as well not bother to hold elections, since the outcome is inevitable.  Given the incredible difficulty of amending the Constitution  and the fact that the popular vote winner ultimately prevails almost all the time, we're not going to abolish the Electoral College. Reforming it so that it more accurately reflects election outcomes, though, is within the power of individual state legislatures. So long as it's done well enough in advance, I don't find that problematic. Even when, as is unarguably the case here, it's motivated by partisan advantage rather than philosophical purity.