Playboy Playmate Says She Was Singled Out For TSA Body Scan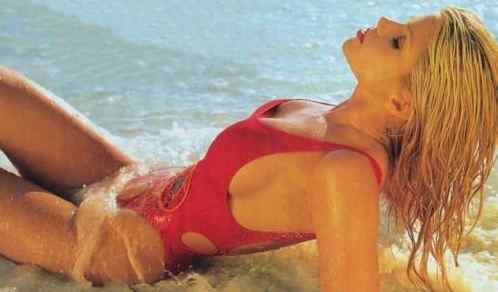 Donna D'Errico isn't too happy with the TSA:
A former "Baywatch" beauty is feeling overexposed after going through what she says was a humiliating body scan by Transportation Security Administration agents at Los Angeles International Airport.

Donna D'Errico, who was the Playboy Playmate in September 1995, says she got a few leers along with the scan and isn't happy about it.

D'Errico, 42, says the encounter occurred at LAX while trying to catch a flight to Pittsburgh with her son, Rhyan, 17.

"We were on our way to see Rhyan's aunt, who had just been put on life support in the ICU," D'Errico told AOL News in an exclusive interview. "My boyfriend and his business partner happened to be flying the same airline [American] on their way to New York for business. We got checked in and headed to security."

After waiting in a long line of holiday travelers, D'Errico and her son finally made it to the moving carrier where all the carry-on bags are placed. That's when a TSA agent took her by the elbow and told her she needed to "come this way."

"I said I was traveling with my son, motioning to him, and the agent said he was to come along with me as well," D'Errico said. "I immediately asked why we were having to go through an extra search, and no one else was being made to do so, indicating the long line of other passengers in front of and behind where we had been in line. In a very sarcastic tone, and still holding me by the elbow, the agent responded, 'Because you caught my eye, and they' — pointing to the other passengers — 'didn't.'"

D'Errico is still wondering how she caught his eye while others didn't.
It's a completely random process, of course.