Political Culture Eats Institutions For Lunch
Institutional reform is necessary, but we can't accomplish much in the face of tribalism.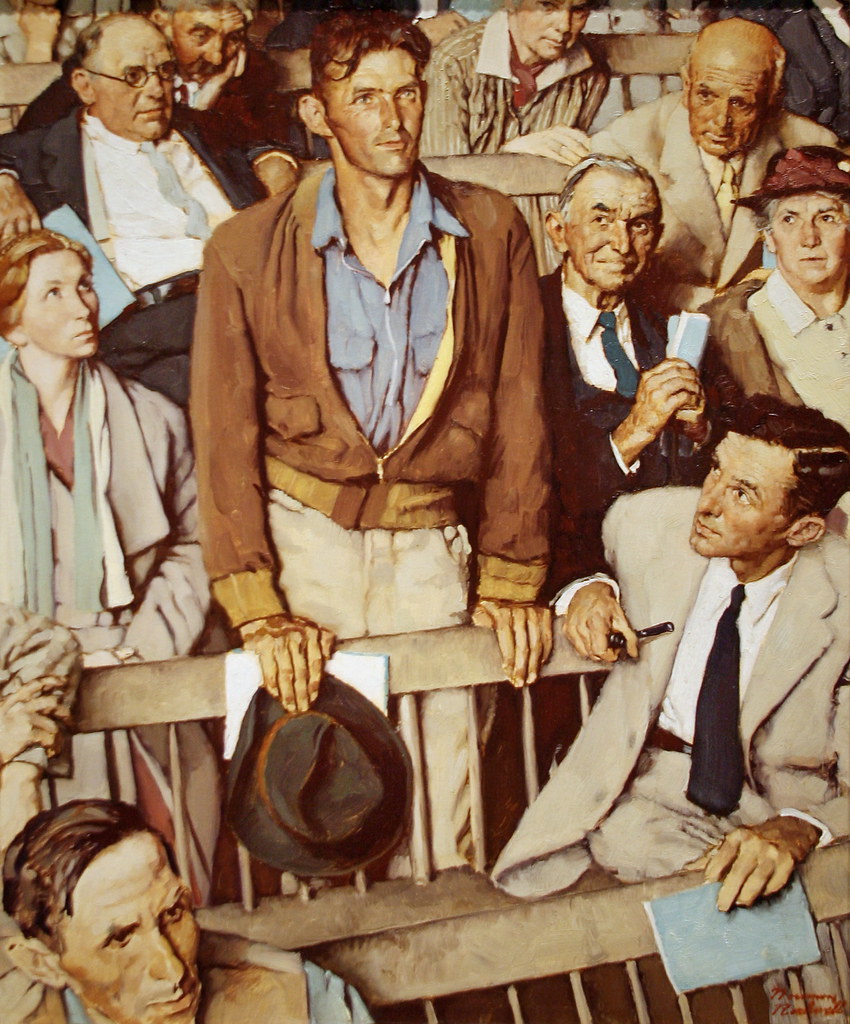 Steven Taylor's excellent post about the flaws in the US Constitutional design frames the crisis of 2020 as the result of institutional defects. While I agree that American political institutions like the electoral college and winner-take-all elections deserve a lot of the blame, I'd also argue that American political culture deserves even more. Our institutions are failing us, not just because they don't set down a reliable, fair set of rules to follow, but the desire to be both reliable and fair in politics is missing.
Clearly, there's a reciprocal relationship between political institutions and culture. Institutions, for example, constrain bad behavior and determine the type of representation that voters get from their elected officials. If you want a system in which more voices are heard in the halls of power, go for proportional representation, or at least make sure that all citizens find it just as easy and rewarding to vote. One could make the argument that institutions encourage good behavior, too. Some religions make the implicit or explicit argument that prescribed activities or rules, such as mandatory prayer or charity, encourage a more pious, moral outlook. In the same fashion, one might say that political institutions, such as a visibly representative system, encourages the mindset that all opinions and interests matter.
Political culture also animates these institutions. The official Soviet constitution was notably quite at odds with Soviet totalitarian reality, promising freedoms that did not exist in that regime. Weimar Germany had, in the opinion of many political thinkers at the time, the best constitution in the world. Unfortunately, not enough Germans had enough faith or investment to defend it when it came under attack. Great Britain's famously unwritten constitution nonetheless persists, in the absence of many explicitly codified rules found in other polities, because of British political norms. Institutions may, in the same fashion as a particular make and model of a car, determine capabilities. It also matters what powers that vehicle, how you drive it, and where you want to drive it.
American political culture is broken right now, incapable of effectively powering or directing our institutions, representative democracy and the rule of law. It has been broken before: women and minorities, for example, had less of a say than they do now, not only because of the political and legal frameworks that existed, but because of the prevailing prejudices that persisted long after the official reform of those inequalities. We face a different kind of brokenness now, the biggest irreconcilable division since the Civil War. Our political culture is broken because the connective tissue of common sentiments, beliefs, and habits that would normally hold us together is torn, and some people want to rend it even further.
If you were to go back in time 10 or 20 years, you'd encounter intense partisanship. The roots of this calamity run deep, going back to Newt Gingrich's efforts to delegitimize any political cooperation, Ann Coulter's unanswered claim that liberals were traitors, the rise of the Religious Right, the creation of Internet-based echo chambers, and other antecedents in our political culture. When I was growing up in Orange County, California, I saw how intolerant political movements — some with a religious bent, others more secular — were coalescing and finding common cause. It has disturbed me during my whole life since I was a teenager and first politically aware, fearing how these forces, left unchecked, might turn into something poisonous to democracy, perhaps reaching fascist dimensions of intolerance, organization, and mobilization.
If you went back 20 years and said, "We know a deadly pandemic is coming," we would have expected partisan bickering to lessen, and people intoxicated on their self-righteousness to sober up. We would have expected a collective response to a threat to all Americans. We would have been horrified to see epidemiology turned into a partisan issue. Clearly, at some point, we crossed a very dangerous threshold of tribalism. To be fair, "we" does not include all Americans, but a significant minority who sees everything through the lens of us versus them, good versus evil, the well-intentioned versus the badly-intentioned, the patriots versus the traitors, the warriors versus the weaklings. This strain of intolerance infects primarily people on the right — or what the right has become now, as opposed to what it was. For lack of a better term, we can call that faction "the radical right," an grouping that sees itself besieged by dark forces with which they cannot compromise or co-exist. If you are marshaling against an irrepressible enemy, it should not be a surprise that the purported forces of light might lean in an authoritarian direction.
In business management theory, Peter Drucker's phrase, "Culture eats strategy for lunch," has a lot of resonance. If you try to steer a company in a direction that is counter to that organization's culture, you might as well not bother. Even if the CEO creates a company policy about, say, letting customer service representatives make their decisions on how to handle calls, instead of following scripts, people within the organization can easily sabotage it. The threat of having your bonus reduced or even losing your job is not necessarily enough of a deterrent to operating "the way we've always done things around here."
We now have a political subculture of a large enough scale that sees tribal boundaries and loyalties as more important than the long-established rules of elections and governance. There is not a polite debate point or a rhetorical zinger that will fundamentally change that reality. Nor will changing the way in which we elect representatives or run Congressional subcommittees change this reality. Tribalism is now a reality that will deform politics, no matter what the official operating rules are. The rules of the game might ameliorate the effects of tribalism, but they cannot eliminate them.
Whenever we are frustrated with the current situation — "How can these people support this?" — tribalism is usually a major factor. Elected officials no longer represent all Americans, in the eyes of some Americans, just us, or those people. Tribalism makes voter suppression, gerrymandering, and other ways of undermining representation not only allowable, but necessary. To quote Steven from his post, "The GOP has been playing football with 12 men on the field, and the Democrats with 11…Why adapt when you have an advantage like that?" Clearly not, if you think that the point of politics is not to preserve the fairness and integrity of institutions, but merely to benefit your side.
Tribalism also makes it possible to overlook corruption and blatantly anti-democratic actions. It makes everything terrain over which to fight, including neutral institutions like the US Postal Service. If parts of the government, or the nation, become casualties in this war, so be it. If the President promotes incompetent people, so be it. If the President is mentally or morally impaired, so be it. If the President makes common cause with racists, so be it. If the President violates the sanctity of elections, so be it. There is no positive vision of government action in the name of all Americans, and no negative vision of actions that would deserve blame, censure, and possibly removal. There is only the war of one tribe against an imagined enemy.
It is extremely difficult, once you cross this threshold, to find institutional mechanisms for managing tribalism. Lebanon's pre-civil war constitution tried, and failed. In fact, the codification of representative amounts, by ethnic and sectarian grouping, contributed to the collapse of the political order, once one part of the population grew larger than its allotted representation.
I hate to be this dark, but this is the moment I've feared my whole life, as I said. The rules are only effective if people follow them. Now, we have unconstitutional executive orders that, because of the silence of Republicans, do not have the institutional check that the Framers intended. Reform of the rules may be impossible if one participant in the decision-making process doesn't see a common interest at stake.
Institutional improvements should go ahead, when possible. Some measures will have positive effects, even in the face of this crisis in American political culture. The current reality will make the range of possible reforms limited, and their effects muted. If we cannot get people to wear a mask during a pandemic, how likely will DC statehood or new party nomination processes be?
Recovering from tribalism will take time, as would be the case with any cultural change. There will be some failed efforts. Do not expect a better social media algorithm here, and a better campaign law there, to cure this problem. But we need to start addressing our crisis in political culture.