Politics as Sport
The game is the game.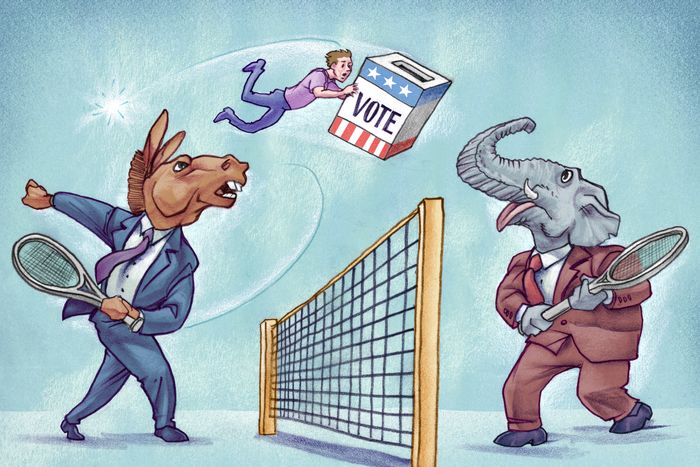 University of Bath political scientists Peter Allen and David S. Moon have just published a peer-reviewed article on a topic of longstanding interest here at OTB: "'Huge fan of the drama': Politics as an object of fandom." The abstract:
On June 12th 2019, in the middle of the UK Conservative party's leadership contest, journalist Marie le Conte tweeted 'so this is my first proper leadership contest as an actual Westminster person and honestly it's such a hoot…huge fan of the drama'. This tweet is exemplary of a wider phenomenon. Politics is the activity through which power and resources are allocated across society – who gets what, when and how. Politics, and what it does to all of our lives, is consequential. Yet, despite this, many of those who pay the most attention to politics do so from the position of a fan, engaging with it in the way that others engage with entertainment forms like sport and television shows. Previous studies have paid attention to the fandoms and anti-fandoms that develop around individual politicians and movements – in other words, they maintain a focus on the behaviours and actions of these fans of politics. By contrast, in this paper we explore the construction of politics itself as an object of fandom, asking what happens to politics when it is treated in this way. The activity of politics can be socially constructed by humans to serve some purpose. Thus, who does the constructing and how they do this, affects what it becomes. Our claim is that constructing politics as an object of fandom (i.e. constructing it as 'the drama') affects politics itself.
This finding is not the least bit shocking, especially in the Trump era.
Some excerpts from the paper itself follow, interspersed with commentary.
This enthusiasm, however, is not solely the preserve of an otherwise disengaged public suddenly roused to interest by headline events; it is just as true, if not moreso, of this paper's particular focus – members of the 'intensely politically involved' (Allen, 2019; Allen and Moon, 2020), an elite group comprised of individuals working in and around politics, including prominent political journalists and pundits who, as part of the cottage industry surrounding politics, are employed to report on and frame it for public consumption.
Indeed, I would argue that fandom is precisely what draws these people to the craft. Those interested in policy, rather than politics, will tend to go into academia or the think tank world rather than media or the party apparatus.
Allen and Moon make this distinction early:
The target is not the impact of television, celebrity media and so on, on politics' presentation. Rather, it is the treating of politics as if it were a form of entertainment in itself, handled and consumed in a manner no different to sports or sitcoms.
Steven and I have been making references to politics as sport as long as we've been blogging, if not longer. I actually think we follow sitcoms and other scripted entertainment very much differently, but am open to persuasion.
Here's their argument on that score:
Widely studied, fandom is not a coherent object in itself; as Duffett (2013: 3) notes, for example, sports fandoms – often tribal and competitive – and media fandoms such as television series, books or board games, have been treated as very different objects of study. Nevertheless, in practical terms, fandoms commonly involve communities of enthusiasts or supporters intentionally formed around and engaging with specific media or cultural properties that become a shared 'object of affection' (Reinhard and Miller, 2020; cf. Andrews, 2020; 2021) – or 'fan-object' (Hinck, 2019: 9) – amongst them.

Obvious examples of such fan-objects include football teams, music groups, actors, film franchises and computer game series. But fandom can attach itself to any source material, not only those drawn from the spheres of popular and high culture. Specifically, what makes one a fan of a particular object/property is its 'regular, emotionally involved consumption' (Cornel Sandvoss, quoted in Dean and Andrews, 2021: 323) and the shared emotional relationship towards the consumed object that both drives and is elicited by such consumption. The shared element is important; attaching oneself to a fandom brings with it an identity as a member of an imagined community of fellow fans. The emotional element is key as one's identification with a fandom becomes part of the identity of the individual – what Duffet (2013: 24) calls 'personal fandom', a term expressing individuals' fannish activities and experiences.

Fans read books, buy merchandise and talk about these things with other fans. In doing so they develop familiarity with specialised, product-specific knowledge: pro-wrestling fans, for example, recognise and can name a vast array of wrestling manoeuvers – from 'Irish Whips' and 'atomic drops' to 'tornado DDTs' and 'Boston crabs' – and their signature utilisation by different performers, allowing them to interpret, from the application of particular moves in particular sequences, the likely predetermined outcome of matches (see Dell, 2006: 22). This knowledge extends beyond the purported object of fandom – for example, the fantastical stories contained between the covers of George R. R. Martin's A Song of Ice and Fire series – to include 'backstage'/industry-specific knowledge of production processes, and business news related to adaptations or forthcoming (eventually, we are assured) publications. To have not only this insider knowledge but the skill to interpret it also relies upon an ability to think like the writers, producers, executives and performers behind the production of a particular object, a mental process that essentially means adopting the established premises such actors operate within (the 'rules of the game') for the purpose of being able to discuss and offer predictions about their actions. A fandom is thus a shared linguistic community (Goggin and Emmanouloudis, 2019: 138) – this specialised knowledge, shared understandings and attendant language forming the basis of the cultural capital that allows fans to communicate, and thus be afforded access into discussions within the fan community that bond together the fandom's members.
While I still believe that most people, myself included, experience sports fandom differently than these other activities, they do seem to be referring only to specialized sub-examples. I wouldn't dispute that fans of, say, Star Trek or Game of Thrones, are more immersed in the experience than, say, those of Seinfeld or South Park.
Still, as much as I enjoyed The Wire or Breaking Bad, the Star Trek and Marvel movies, or Robert B. Parker and Tom Clancy novels, becoming emotionally engaged with the characters, the knowledge that the outcomes were scripted and that the characters weren't real bounds my experience in a way that's just not true of the Dallas Cowboys or the Crimson Tide. At least so long as the teams are competitive for a championship run, I live and die with them game by game—even play by play—in a way that just doesn't happen with movies, television shows, or books. And that certainly seems to me how most hard-core fans experience the games.
Regardless, I'll just ignore their wider conception of fandom from here on out, taking it as a tangential argument.
Participants in politics fandom take on the characteristics of an epistemic community (Haas, 1992). First, they treat politics as akin to a sport, game or form of entertainment, with commentary offered on political events in much the same way that one would expect on a football match or television series. Second, they adopt a knowing stance in these discussions, with participants rarely explicitly expressing their own fealty to a set of ideologically-grounded political views. Instead, their views are purported to come from the position of an expert observer or from a hypothesised neutral political position. Third, these discussions often take on a tone of irony or 'snark', the assumption being that valid interlocutors in the debate will 'get' the message being conveyed while those who aren't in the know will not. Overall, this is something like the inside baseball-ization of political discussion. The Oxford Dictionary of American Political Slang defines inside baseball as 'about knowing the inside, about having the low-down, the scoop. It's about knowing the details so constituents and Congresspeople don't have to. It's…shoptalk' (Barrett, 2006: 4). Barrett goes on, '[N]ow sometimes used in any industry to describe the minutiae and inner workings of interest only to its wonks and geeks, inside baseball, above all, is about what happens behind the façade' (2006: 4).

Conversations amongst political pundits have 'a distinct flavour: an interest in process over substance, a preference for certain kinds of knowledge (primarily statistics) and a mode of engagement that is at pains to assert its political objectivity' (Allen, 2019: 75). Scholars of political communication refer to this discursive style as 'strategic game framing', with a focus on tactics and strategy, winners and losers (aka 'horse-race coverage' (Aalberg et al., 2011)), as opposed to 'issue framing' approaches that focus on the detail of political problems, proposed policy responses, and the consequent outcomes of different solutions (Young et al. 2019: 84). The result is commentary focused on interpreting the 'message' politicians seek to tactically convey by their messaging – for whom? To what end? – rather than any substantive ideological content of their statements.

Politics fans are continually learning the 'rules of the game'. They then apply their understanding of these rules to interpret these political signals as an 'insider' would. As already noted above, this requires an ability to actively think like the writers, producers and actors of their particular fan-object – or, in this case, the politicos, wonks and lobby hacks who package and transmit politics. The implication is that, as fans of politics, the reception of any political information takes place inside this particular, narrow framework of 'rules' with an interpretive focus aimed at uncovering the strategic intention of essentially performative acts.
This seems indisputable. Most voters simply have no need to understand these things. Just as casual sports fans don't spend the entire offseason obsessing over the minutia of recruiting, free agency, the draft, and the like, most voters pay next to little attention to the news until right up until the election. I would guess that the overwhelming number of Americans have no idea that the government was on the brink of a shutdown, much less who Matt Gaetz is.
Allen and Moon argue that the phenomenon is growing:
The move away from news production focused on specific times or editions (e.g. evening news slots and first and second editions) has intensified since the late 1990s and the advent of 24-h cable news. In recent times, the perpetual news machine has operated out of, and through, Twitter. Mills et al. have noted that among British journalists Twitter is 'widely used for a range of professional purposes including monitoring news, gauging opinion, identifying and fostering contacts and sources, publishing live reports and commentary, and promoting content' (2021: 3). Social media is also where the breadth of individuals identified above – from political editors to political scientists working in academia – come together. Although it is likely their in-person social networks would have overlapped in the past, social media permits this to take place without the constraint of needing to be in the same physical space (Mills et al., 2021) and, on Twitter, interested members of the public can also bear witness to their interactions in real time.

This development has run alongside a 'deep and continuing crisis' for 'UK local, regional and national news media' (Williams et al., 2015: 681) wherein the economic model that historically sustained traditional media – one based on print sales and advertising revenue – has come under strain as Internet access has become widespread. This has, broadly speaking, led to the domination of the media sector by a smaller number of bigger players and, in turn, '[D]igital technology has recalibrated and become integrated with existing media institutions, practices and power structures' (Mills et al., 2021: 1). The nature of the 'media economy' (Meyer, 2002: 35) means that the imperative to sell entertaining content in order to produce profit will survive any shifts in how that content is initially funded. For example, although it is difficult to establish the precise causal pathways, it appears to be the case that a lot of the contemporary discourse regarding politics and political events at the elite level is driven by social media. Previously, political participation involved physical involvement with groups such as trade unions, churches and political parties – institutions whose membership have declined, taking with them the social identifications and securities that came with them (Bauman, 2013). The development of networked technologies has been central to providing spaces for new collective communities to form across geographical distances – as it has been for other fandoms – and platforms to reiterate, daily, the discursive practices that sustain the community and the boundaries of its membership (Hinck, 2019: 13). In the context of a changing media economy, social media's rise as a key form of news dissemination can thus be seen as a method by, and forum in which, political coverage can be served to more curated audiences in this more easily-consumed fan-object form.
The same has surely happened in the US, and likely on a bigger scale. The UK electoral system, after all, is much more constrained, with radically shorter election cycles and a more unified system of governance. In the US, we have essentially had a permanent campaign going on since roughly 1990, with one election running into the next. To extend the sports analogy, we no longer have offseasons.
The authors conclude:
In her book Haven't You Heard? Gossip, Power and How Politics Really Works, author Marie le Conte features a quotation from Miranda Green, a former political advisor, who states that 'When people portray politics for the rest of the population, they leave out the most important thing, which is that it's unbelievably enjoyable and everyone's having a really great time. Why else would we do it?' (Le Conte, 2019). Green here distils the essence of politics fandom – a phenomenon we have identified here, specifically focused within the intensely politically involved. These fans are close to power and gain enjoyment ('a really great time') from interacting with politics as an entertainment form. This is not in itself an issue; however, it becomes one because of who these people are. A 'club' (that you're not in), rooted in traditional class inequalities, which simultaneously generates new inequalities around knowledge fuelled by the shifting but enduring economics and incentives of the news media, acceptability of actions and emotions, of credibility and the realms of 'sensibleness' that demarcate what politics can do in the world. In this sense, politics fandom serves as the epistemology of the political class, framing their communication of politics to the wider public with the resultant democratic implications we have discussed.

Like fans of television drama, the intensely involved are able to treat politics as not necessarily 'real' but still worthy of deep emotional investment. They follow it, discuss it, and speculate about it. But the way they do so makes politics itself into a particular version of itself: one focused on process and aesthetic over materiality and outcome, something undertaken by elites and an object to be revered. To some extent, we could see this as akin to a workplace culture; as just another workplace culture, even. But to do so would belie the importance of the 'workplace' in question and, to some extent, would further belie the importance – and the consequences – of politics itself. The extent to which the characterisation of the activity of politics that we have sketched here serves to alienate the wider public is difficult to establish with any empirical certainty but the opposing claim – that it has improved this situation – does not seem to hold any water whatsoever.
I see no way out of this cycle because the excitement of the game is precisely what draws political junkies. But treating politics as a game makes it a game. While the elite political press in the US overwhelmingly find Trump awful, they nonetheless find him tremendously exciting. Indeed, the very things that make him awful make him entertaining.
While there's next to zero chance that Joe Biden declines to run for another term, replaces Kamala Harris on the ticket, or has some secret plan to get elected and then resign his post to hand her the presidency, all of those possibilities are excellent if wildly predictable fodder for punditry. Indeed, one way in which political journalism is more like that for serial scripted entertainment than sports is the existence of a large number of hoary tropes that get dusted off cycle after cycle. Speculation about an Electoral College tie throwing the election to the House, faithless electors changing the outcome of the election, the death of the winner before the Electoral votes are counted, and many other oldies but goodies are definitely coming to a column near you.
But it's also why I find explanations like Christian Nationalism for electoral behavior so unsatisfying. While they doubtless explain why some people choose their political party, most people's behavior is predictable. At the end of the day, most people who are going to bother to vote have a favorite team. While most of them are less rabid than we dedicated fans, they'll nonetheless cheer when their team makes it to the playoffs.