Politics Is Impossible When Everyone Just Keeps Yelling At Each Other
American politics has been reduced to a charade where all people do is yell at each other.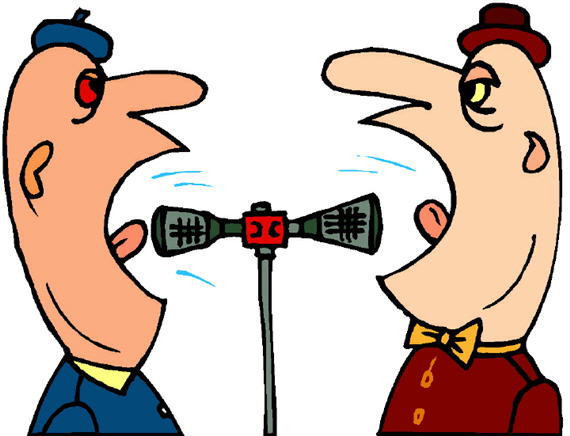 A. Barton Hinkle has determined definitively what's wrong with our country, it's all those people who disagree with us:
The past several weeks have made one thing crystal-clear: Our country faces unmitigated disaster if the Other Side wins.

No reasonably intelligent person can deny this. All you have to do is look at the way the Other Side has been running its campaign. Instead of focusing on the big issues that are important to the American People, it has fired a relentlessly negative barrage of distortions, misrepresentations, and flat-out lies.

Just look at the Other Side's latest commercial, which take a perfectly reasonable statement by the candidate for My Side completely out of context to make it seem as if he is saying something nefarious. This just shows you how desperate the Other Side is and how willing it is to mislead the American People.

The Other Side also has been hammering away at My Side to release certain documents that have nothing to do with anything, and making all sorts of outrageous accusations about what might be in them. Meanwhile, the Other Side has stonewalled perfectly reasonable requests to release its own documents that would expose some very embarrassing details if anybody ever found out what was in them. This just shows you what a bunch of hypocrites they are.

Naturally, the media won't report any of this. Major newspapers and cable networks jump all over anything they think will make My Side look bad. Yet they completely ignore critically important and incredibly relevant information that would be devastating to the Other Side if it could ever be verified.
Ramesh Ponnuru agrees:
I can't stand the people on your side. Not you, particularly. You're fine. It's your side that's ruining everything great about this country.

Your side lies shamelessly. Your leaders just make things up. And you just follow them blindly, like sheep — like blind sheep. You hang out with people who think just like you, and listen only to shows where you'll hear your own views repeated. It's an echo chamber of lies!

That's how your side wins elections. It whips gullible people into a frenzy about supposed threats to their freedoms and livelihoods, and it deceives everyone else into thinking it's more moderate than it really is. Once the election is over, though, your side starts pushing its extreme agenda behind the scenes.

When your side wins an election, you make out the president to be some sort of messenger from God. Nothing he does can be wrong. It doesn't matter how big a hypocrite he is. He can campaign on bringing us together and then do nothing but divide us when he gets in — but you don't mind. When our side wins, on the other hand, the president has to be personally trashed and accused of the most monstrous crimes.

Your side stirs up hate against the people on my side. The horrible signs your people hold up at their protests, the venom your spokesmen spew on television: It's scary. I wonder how you can go through life with all that anger inside you.

Your side is simplistic. You never stop and think things through. That's how you end up with your ridiculously inconsistent positions on abortion and the death penalty. You even fight against legislation that would make your own life better! How crazy is that?

Honestly, I don't know whether to be sorry for you or mad. Sometimes I wish we could just free you from these awful leaders and their dumb ideas. Sometimes I wish all the people on your side would just secede and form your own country.
Obviously, both of these pieces are meant to be tongue-in-cheek, but in their sarcasm they are a fairly accurate representation of what passes for political discourse in this country. It isn't enough to say that you think a person is wrong, either in their facts or in the premises, one must also question the motives, the sanity, the intelligence, and indeed even the loyalty of one's opponents. It gets worse when political debate takes place on the Internet, where relative anonymity tends to cause political rhetoric to become more heated, and more personal. One need only peruse a political "debate" on Twitter, Facebook, or in the comment threads of the blogosphere to see confirmation of that back. It's not limited to the Internet, though, one can find similar rhetoric on cable "news" on a daily basis, particularly on the two networks that have adopted as a business model the practice of pandering to the particular political biases of their viewers at the expense of either accuracy or an enlightening discussion of political issues that takes all sides of a debate into account.
If this polarization and demonization were merely limited to the Internet and cable, it would be one thing, but that's not what happens. For one thing, the debates that occur online and in the news media drive the political culture, and lead politicians to mimic the rapid partisanship of the people that elect them to office. For another, it appears that partisanship has even become a factor in who we choose to maintain personal relationships with:
The old saw of keeping your friends close but your enemies closer stops short at partisan relationships. Only 1 in 10 Republicans say most of their friends and family are Democrats, according to a new Washington Post-Kaiser Family Foundation poll.

Just as few Democrats — 10 percent — admit to palling around with members of the opposing team. To put this in starker terms, two-thirds of partisans say most of their friends and family are of the same political persuasion.

This affinity for like-minded relationships — almost identical to a similar survey in 2009 — hints at the feedback loop most partisan Americans live in: One with few opportunities for confronting political differences and a lot of team reinforcement.
The phenomenon isn't as pronounced among Independents or people who cling to their partisan identity only loosely, but for those who are what we would call "Rapid Republicans" or "Yellow Dog Democrats," it would appear that it's less and less common to socialize with people who hold different political opinions. Personally, I've never quite understood this phenomenon. I've had friends over the years with varying political beliefs, some of them quite the opposite of mine. Sometimes, we talked, or argued, politics, but most of the time we didn't, because there's more to life than politics and losing friends over something so relatively trivial as an election strikes me as really rather silly. Then again, I suppose I'm really more of an Independent than a someone who's heavily partisan, so I suppose that makes sense. The lesson from this phenomenon, though, is that it's easy to demonize the people you disagree with when you rarely interact with them other than when you're having highly charged political arguments.
Ponnuru starts his piece with this quote from the Alexis de Tocqueville's great survey of early America, Democracy In America:
"The period which immediately precedes an election, and that during which the election is taking place, must always be considered as a national crisis. … As the election draws near, the activity of intrigue and the agitation of the populace increase; the citizens are divided into hostile camps, each of which assumes the name of its favorite candidate; the whole nation glows with feverish excitement."
de Tocqueville was right then, of course, and what he observed nearly 200 years ago remains true today. The difference, I think, is that it seems like we're eternally in that "period which immediately precedes an election." There's never seems to be a break between one campaign and the next, indeed, there is already speculation being traded about what might happen in 2016 when we still haven't voted in the 2012 election. The partisanship never cools down, not for a second, and the vindictive attacks between the people engaged in the battle continues to intensify to the point where it impedes the ability of politicians to actually do what they were supposedly elected to do. As long as that continues, we're just going to continue yelling at each other and not getting anything done.