President Jello Walks Back His Comments On Gun Control
Once again, the Administration is walking back the President's statements on a controversial issue.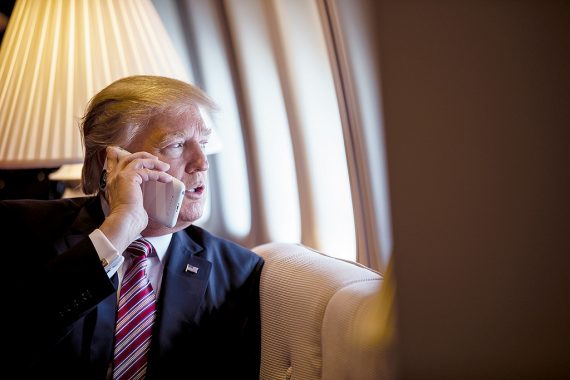 Less than twenty-four hours after a bipartisan White House meeting in which he appeared to be open to a number of positions held by gun control advocates, President Trump and his Administration were already seeking to walk his comments back:
The White House on Friday walked back President Trump's apparent support for universal background checks for gun purchases.

Press secretary Sarah Huckabee Sanders said Trump supports "not necessarily universal background checks, but certainly improving the background check system."

"He wants to see what that legislation, the final piece of it looks like," she told reporters at the White House. "Universal means something different to a lot of people. He certainly wants to focus and improve on the background check system."

The comments come after Trump stunned many in Washington by voicing support for many gun control proposals during a meeting with lawmakers that aired live on television.

During the Wednesday meeting, Trump appeared to agree with Sen. Chris Murphy (D-Conn.), who said that "Americans want universal background checks."

"You have a different president now," Trump told the senator. "You went through a lot of presidents and you didn't get it done. You have a different president. And I think, maybe, you have a different attitude, too. I think people want to get it done."

The president has previously supported a more modest proposal written by Murphy and Senate Majority Whip John Cornyn (R-Texas) designed to bolster the existing background check system, but not expand it.
Perhaps not coincidentally, this "clarification" came the morning after the President had a meeting with two representatives of the National Rifle Association:
WASHINGTON — The top lobbyist for the National Rifle Association claimed late Thursday that President Trump had retreated from his surprising support a day earlier for gun control measures after a meeting with N.R.A. officials and Vice President Mike Pence in the Oval Office.

The lobbyist, Chris Cox, posted on Twitter just after 9 p.m. that he met with Mr. Trump and Mr. Pence, saying that "we all want safe schools, mental health reform and to keep guns away from dangerous people. POTUS & VPOTUS support the Second Amendment, support strong due process and don't want gun control. #NRA #MAGA."

Mr. Trump tweeted about an hour later, "Good (Great) meeting in the Oval Office tonight with the NRA!"

Sarah Huckabee Sanders, the White House press secretary, declined to provide details about the previously unannounced meeting. A spokeswoman for the N.R.A.'s lobbying arm, which Mr. Cox leads, did not respond to requests for further comment.

But the twin tweets suggest that it may have taken the gun rights group only a little over a day to persuade the president to back away from his apparent embrace of gun control during a remarkable, televised meeting on Wednesday with members of Congress.

In that meeting, Mr. Trump called for comprehensive legislation that would, among other things, expand background checks to firearms purchased at gun shows and on the internet — a measure favored by Democrats but anathema to the N.R.A.

He also stunned lawmakers from both parties by suggesting that he would support measures to allow the authorities to seize guns from mentally ill people or those who could pose a danger without first following due process, like appearing before a judge.

"I like taking the guns early," he said, adding, "Take the guns first, go through due process second."

The reaction from the N.R.A.'s allies on Capitol Hill to those comments was fierce the next day, as conservatives vowed that such measures would not become law regardless of Mr. Trump's declarations.

But Mr. Trump kept mostly quiet on the subject Thursday. In a morning tweet, he said that "many ideas, some good & some not so good," had been discussed at the session on Wednesday, and he again endorsed the idea of improving background checks. He added, "Respect 2nd Amendment!"

Mr. Cox, in his post Thursday night, singled out due process as something Mr. Trump supports — a suggestion that Mr. Cox had explained to the president that conservatives would revolt against gun seizures by the government without due process.

On Wednesday, Democrats and gun control activists had expressed hope, as well as skepticism, about Mr. Trump's surprising support for legislation to more strictly regulate guns — something that the Republican Party and the N.R.A. have long opposed.

By Thursday night, several expressed resignation to the late-night statements by the president and Mr. Cox.

"Unsurprising, but no less revolting," tweeted Matt Bennett, a longtime advocate of gun control and a top official at a center-left Washington think tank, in response to Mr. Cox's comment.
Here are the relevant tweets from Cox, a former California Congressman, and Trump:
I had a great meeting tonight with @realDonaldTrump & @VP. We all want safe schools, mental health reform and to keep guns away from dangerous people. POTUS & VPOTUS support the Second Amendment, support strong due process and don't want gun control. #NRA #MAGA

— Chris Cox (@ChrisCoxNRA) March 2, 2018
Good (Great) meeting in the Oval Office tonight with the NRA!

— Donald J. Trump (@realDonaldTrump) March 2, 2018
It really shouldn't come as any surprise that President Trump and his Administration are already seeking to walk back the comments he made on live television just about forty-eight hours ago. Indeed, it is entirely consistent with the manner in which he has governed since the beginning of his Administration. For example, back in January the President seemed to back a broad solution to the question of extending some kind of protection to the beneficiaries of President Obama's Deferred Action For Childhood Arrivals, telling a bipartisan group of Senators made up of some of the same people who attended Wednesday's discussion on gun policy that he would back whatever solution they came up with. Just two days later, though, he blasted a bipartisan plan developed by Senators Graham and Durbin during a meeting in which he derided immigrants from what he referred to as "shithole" countries. Days after that, Trump met in the Oval Office with Senate Minority Leader Chuck Schumer as part of a last-minute effort to avoid a government shutdown and appeared to endorse a proposal that would have solved the DACA problem with a bill that included funding for Trump's border wall only to walk back that agreement hours later, an action that led Schumer to remark that negotiating with Donald Trump was like negotiating with Jello.
More recently, we saw the President change his position on gun issues within days of each other. In his initial response to the Parkland shooting, the President said he was willing to look at some measures that the NRA does not support such as raising the minimum age to purchase a rifle from 18 to 21. His statements in the days that followed, though, called that into doubt. Yesterday, he was back to advocating ideas that appear to break with the NRA, but the fact that he's seemingly changed position so easily so many times indicates that there's no reason to believe that anything he said yesterday should be taken seriously. Because of this, as I said yesterday, the prospects for Congressional action on guns are as dim as they've ever been.
Given the President we're dealing with, that's hardly surprising. This is a man who clearly doesn't have any core principles and whose policy pronouncements seem to be guided most prominently by who he last spoke and what he last saw on Fox News Channel or who he last spoke to. When the cameras are on, he clearly seems to enjoy creating the impression that he's being the open-minded leader that he claimed to be on the campaign trail. In reality, though, he's really a man who has no core principles who is easily manipulated by his staff. On issues such as immigration, that means advisers like Stephen Miller, who are hardcore immigration hawks. On trade issues, it's people such as Commerce Secretary Wilbur Ross and Peter Navarro. And, on gun issues its the National Rifle Association. For a man who claimed to be a leader, it's fairly clear that, in reality, Donald Trump is an easily manipulated empty suit.