Obama's Executive Action On Guns Is More Symbolism Than Substance
The gun control regulations to be announced later today by President Obama later today amount to far less than the hype would lead you to believe.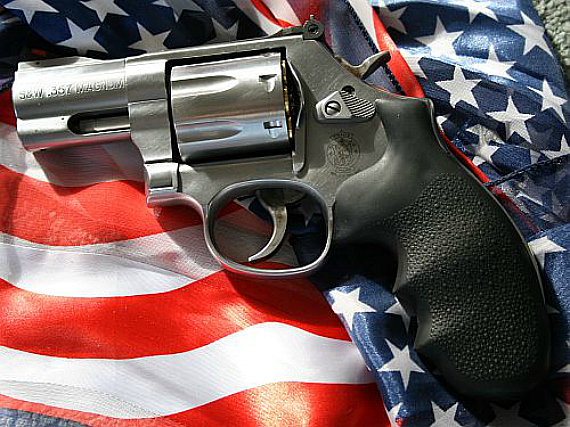 In the first major domestic policy push of the final year of his Presidency, later today President Obama will introduce a series of executive actions that his Administration is saying are designed to address the gun violence that has been a major issue at many points since he took office, but the details of those proposals make clear that the move is largely symbolic, suggesting that it is more about laying out a political battle for the 2016 elections than anything else:
WASHINGTON — President Obama will announce executive actions on Tuesday intended to expand background checks for some firearm purchases and step up federal enforcement of the nation's gun laws, White House officials said Monday, once again trying to sidestep a gridlocked Congress on a politically divisive issue.

But faced with clear legal limitations on his authority, Mr. Obama will take modest steps that stop well short of the kind of large-scale changes to the gun trade that he unsuccessfully sought from Congress three years ago. That legislation would have closed loopholes that allow millions of guns to be sold without background checks at gun shows or in online firearm exchanges.

Instead, Mr. Obama will clarify that existing laws require anyone making a living by selling guns to register as a licensed gun dealer and conduct background checks. White House officials said the president would note that criminal penalties already exist for violating those laws.

"We have to be very clear that this is not going to solve every violent crime in this country," Mr. Obama said on Monday, ahead of a formal announcement on Tuesday. "It's not going to prevent every mass shooting; it's not going to keep every gun out of the hands of a criminal."

Despite the limited nature of Mr. Obama's executive actions, advocates on both sides appeared determined to describe them in sweeping terms for their own purposes. Donald J. Trump, the Republican presidential candidate, said on Monday that "pretty soon, you won't be able to get guns," while a news release from the Brady Campaign to Prevent Gun Violence predicted that "history will be made in the East Room of the White House tomorrow."

White House officials acknowledge that Mr. Obama's actions will intensify a fierce election-year debate about the Second Amendment and the limits of presidential power. That debate has grown in the last several days, with gun rights activists and Republican presidential candidates condemning the president's expected actions as a power grab, and victims' groups hailing them as a victory.

Frustrated by his inability to secure tougher gun laws despite a series of mass shootings, Mr. Obama is determined to demonstrate that he is doing something on the gun issue, even as he is mindful of the limits on his authority.

Under his plan, the White House said, officials from the Bureau of Alcohol, Tobacco, Firearms and Explosives will begin contacting gun sellers to let them know of new standards to "clarify" who would be considered a regulated dealer — taking into account factors such as whether someone has a business card, uses a website or sells guns in their original packaging.

But there will be no set number for defining how many guns sold would make someone a "dealer" — a standard that some groups had pushed as essential to giving the changes more teeth. White House officials said someone could sell as few as one or two guns yet still be considered a dealer whose sales are subject to background checks.

The changes are particularly meant for online gun merchants, who often avoid conducting background checks despite making high-volume gun sales through websites like armslist.com.

"Right now it's really an Internet loophole," Attorney General Loretta E. Lynch said Monday. "Gun sales are moving online."

Mr. Obama will hire more personnel to process background checks in a timely manner, direct officials to conduct more gun research, improve the information in the background check system, encourage more domestic violence prosecutions and order better tracking of lost guns. He will also make it easier for states to provide mental health information to the background check system, which could bar a gun sale.

But officials said it was impossible to predict whether the new directives would have made any difference in recent shootings, such as the one in San Bernardino, Calif.

"We can and must do something about it," Valerie Jarrett, a top adviser to Mr. Obama, said on Monday. "Our politics unite us together when we are taking on other epidemics, so why not gun violence?"
The Washington Post has a more detailed look at the substance of what the Administration has planned:
The Obama administration on Monday unveiled a series of new executive actions aimed at reducing gun violence and making some political headway on one of the most frustrating policy areas of President Obama's tenure.

The package, which Obama plans to announce Tuesday, includes 10 separate provisions, White House officials said. One key provision would require more gun sellers — especially those who do business on the Internet and at gun shows — to be licensed and would force them to conduct background checks on potential buyers. Obama would devote $500 million more in federal funds to treating mental illness — a move that could require congressional approval — and require that firearms lost in transit between a manufacturer and a seller be reported to federal authorities.

At the president's direction, the FBI will begin hiring more than 230 additional examiners and other personnel to help process new background checks 24 hours a day, seven days a week. Also, the Bureau of Alcohol, Tobacco, Firearms and Explosives has established a new investigation center to keep track of illegal gun trafficking online and will devote $4 million and additional personnel to enhance the National Integrated Ballistics Information Network.

"The gun lobby may be holding Congress hostage, but they can't hold America hostage. We can't accept this carnage in our communities," Obama said in a Twitter message Monday evening, referring to the National Rifle Association.

The president is scheduled to talk about his new policies in the East Room on Tuesday, and two days later he will participate in a town hall at George Mason University that will be televised on CNN.

(…)

One of the main provisions is new federal guidance requiring some occasional gun sellers to get licenses from ATF and conduct background checks on potential buyers. Rather than set a single threshold for what triggers this licensing requirement, it will be based on a mix of business activities such as whether the seller processes credit cards, rents tables at gun shows and has formal business cards.

In some cases, officials said, a person who sells a single gun could be required to get a license, though in other cases, sellers who are classified as hobbyists or collectors could still qualify for exemptions.

A recent survey of more than 2,000 gun owners by Harvard University researchers found that of those who purchased their most recent firearm, about a third did not undergo a background check.

In a conference call with reporters, Lynch said the administration could not estimate how many more people would be affected by the new licensing provisions. She said gun sales are increasingly moving online and into largely unregulated areas of the "dark Web" where illicit activities take place in hidden transactions.

"The industry is shifting and growing," she said. "If it does stop one act of violence, this will be worth it."

Other aspects of the president's plan aim to bolster the FBI's background-check system, including a push by the U.S. Digital Service to modernize its processing operations and a proposal to add 200 new ATF agents and investigators to bolster enforcement.

Obama will instruct federal agencies, which collectively represent the nation's largest firearms purchaser, to "explore potential ways" to promote technology that would prevent the accidental discharge or unauthorized use of a gun, according to White House officials.

Another measure will require federally licensed gun dealers to report any lost and stolen guns to the National Crime Information Center. Over the past five years, according to the White House, an average of 1,333 guns recovered in criminal investigations each year were traced back to a seller who claimed the weapon was missing but did not report it to authorities.

"This is a broad set of actions that tackles a variety of the issues related to gun violence," said Arkadi Gerney, a senior fellow at the liberal think tank Center for American Progress, "and in combination it represents a comprehensive effort to strengthen the laws we already have on the books."
Before getting to the substance of the impending new regulations and actions, of course, there is likely to be substantial argument over whether the Administration even has the legal authority to make the relatively modest changes that will be announced today. To a large degree, the answer to that question will depend upon the language of the laws that the Administration relies upon and how much discretion it actually grants to Executive Branch agencies. For example, the Brady Law and other bills that form the basis of the national background check system contains certain definitions and exemptions for what types of sales are required to submit weapons transfers through the system and which are not. People and companies that are generally in the business of selling firearms for profit are, of course, required to submit their transaction to the system as are, generally, any gun dealer with a Federal firearms dealer's license. Failure to do so could result, at the very least, in fines and potentially the loss of the license itself. Major exemptions to the background check include private transfers between family members, which are of course next to impossible to track in any case, and sales by people considered hobbyists and collectors, many of which now take place online or privately rather than via a traditional storefront. The Administration's executive actions on this side appear to be aimed mostly at tightening the definition of what constitutes a hobbyist or collector. In that regard, the legal question is just how much discretion regulatory agencies like the ATF and the Justice Department have in have to tweak the definitions already set forth in the law, and whether the regulations end up covering transfers that Congress intended to exempt when it originally passed the laws in question. The Administration will, of course, argue that their rulemaking is within the bounds of the discretion that Congress granted to the Executive Branch when the law was passed, but just as we've seen with certain executive actions regarding the Affordable Care Act and the President's efforts to use his executive authority to provide immigration relief, it's likely that there will be those who will argue that the President has exceeded his authority with these actions. Thus, I'd expect that we'll see court challenges to these actions, most likely from collectors and hobbyists who might be caught up in the new regulations, but also potentially from other parties as well. Depending on how those lawsuits are received by the Courts, it's likely that the regulations themselves may end up being subjected to a court-imposed injunction and thus not even take effect for the remaining twelve months that President Obama is in office.
In addition to new regulations aimed at tightening up who is required to report gun transfers, there will apparently also be changes designed to restrict the ability of people who may be mentally ill to obtain weapons legally, but while this is a laudable goal the proposed actions also raise as many questions as they answer. The new regulations, for example, will apparently make it hard for anyone who is referred for psychiatric treatment to ever obtain a weapon, even if their mental illness is under control or there is otherwise no evidence that they are a threat to the public. Additionally, the Social Security Administration will be ordered to submit to the background check system its list of people deemed unable to handle their own benefits. In addition to the question of whether or not the Administration has the legal authority to make these changes without Congressional approval, these changes raise serious issues regarding medical privacy. As Jacob Sullum argues at Reason, and as I have argued in the past, regulations like this also bring into question the idea that people should be encouraged to seek treatment for mental illness since it raises fears that doing so will result in having one's condition reported to the government. In that case, people who should be treated might arguably be inclined to decline it out of fear that their condition, and the stigma that mental illness still carries in society, will impact other areas of the lives.
Leaving aside the arguments about whether or not the President has the authority to take the actions that he'll be taking today, the overall assessment of what the Administration is announcing today is that there is far less substance here than is being claimed. For an initiative that is being launched via a speech by the President later this morning in the East Room of the White House, followed up by a televised "Town Hall" style event on CNN later this week, there is remarkably little substance to these proposal and they are unlikely to actually capture anything other than a small amount of transfers of weapons outside of those already covered by the background check system either at the Federal or state levels, or both. At the very least, it's clear that none of these proposed changes would have prevented any of the mass shootings that have taken place during the time President Obama has been in office. In nearly all of those case, the weapons were either obtained completely legally or, in the case of Sandy Hook shooter Adam Lanza, because of the irresponsible actions of someone who owned the guns. In that case, of course, it was Lanza's mother, who allowed her son to use her guns even though he was still too young under Connecticut law to purchase a weapon legally himself and even though she was well aware of his long standing psychological problems. She, of course, was the first person that Lanza killed the day he shot up a nearby Elementary School.
The fact that the new regulations are likely to have, at best, only a modest impact on national gun sales is, I would suggest, a good indication of what's really going on here, namely that these actions are designed largely as an effort to try to put the gun control debate on the table for the 2016 election, both at the Presidential and Congressional level. The fact that the regulations are aimed largely at modestly tightening up the background check system would seem to be the biggest giveaway in that regard since polling has consistently shown that this is the one type of gun control that has near universal support, even among Republicans and supporters of gun rights. In other areas, such as the regulation of so-called "assault weapons" and concealed carry laws, polling shows that public is far less favorably inclined to support the gun control position. The President will argue, no doubt, that they are acting to tighten up background checks as best he can within the limits of his authority, but that further action is needed from Congress on things such as the questionable effort to tie the no-fly and terrorist watch lists into the background check system.
The Administration, and Democrats, will no doubt hope that taking this action will move the window on the gun control debate to a position that is favorable to them heading into the election, but it's by no means clear that they'll be successful in that regard. As I've noted before, even in those areas where the American public has said they would be inclined to support additional regulations, gun control largely a low-priority issue for voters compared to other issues such as the economy, health care, and national security. These same polls show that, other than things like background checks, the American public as a whole remains deeply skeptical of broader gun control measures and are sympathetic to the idea that people ought to have access to the weapons necessary to defend themselves if they want those weapons. Moreover, to the extent that gun control/gun rights is an issue that does strongly motivate voters, history has shown that it's the gun rights side of the argument that seems to always been more strongly motivated to act at the polls in connection with regulations like this, or proposed laws. Given that, while the Administration may be intending today to give the gun control movement a political benefit, it's entirely likely that the exact opposite will happen.