Using The No-Fly List To Bar Gun Purchases Is Bad Policy, And Likely Unconstitutional
The Governors of Connecticut and New York are joining President Obama and Hillary Clinton in favor of a really bad idea.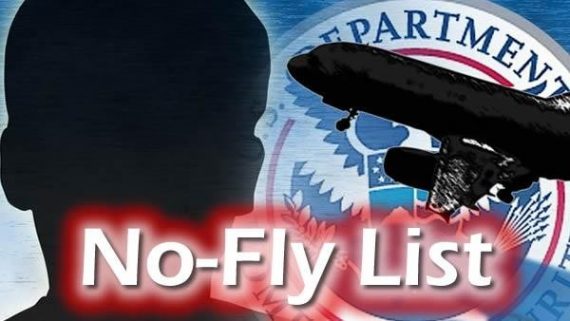 In the wake of the nearly back-to-back mass shootings in Colorado Springs and San Bernardino there were, inevitably, the same calls for additional gun control legislation that we've seen in the wake of past such tragedies, but this time with an added twist thanks to the terrorism angle that the San Bernandino shooting took. Almost immediately after that shooting when it became apparent that there may have been some kind of terrorist motive involved, President Obama brought the issue up by calling on Congress to expand background checks to include people on the no-fly and other anti-terror watch lists. When the Senate voted on the matter shortly thereafter, though, it failed to get the votes sufficient to pass, and likely would not have gotten a majority in the Republican-controlled House in any case. That isn't slowing the advocates of this idea down, though. Hillary Clinton has come out in favor of the idea, for example, and Connecticut's Democratic Governor Dannel Malloy announced late last week that he was issuing an executive order to expand that state's background checks to include the relevant lists as soon as the state is able to gain access to them. Today, New York Governor Andrew Cuomo announced similar steps in the Empire State, although as in Connecticut the effort will likely take time since both lists are classified and not something the Federal Government has been willing ot share with anyone in the past.
Not surprisingly, many conservatives argued strongly that using the no-fly and terror watch lists to restrict people from purchasing weapons was a bad idea because of the Constitutional and other issues that it raises. As I wrote at the time, the numerous false positives that have been demonstrated to exist on the lists, along with the fact that the process by which someone is placed on the list is completely lacking in due process, as is the byzantine and largely impossible to navigate provide to get off the list, make it entirely inappropriate to use it as the basis for barring someone from exercising what has been recognized as a Constitutional right by the Supreme Court. While many gun control advocates have largely, and not surprisingly, dismissed these concerns, several pundits are beginning to recognizes the problems that this idea creates notwithstanding the fact that it sounds, as the President has said, self-evident.
Josh Sanburn at Time, for example, notes that legal experts have raised serious doubts about whether a plan like this is Constitutional:
The problem lies with the terrorist watch lists themselves, which are both secret and routinely updated without the typical due process given to those who are accused of breaking the law, such as court proceedings. Without a trial, the government can add anyone to watch lists who it believes may be a threat to national security—and exactly how the government defines such a threat isn't even public knowledge.

"The government doesn't release its criteria," says Elizabeth Goitein, co-director of the Liberty & National Security Program at New York University's Brennan Center for Justice. "It's really a black box."

Such an ad-hoc approach to these lists raises fewer concerns when they are merely used to keep track of potential suspects, but becomes more legally problematic when their many members are denied certain rights or privileges. The no-fly list, which includes individuals deemed too dangerous to board a plane, is just one of several lists reportedly used by the government, but is often the one that gets the most attention. The Wall Street Journal has reported that there are 16,000 names on the list, with the larger Terrorist Screening Database including 420,000 names.

In 2014, a federal court found the no-fly list unconstitutional because it denied those listed due process in challenging their inclusion. Since then, the U.S. government has said it's providing more information to those who are on the list, potentially allowing persons banned from air travel to appeal and get their names removed. The ACLU, however, is still challenging the list in court, arguing that the government isn't handing over enough information about how it populates those names. The civil liberties organization is also against barring those included from being denied guns for similar reasons.

"We are opposed to the use of terror watch lists, as presently constituted, to screen gun purchases," said ACLU National Security Project Director Hina Shamsi. "We believe the lists are deeply flawed."

Several constitutional law scholars say it's these same due process concerns that make it unlikely a ban on gun purchases for those on the no-fly list would be legally permissible.

"We generally don't take away rights based on suspicion," says UCLA law professor Eugene Volokh. "The government has to have some proof. If all the government can say is we suspect you of supporting terrorism, that's not enough."

Goitein agrees the policy raises serious constitutional concerns, noting that individuals can make the list for a number of reasons that aren't always made clear.

"It's not just a question of due process and having the right to clear your name," Goitein says. "The person also needs to be shown to be a proven threat of violence. And I think that bar is a low one."
Over at Vox, German Lopez explains why even liberals who support gun control should oppose the use of the no-fly and other watch lists to restrict who can purchase a gun:
[T]he no-fly list is extremely arbitrary. People are added to it without even knowing that they're on the list. There's no transparent appeal process to the list, and there's certainly no trial before someone is added to it. All it requires is the government's "reasonable suspicion," which can be derived from social media posts, that someone poses a threat to commit certain kinds of terrorist acts, and a vague process that involves several federal agencies. (The latest count for people on the no-fly list is 47,000, although only 800 are Americans.)

That's why being put on the no-fly list is very different from being convicted of a felony or domestic abuse and then being prohibited from buying a gun. The closest analogy is denying a person a firearm because he's considered mentally ill, but even that requiressomeone be involuntarily committed to a mental institution or that a court or other legal authority classify someone as "a mental defective."

Democrats like Malloy have argued that their no-gun list policies would go hand in hand with a new appeals process. But there's a catch: Malloy said he "would rather the appeal be after a denial" before a gun is issued, the Wall Street Journal reported.

Would Democrats be willing to accept this with any other constitutional rights? Free speech? Religious expression? Probably not. Just imagine having to prove that you have the right to make a political statement or practice your faith through an appeal process instead of just assuming it's something you can do because it's constitutionally protected. There's no way that would fly, since it effectively flips the idea of innocent until proven guilty.
It's easy to understand why politicians are latching on to the idea of supplementing the background check system with lists that include people who have been deemed too dangerous to get on an airplane or otherwise on a watch list as a possible terrorist. The President and others who are arguing in favor of the idea by framing it as 'if you can't get on an airplane, then you shouldn't be able to buy a gun.' However, that simplistic view of the situation ignores the numerous problems with the lists, which once included the time when the late Massachusetts Senator Ted Kennedy found himself temporarily barred from flying due to an error. It took Kennedy's staff, working with the TSA and other agencies, three weeks to fix the error but the average American isn't a long-serving Senator from one of America's most storied political families and doesn't have a staff with access to insiders at the relevant government agencies, so that three weeks would be, and has been, longer for the average member of the public. Moreover, as Noah Feldman argues at Bloomberg View, using such an arbitrary process to deny people rights of any kind is inherently problematic and not likely to actually accomplish anything. After, none of the people who have committed any of the mass shootings going back to the Virginia Tech were, as far as we know, on the no fly or any other terror watch list, including the shooters in San Bernardino, The fact that it wouldn't have actually prevented any of those tragedies, combined with the numerous due process and other Constitutional problems involved argues strongly against latching on to this idea as a solution to any problem.
The great American humorist, reporters, cultural critic, and writer H.L. Mencken once said that "for every complex problem there is an answer that is clear, simple, and wrong." In the case of the complex issues involved in mass violence and terrorism, this is the perfect description for the "no-fly, no gun" idea, and precisely why we ought to ignore the temptation to get behind an idea that is, in any case, likely unconstitutional.