Presidential Campaign Ad Spending Tops $700 Million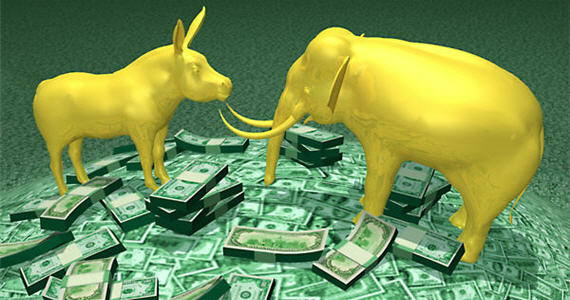 With 38 days to go until Election Day, spending on political ads in the Presidential campaign has passed the $700 million mark:
Local television stations are reaping an unprecedented harvest of more than $700 million in advertising spending around the presidential contest as the two campaigns and their outside allies continue accelerating spending rates.

President Obama, Mitt Romney, and outside groups spent more than $55 million on advertising running between Sept. 25 and Oct. 1, according to sources watching the advertising market. Obama's campaign alone spent $21 million during the last week, while Romney's campaign dropped $14 million on its own advertising.

All told, Obama's team has spent a total of $285 million on broadcast, cable, and radio advertising, while Romney's camp has spent $117 million. Add in outside spending and the total spent on the general election tops $724.6 million to date.

(…)

Ohio, Florida, and Virginia continue to be top targets for candidate advertising. The two sides are spending a combined $11.4 million reaching Buckeye State voters; $12.6 million in the Sunshine State; and $10.5 million in the Commonwealth this week alone. All three states have seen more than $114 million spent on advertising already.

Romney and Obama are each spending in nine states – Colorado, Florida, Iowa, Nevada, New Hampshire, North Carolina, Ohio, Virginia, and Wisconsin. And Obama has the upper hand in seven of those states; Romney is only outspending the president in North Carolina and Wisconsin.
Take note that it was only 43 days ago that it was reported that spending had passed the $500 million mark.
With just over a month left to go, we can expect this pace to continue, and I would not be surprised to see the final total to pass $800 or even $900 million dollars after it's all over. The interesting part will be to correlate the ad spending to the results of the election and see who actually spent their money in the wisest manner.