Presidential Generations
We're going to make history one way or another in November.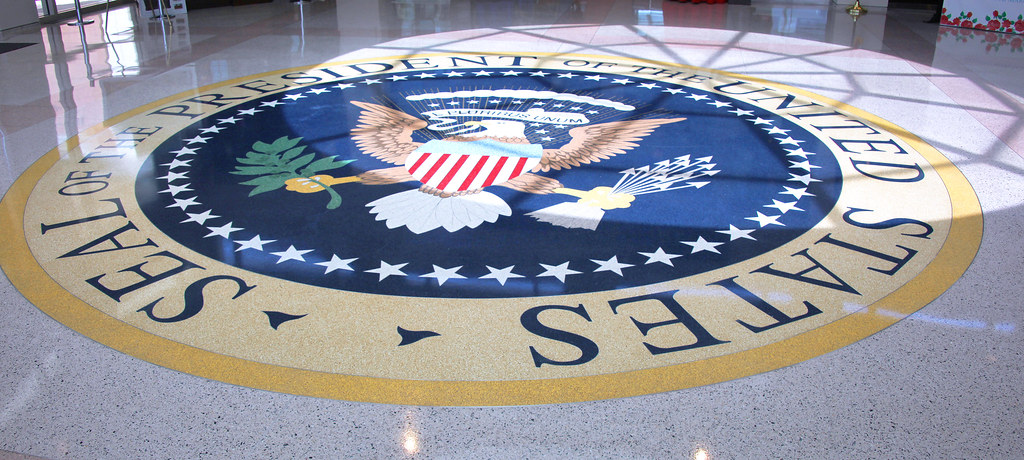 Catching up on my reading at Dave Schuler's place, a discussion of a paywalled column about why under-30s support Bernie Sanders immediately spun into one of what the generations have wrought.
Regular Glittering Eye and OTB commenter @Andy observes,
I think [the under-30s] are angry, justifiably so, that previous generations are leaving them with a big pile of dung to clean up. The only future the Boomers and Silents have a stake in is ensuring the house of cards they've built doesn't collapse until after they are dead.
To which @Dave replies,
What "house of cards" have Baby Boomers built? To the best of my knowledge the Congressional leadership has either been composed of Lost Generation, Greatest Generation, or Silent Generation since the Baby Boomers have been old enough to vote. The present leadership is almost entirely Silent Generation. The leading Democratic presidential candidates are all Silent Generation.

I think the complaint that Baby Boomers didn't fix the mess they have been consigned is a fair cop but not that they created it.
I commented briefly there but will expand on it substantially here.
The Lost Generation, a term coined by Gertrude Stein, describes those born between 1883 and 1900 whose formative experiences were World War I and the Roaring Twenties. They've all been dead for a while now.
The Greatest Generation, a term coined by Tom Brokaw to describe the cohort who fought the Great Depression and World War II, were born between 1901 and 1927. None of them are currently in national government. (Don Young of Alaska, the oldest current member of either House of Congress, was born in 1933.)
They were followed by the Silent Generation (1928-1945), Baby Boomers (1946-1964), Generation X (1965-1979), Millenials (1980-1996), and Generation Z (1997-mid 2010s), and Generation Alpha (indeterminate).*
My parents, both born in 1943 and both now passed, were Silents. I was born in 1965 and thus at the front end of Gen X. My girls were born in 2008 and 2011 and are thus Gen Z. So are my considerably-older stepchildren, born in 1999, 2000, and 2004.
In terms of our current governance, President Trump (1946) is a Boomer, Speaker Pelosi (1940) and Leader McConnell (1942) are Silents.
The contenders to face Trump in November are Bernie Sanders (1941), Joe Biden (1942), Mike Bloomberg (1942)—all Silents; Boomers Elizabeth Warren (1949) and Amy Klobuchar (1959); and Millenial Pete Buttigieg (1983).
But here's what's weird: We had our first Boomer President, Bill Clinton (1946), as a result of the 1992 election. He took office 27 years ago last month. He was followed by another Boomer in George W. Bush (1946). And another in Barack Obama (1961). And yet another in Donald Trump (1946).
Not only is that four Boomers in a row but three of them were born within two months of each other in 1946. They were first elected 24 years apart. And in reverse birth order.
Clinton was the second-youngest President ever elected at 46. Trump was the oldest.
Eight months out, Trump has pretty fair odds of breaking his own record. And the frontrunner for the Democratic nomination is five years older!
It's not at all inconceivable that we'll go from four Boomers in a row to a Silent. We've never done anything like that before. Certainly, we've had many instances where a President of one generation is replaced by one from the previous generation. But those were cases of 50-somethings handing off to 60-somethings.
It's quite likely that the President elected this November, 28 years after Bill Clinton's election, will be older than Clinton is today.
There's also a chance that we have a fifth Boomer in a row, which would almost certainly be unprecedented. The "Generations" concept is relatively new. The only sequence where we have five different Presidents sequentially born within 15 years or so of one another was this one: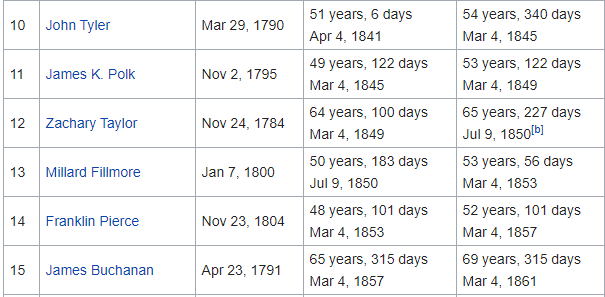 That's six Presidents in a row born within a 16-year span. But they were inaugurated within a period of only 16 years. They were all one-term Presidents and, indeed, poor Zachary Taylor died in office. By contrast, Clinton, Bush, and Obama were two-termers and Trump could well be.
At the other extreme, it's not totally inconceivable Buttigieg wins the nomination and beats Trump. In which case, we'd not only have our first Millenial President but we'd skip my generation entirely.
__________________
*I see from Dave's response to my brief comment there that he defines "generations" unconventionally, and doesn't consider either Clinton or Trump as representative of that cohort. I find the Generations concept problematic for a similar reason. While I'm Gen X and definitely not a Boomer attitudinally, I really don't have all that much common with those at the tail end of my nominal cohort, who seem more like Millenials to me. Still, if we're going to use the construct, I prefer sticking with standard definitions.